Former Colts quarterback and current high school jock stereotype Jack Trudeau showed everyone the level of class and sophistication that got him where he is, a radio show that no one had ever heard of until yesterday.
Trudeau and co-host Dominic Zaccagnini of the 'Zack and Jack Show' on 1260 AM took sports radio hackery to another level Thursday after cracking jokes about the IU Football program while new head coach Kevin Wilson was on hold listening to the converstation. Believe it or not, Wilson didn't see the humor in poking fun at his program, and wasn't shy at firing back at Uncle Rico, I mean Trudeau.

Pictured: Trudeau reliving the glory days outside of his van
With the IU fight song playing in the background, Trudeau said that when he played IU, he didn't hear the song much because "I don't remember them even scoring on us." (Cue douchebag laugh)
Wilson's response?
"I remember putting 61 up on the Illini a few years back when I was at Northwestern and they kind of stunk it up, too. But anyway, I've got some things to do, guys; what do you guys need?"
He added: "I just don't like being on here with guys cracking jokes about our program. I'm not an Indiana alum, but I take a little pride in what we do."
You can listen to the segment in its entirety here.
Wilson was quickly booted off the show and the next half of the segment included such gems as Trudeau calling Wilson an ass, and promising to call up Illinois Head Coach Ron Zook and tell him to run the score up on IU.
Damn fine journalism if I do say so myself.
Let me start off by saying I'm not an IU guy. I've been to Bloomington on several occasions, and know a lot of people who went there. I've also had the chance to meet both Coach Wilson and former head coach Bill Lynch, and both were more than generous with their time when speaking with me. That being said, things like this make me root for guys like Wilson.
In this day and age of 'one-game-at-a-time' press conferences, it's good to know that some people are still willing to tell you what they really think. Wilson clearly resonated with the fans, Hoosiers and non-Hoosiers alike, as the response to the interview was overwhelmingly in his favor.
You can call Wilson arrogant, sensitive, or even laugh at him if you want, but I remember several years ago a coach came into another program with a similar situation. In fact, this story also involves a former Colts signal caller.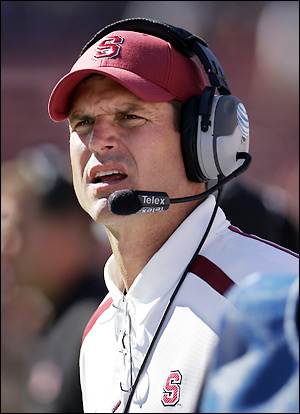 Harbaugh turned things around quickly in Berkley
Jim Harbaugh took over the Stanford Football program in 2006, and was widely criticized for saying that he wasn't hired to kneel to USC in the PAC-10. Many people laughed at him, as Stanford had been in a huge slump for many years up to that point. Fast forward five years later, and the Cardinals are coming off an Orange Bowl win over Virginia Tech, and Harbaugh beat USC in the Coliseum twice, going 2-1 against the Trojans.
Am I predicting elite status for the Hoosiers the next few years? Not quite. But Wilson has already made a big splash in recruiting, landing the top-rated passer in the country in Gunner Kiel of Columbus East High School.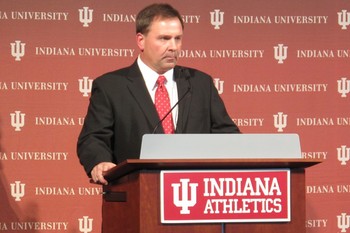 Kevin Wilson is up to the task in Bloomington
Will Coach Wilson make the Hoosiers competitive again? Who knows. What we can say for certain is that no one is going to fight for his players or program harder than Wilson, and that might be just what's needed in Bloomington.
–
Alex Kirby is the Sports Editor here at IndyMojo.com
You can follow him on Twitter here: @AlexJKirby

Stay tuned to IndyMojo.com for all your Indy sports news!