For all the build-up of some amazing matches on the schedule and bringing back all these people who are old friends in the WWE, overall I didn't feel like WrestleMania 27 completely lived up to the hype. Don't get me wrong, there were some great matches, but many seemed to go by way too fast or were missing quite a bit of middle back-and-forth that builds the tension and drama of a match. As the biggest event of the year, it felt like most other pay-per-views but with a much bigger audience. There are spoilers of who won matches included, but I hope my descriptions will make you want to see it more (or make you realize you saved money, either way).
One of my biggest complaints is, why no Money in the Bank this year? That was a fantastic way for young up-and-coming wrestlers to get noticed and break out of the mold. Moments from THAT match were often some of the best of the entire show in terms of suspense, excitement, and thrill. That was the match that really boosted the careers of Edge, Jeff Hardy, CM Punk, The Miz, and Kofi Kingston. Another noticeable difference about the evening was no appearance of Vince McMahon at all. Obviously he had no existing storyline but the biggest night of the year without the man behind the curtain seemed strange. The bizarre Snoop Dogg talent show via American Idol? That could have been scrapped in favor of longer matches or the addition of one match I thought was missing: King Sheamus vs Daniel Bryan (with eye-candy Gail Kim at ringside). It turns out that was a dark match that played out before the event went live on camera and was a lumberjack match that turned Battle Royale where the Great Khali emerged as the winner (instead of the locker room threat for the guy with the big mouth). Sheamus is a former WWE Champion and had a match with Triple H at WrestleMania last year so to be bumped down to the dark match…wow.
Great nostalgic touches to the night were bringing back The Rock, Stone Cold Steve Austin, Jim Ross, and Shawn Michaels, the new Hall-of-Famer.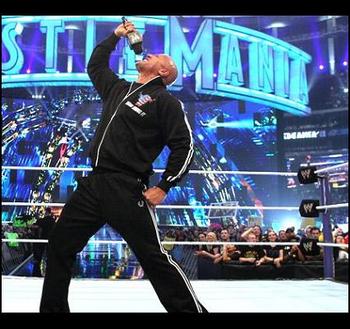 The Rock opened the night much like a host of the Oscars — with an opening monologue riffing on John Cena and trying to generate some electricity. He even became a cheerleader: "When I say 'Yabba', you say 'Dabba'!" The Great One made some sparks and The Rock on the mic on his worst day is still better than many other superstars on their best. He had a funny few backstage moments during the show, one with John Cena's biggest fan, Pee Wee Herman and the other with Mae Young ("I want the People's Strudel!").
First surprise of the night was opening with the World Heavyweight Championship match of Edge versus Alberto Del Rio. Let me just say, I've always loved Edge but I also have a lot of appreciation for Alberto Del Rio because his ridiculously big personality and smile crack me up everytime he shows up. Driving his car onstage with the mansion backdrop making it look like he just left his driveway was hilarious. This car later was damaged quite a bit by Edge and Christian, but definitely not as good as Kofi Kingston's best moment in the WWE — destroying Randy Orton's custom car ("I got you, Randy! I got you!") The match was about as expected, Edge got the "crazy eyes" and emerged victorious with a spear. There was a beautiful moment where tears came to Del Rio's eyes as he saw his Rolls Royce being punished mercilessly and crawled up as if to pet it and say, "Shhh, it's ok. Daddy's here."
I haven't been watching Smackdown but I will say this: Cody Rhodes is a hilarious heel. He entered with a clear mask and a hood, turning his face away from fans as if to say, "Don't look at me, I'm hideous!" Rey Mysterio had one of his best costumes ever in Captain America themed attire and mask. Their match had a lot of fun moments as they took turns beating each other with protective gear: Rey's knee brace that Cody smacked him with and Cody's face mask which Rey clumsily strapped on and then tried to heat butt Cody several times. I was surprised and happy to see Cody win this match and then immediately panic that people could see his face and run off in an effort to hide it once more. For a guy with dainty girl legs, he has come a long way in developing a personality.
The 8 man tag team was so short, you could've blinked and missed it. Santino, Kofi Kingston as a replacement for Koslov, the Big Show, and Kane versus the Corre?? (Or as I like to pronounce it, "Cory") Each participant attempted one move, we saw Santino's Cobra, and the Big Show unleashed a hit with his big giant paw that would have made Floyd "Money" Mayweather cry for his mommy. The end. Lame, could have been much more fun.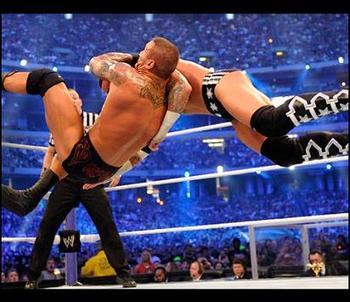 Next was Randy Orton versus CM Punk. I'm hoping after this, our golden boy can go back to title matches again. Orton is a huge favorite in the WWE right now and has always been one my personal favorites ever since he started going after Cena in the first place. Not only talented and ripped, but also he makes the BEST facial expressions during matches and when addressing inferiors. This match had lots of back and forth, plenty of excitement, and drama. Randy tried to go for a punt, but stumbled with his bad leg (how much more awesome would this match have been without injury drama?). CM Punk went for what looked like an easy attack on a pained Randy on the mat only to awaken a Viper playing possum that jumped up with such speed that Punk's mouth dropped open and had to laugh in astonishment at what he almost walked into. The match ended when CM Punk flew off the top rope launching his body at Orton only to be caught in an RKO. 1…2…3…Now Punk, you go to sleep.
The presentation of the Hall-of-Famers was done well with lots of cheers for "Hacksaw" Jim Duggan complete with 2×4 and the roof lifted when Shawn Michaels jogged around the stage with high energy. I missed Mr. WrestleMania in the matches last night. That man knew how to put on a show with TONS of emotion, energy, and how to tell a story throughout the match. These last three years, first with Ric Flair and then twice with The Undertaker — those matches could bring tears to the eyes with their intensity.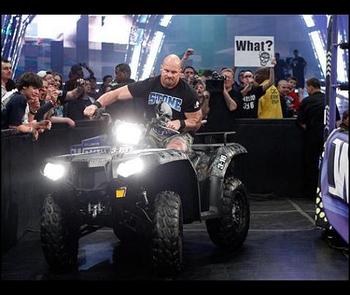 What came next was one of the best matches of the night: Michael Cole with trainer Jack Swagger against Jerry "The King" Lawler with special guest referee, Stone Cold Steve Austin. While Swagger was doing his entrance push-ups, the glass breaking came over the speakers and Austin drove out on a four-wheeler, almost running Swagger over. During the match, he continued to have fun when Swagger literally threw a towel in the ring to signal the match should end and Austin wiped off his head with it and gave Swagger a much-deserved stunner. Jerry had the time of his life wiping the floor with Michael Cole dressed in a ridiculous orange traditional wrestling outfit complete with HEADGEAR. Austin took his time counting and acted confused while Cole frantically tapped during a submission manuever ("DO YOU TAP OUT?" he asked repeatedly.) When Jerry was done, all shared a beer including guest commentator Booker T who also got to take a stunner (very well in fact with beer spitting high into the air, Triple H style). By far the funniest and possibly most entertaining match of the night with all involved. The anonymous Raw General Manager then announced Jerry was disqualified from winning due to "referee interference". Josh Matthews who delivered the bad news reading from the piece of paper propped on the laptop, was also treated to a Stone Cold stunner.
This left Jim Ross to commentate the rest of the evening and let me just say this, Jim Ross is probably the BEST commentator ever. He is emotional, quotable, full of relevant facts, and he knows when to talk and when to let the action speak for itself. Everything that comes with being a charismatic veteran. It was quite a treat to have him back.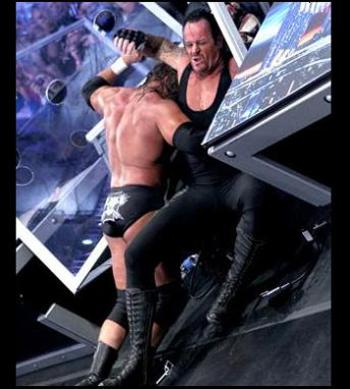 In the no-holds-barred match of Triple H versus the Undertaker, it truly was no-holds-barred. For the first time in a long time, blood was spilled. No area was safe as announce tables and even Micheal Cole's cole mine was demolished signalling the end to his commentating for the evening along with the Spanish announcers. A chair shot to the head took place (protected, but it still happened). Both men did their finishing moves on each other to no avail. Triple H did THREE Pedigrees, the Undertaker's throat-slicing taunt, AND a Tombstone piledriver which I have never seen anyone do to the Undertaker before and it wasn't enough to keep him down. Triple H eventually went to the right side of the ring to bring out his favorite weapon, the sledgehammer, but never got to use it as he was pulled into a Hell's Gate submission manuever suddenly by the Deadman who had been lying motionless on the mat. Both men looked dead, but still continued till every ounce of energy was spent. I hate to see any great wrestler tap out, that's a move usually reserved for heels, but weakly, Triple H eventually did. Afterward, the Undertaker was unable to walk or move much on his own and was taken out on a stretcher. 19 – 0. I have a strong feeling he'll go to 20 – 0 since it's a nice round number and that might be his last year. It seems many of the greats are on their way out, especially since Triple H was off for a year and only came back for this match and who knows if or when he'll come back to wrestling regularly.
The 6 person tag team match was very short as well. Trish Stratus' return was much anticipated in my household and we finally got to see some of her old school tricks again in her match against Michelle McCool, Layla, and Dolph Ziggler. On Trish's side were John Morrison and…Snooki from "Jersey Shore." There was back and forth between the ladies, but the guys never even got tagged IN the match except for stopping each other from interfering. Snooki was tagged in and delivered a series of flips and a pin which almost made me wonder if we switched from a live event to a stunt double, but it was HER. She looked pretty winded afterward but it actually happened. The 6 person and 8 man tag team matches on the card together probably took five minutes total. What is the point of having matches so short? I know you want to involve as many stars as possible, but seriously??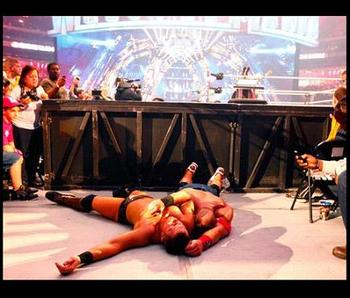 Finally the last match of the night. The Miz and Cena each got an opening video and special entrance. In typical Cena style, he outdid himself by bringing in an entire gospel choir to sing his theme song. I have my doubts that this should have been THE big main event match of the night since both The Miz and John Cena were getting booed by a LOT of people. Something was off during this match. Timing was off, moves were clumsy, both appeared a bit off their game. Maybe it was the nerves of the night or the bad vibes from the crowd but this match did not have the energy it should have with these two big personalities. First, it ended as a draw with both men being counted out of the ring lying just outside the security barrier in the audience. Enter The Rock who wouldn't have this nonsense and he restarted the match as a no-holds-barred match after taking out the anonymous Raw GM's laptop. The Rock delivered a Rock Bottom to Cena and the Miz stumbled over and climbed on top for the pin. He looked like a dazed little boy as he was handed back his title belt. The Rock allowed The Miz about a full minute of celebrating his WrestleMania moment before delivering The People's Elbow which Miz had been perfecting in matches of late and the night ended with The Great One raising his fist in victory.
Other stand out moments of the night: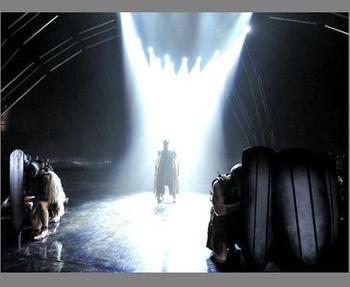 BEST ENTRANCE: Triple H, hands down. Picture this: "For Whom the Bell Tolls" by Metallica plays on the speakers. Surrounded by viking warriors with shields arranged in a defensive circle right out of "300", suddenly you see the image of one figure cloaked in a robe and wearing a skull mask and crown. It could only be The King of Kings. The arena goes completely dark and silent for a few seconds. Then BAM! TIME TO PLAY THE GAME! and there he is, Triple H in ring attire, hair all around his face, the most intense look ever, and then he begins his approach. The Undertaker's new banjo song by comparison was a snoozefest and for the first time ever, I'd call an entrance by the Undertaker, the Phenom himself to be…boring.
BEST PROMO VIDEO: The Miz "You Can Hate Me Now" showing his journey from reality TV to WWE Champion with comparisons to other great champions of the past during his rise to power. The lyrics, the rhythm, the image of the back of The Miz's head watching himself on several monitors was all perfect to express how he got here and who he was and only made me want to cheer for him more when he broke through his blow up word "AWESOME" on the stage.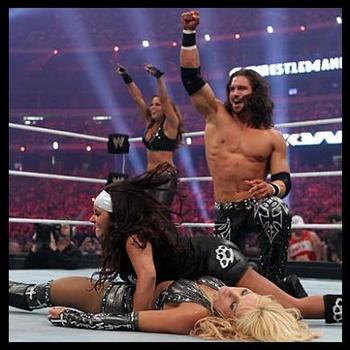 BIGGEST SURPRISE: Snooki is apparently a gymnast and pulled out a bunch of flips to end her match. I was shocked. I thought the only thing she could flip over was a shot glass after consuming it. I knew she could take a hit, but I thought this match would just be a hair-pulling fest and it wasn't. If rumors about her pursuing a WWE Diva contract are true, there could be something there. If nothing else, she'd be a great heel because I don't see fans cheering for her long term.
What did you think of the night? Did you like it overall? What shocked you? Which matches were disappointing? Which were amazing? What did you miss that wasn't included this year? Do you think The Rock will stay back? Do you think Triple H or the Undertaker will stay back or fade into the background for another year?