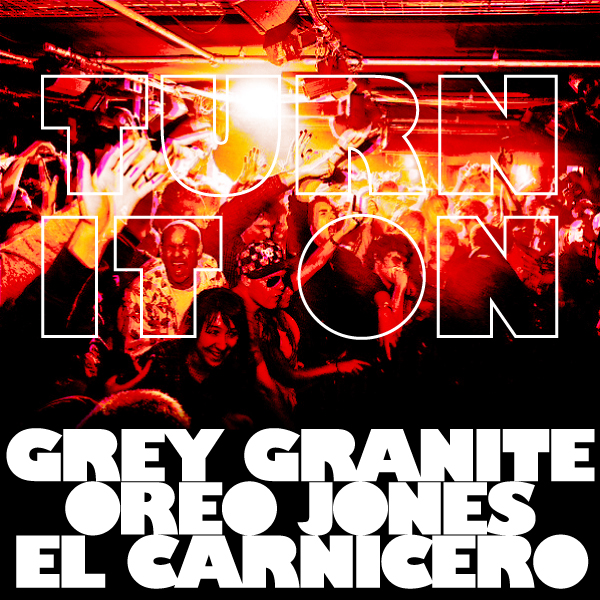 VOTE FOR GREY GRANITE & OREO JONES ON HYPEM.COM!!:
CLICK HERE TO VOTE ON HYPEM.COM!
Picking up where "Not A Robot" left off, Grey Granite and El Carnicero roll out their second singe from Pixelated Lazer Face Bass Monster "Turn It On" featuring Heavy Gunner Oreo Jones. "Turn It On" is a pure party jam with a bouncy beat and psychedelic synths that compels the listener to have a good time and dance. Both Grey and Oreo bring their spit game on this one. Grey is at home rhyming about his love of High Life, women and parties. And Oreo doesn't care because he "ain't got no underwear." Pixelated Lazer Face Bass Monster is coming this summer!
Over the past couple of years, Grey Granite has consistently distinguished himself from other vocalists by perpetually reinventing his style and jumping on anything that catches his interest. Starting with his legendary Amplifies the Killers project to his recent immaculate album Lust Poisons Pride, Grey has been one of the few artists in the Midwest to successfully go left and follow his sonic dreams. His creativity has recently garnered the support of Kick Kick Snare, Ruby Hornet, Loyal KNG, Noise Porn, Nuvo, and Musical Family Tree and several other media outlets. Now with his partner J. Brookinz, the duo have launched Heavy Gun Recordings and are beginning the next portion of their journey.
The man behind the crazy production on PLFBM is the one an only El Carnicero. El Carnicero aka the Butcher aka Aaron Berg has been solidifying his name as master of heavy bass for the past several years. In the mid 2000s as grime was making it's way across the Atlantic to the States, El Carnicero teamed up with Philly based producers Starkey and Dev79 to form the now infamous Slit Jockey Records. In the past, the Butcher has produced tracks for Doodlebug of Digable Planets, Warrior Queen, and RikoDan of the Roll Deep Crew. Beyond his recent work with Grey, Aaron is currently working on a new project with New York rapper Elucid entitled CapricornOne.
http://twitter.com/greygranite
http://twitter.com/el_carnicero
http://twitter.com/oreojones

DOWNLOAD: Grey Granite – Turn It On ft. Oreo Jones (Prod. by El Carnicero)
STREAM: Grey Granite – Turn It On ft. Oreo Jones (Prod. by El Carnicero)
PREVIOUS: Grey Granite – Not a Robot (Prod. by El Carnicero) | Sound Cloud
PURCHASE: Grey Granite & J. Brookinz present Lust Poisons Pride