If you've ever been to a Future Rock show, then you've probably seen the blinding light show, heard the psychedelic jams, and felt the temperature rise as a crowd full of people went crazy on the dance floor. What you probably didn't get to see is the amount of time and hard work that goes into making a show like that happen. Last week before their show at The Bluebird in Bloomington, IN, I was given the opportunity to sit down and have dinner with not only the three members who make up the band, but a couple of the other guys who help take it to the next level.
Of course bassist Felix Moreno, keyboardist Mickey Kellerman, and drummer Darren Heitz were there. Add to the table their manager Leif Moravy and the newest addition to their crew, Alex "Herm" Schneider, and you have a group of guys who know how to make shit happen. ..but not without a lot of long hours and sacrifice. While discussing the stigma of the "rock star" lifestyle, Mickey is the first to set it straight. "People go to shows and that's all they see…during the show. Touring, setting up, tearing down; it's a lot of work." Felix chimes in, "Yeah, and when you have a bad show, it sucks. You just worked your ass off and you bombed…and if you end tour on a bad note, it just sits with you. You always want to end on a high note." Given their recent break in touring, I asked what it is they do in their time off. With a slight chuckle, Mickey asks, "What time off?" "We all work," confesses Felix. "We all have jobs; that's life!" After discussing how most people would be surprised that Future Rock isn't a "money-machine," we touched on the subject of the relationship between a band and their fans as well as the availability of music. "I think the internet has really freed music up, and it's wonderful!" explains Felix. "Like our new EP, Nights; it will be available to download for free some places, but you'll also be able to go to Amazon and iTunes to buy it…and people will. If they like it and think it's worth it, they'll pay the money. It's great!"
As we sat around chatting and discussing the show from the night before, I took some time to get a feel for the guys around me. It didn't take long to understand the dynamic of their group. Felix is the outspoken one; always engaging in conversation and not afraid to speak his mind on a subject. Mickey is a bit more laid-back; he's focused on what is going on and adds to the conversation if he has something to say. Darren is the most reserved; super laid-back and okay to just be in the situation. Leif is the boss. If a question comes up or there is a piece of information someone is unclear about, Leif is there to set it straight. He's a man of high expectations and holds a position of great respect among the guys. If Leif says it's a go, it goes. If he says it doesn't, it won't. He keeps things in order, in-line, and doesn't mess around when it comes to managing his crew. He's always on-point and keeps things running as smoothly as you can when working with such differing personalities.
The final guy at the table is no stranger to me or most of the Midwest music scene. Alex Schneider, most commonly known as "Herm" in the scene, joined the Future Rock ranks about a year ago. As the owner and top lighting designer of Herm Productions, his lights have been seen all over the Midwest festival circuit, and beyond, for more than three years. He is also known for bringing some of the best music to the Bloomington scene. After seeing dozens of shows with Herm on lights, it isn't hard to see why Future Rock would want him accenting their shows with his own style of dramatic lighting and stellar special effects. When I asked the guys what it was like to work with the "dready kid," they all jokingly threw in a barrage of "awfuls" and "pain-in-the-asses" before Felix admits, "He works harder than all of us. He's the first to start working, and, at the end of the night, he's the last to finish. He never stops!"
A defining theme throughout dinner was how much these guys like hanging out and teasing each other. There was a lot of heckling and even an argument over who is the mouthiest, but in the end, you can tell they genuinely care about one another. "When you're in a band for so long, it's like a weird family," explains Felix. "Like last night, Leif told me my playing sucked, so I threw a drink at him." Herm and Mickey throw out, "Two drinks!" before he continues. "Yeah, two drinks! And today, we're fine. You get over things and move on."
Later that night, as the band took the stage, I noticed the "family" aspect of their group adds a unique facet to their show. With Herm standing in wait, fingers on the keys of his light board, he looks to Leif on sound for his cue. All at once, the five of them start the show with an electrifying jolt. From the very first note to the climactic end of each song, they are a machine. They know each move before it is made and can anticipate how it should look, sound, and feel. On-stage, the band comes alive; each of them dancing, jumping up and down, and interacting with a zealous and appreciative crowd. Off stage, Herm hits every transition with notable flair and blows out the stage with giant LED bars and movers throwing color in every direction. Leif took in every detail while making sure the sound was up to par.

photo by KG

photo by Kelsey Ransom

photo by KG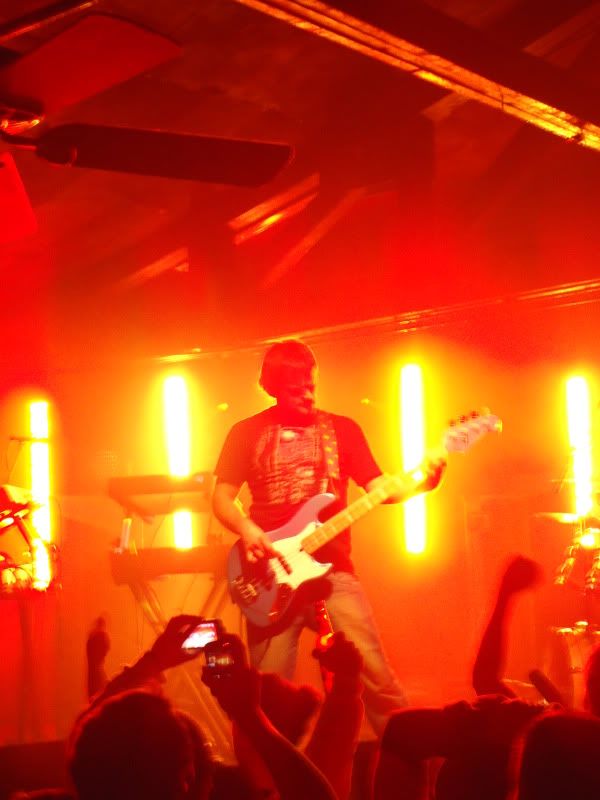 photo by Kelsey Ransom

photo by Kelsey Ransom

photo by Kelsey Ransom

video by Sara Elifritz
When they had hit their final peak and brought the show to an end, they thanked everyone for coming and left the crowd dripping with sweat and reeling from the two hours of music pounding the inside of their skulls. All-in-all, the show was filled with big beats, bold lighting, and a very powerful blend of electronica, house, and rock. I stayed after to let the guys know that I really appreciated the time they took out to talk with me and for trusting me with their stories from the road. Equipped with a new Future Rock hat, I left feeling like I was in some way a small part of their "weird family."

Herm, Darren, Felix, Leif, Mickey
photo by KG
If you haven't had a chance to download Future Rock's new single "Nights" and/or you want to know where you can catch them this spring/summer, check out their Facebook page or website to find out more!
A very special "thank you" goes out to my beautiful friends Kelsey Ransom for the amazing photos and Sara Elifritz for the stellar video!
Next, I'll be hitting up IndyMojo presents.. Cornmeal & The Twin Cats @ The Vogue…visit the event page for full details. In the meantime, "Like" the IndyMojo.com page to stay in the loop on some stellar upcoming shows including the 4.20 Tent Party, EOTO at the Vogue, and MojoStock!
Until next time, be safe and enjoy the sunshine!
music.love.KG.