It's finally spring and that means we'll all be out shaking off the winter blues some time soon. So whats on your playlist for that day out in the sun? I've got you covered. Check out
Tycho.
Tycho is the musical manifestation of San Francisco based artist Scott Hansen. Scott creates beautiful, atmospheric instrumental landscapes that remind you of looking at a sunrise as you roll down the highway with your hand out the window feeling the air rushing by.
Scott was also known as ISO50, under that name he developed as a visual artist and eventually began creating music that represents his visual style. Scott has moved on from ISO50 into Tycho being a full time gig, where he is not only the musician but he creates all of the album artwork and even the posters for the shows.
Tycho has evolved from a solo project with a sampled style of music compared to Boards of Canada or DJ Shadow into something that feels like an ambient instrumental version of M83 or El Ten Eleven. The evolution from solo artist to a full live band seemed to be an organic process much like his visual work. Check out the track "See" from Tycho's most recent LP titled Awake, released by Ghostly International.
Tycho is currently on the last leg of a US Canada tour. Recently Brooklyn based duo
Beacon
have joined them for the last few dates of the tour including the show at The Vogue in Broad Ripple on March 29th. Make sure to check them out.
Tycho with Beacon
The Vogue
March 29, 2015
Door: 7pm, Show: 8pm
Tickets: $20-$22
Indy-based funk and hip hop rock band Audiodacity to release their first full length album on Friday March 20th at The Vogue.
Audiodacity is celebrating proper with a stacked lineup featuring some of Indy's finest local talent presented under the theme of #SUITUP. Guests will arrive at The Vogue's doorstep by way of a red carpet, assuming they make it past the paparazzi with no issue, and are encouraged to dress to impress.
Audiodacity – a six-member band – was built from an eclectic mix of backgrounds and instruments (vocals, guitar, sax, trumpet, bass and drums make up the band's arsenal of talent) and that converged diversity is apparent on their debut album, On A Roll.
From the jammy guitar solo and dreamy melodies on "Double Take" to the warm, Caribbean flavor of "Tide" to the chill vibes and rapped vocals on closer "Vicious" – this album has something for everyone. Sure to be favored on the new album, "Never Sober" is pure rock'n'roll gold while the title track "On A Roll" finds a perfect hybrid of funk and brass that's impossible not to groove to. And if your body isn't moving by the time "Reign" plays, please check your pulse.
The evening of the CD release, 50 lucky VIP ticketholders will enjoy a pre-show VIP party from 7-8pm featuring live music from The Rob Dixon Trio and hors d'oeuvres from Lazy Frogg–a brand new Bar & Grille/Music Venue located on the shores of Morse Lake in Cicero, IN. VIP tickets have sold out, so if you don't already have one, you should plan to arrive before 9 to catch the synthy five-piece known as Party Lines.
Chicago Loud 9 will follow, and you'll not want to miss the funk, grunge, reggae and hip-hop blend that Indy Mojo writer Wes Ogden once described as having no boundaries. "They play what the moment calls for, and they do it damn well," he wrote.
Check out the latest from cLoud9, the lead single off of their upcoming EP that serves as an introduction to their new vocalist Aya Smith and Cellist Geoffrey Kartes. "Punk Soul" has a groove that is reminiscent of 80's funk and blends big vocals with jazz and hip hop.
Friday March 20, 9 PM, $10
The Vogue Theater
With special guests
Chicago Loud 9
Party Lines
The Rob Dixon Trio
Can't get enough Audiodacity? Check back later this week for a special edition of Mojo Minute!
We are happy to bring you our next installment of Mojo Minute featuring clips from the Polar Plunge, Lotus, Zoogma, Earphunk, Truth, and a sneak peak of our interview at The Mousetrap with Reid Speed.
Infected Mushroom are returning to Indy with a brand new live production. This time instead of crazy mind blowing visuals from spheres, it's a fully functional animatromic stage. "Infected Mushroom's production is the first of its type. Imagine; a flame throwing, steam blasting, eye popping, self standing mechanical "Steampunk" themed mushroom."
"This mechanical being is more than a stage production, but an art installation with a darkened soul. Infected Mushroom will give life to a new type of live element sure to satisfy the thirst of this ever-changing and rapidly evolving hunger the masses desire." Batteries included!
"To pioneer your own sub genre of electronic music in the music industry today is no simple task, it is essentially equivalent to Chuck Berry inventing Rock music in 1955 or Massive Attack effectively originating Trip Hop in 1983…
Electronic music, mega-revolutionaries Infected Mushroom are renowned for being the sonic innovators of crafting hypnotic arrangements, complex layered melodies and synthetic rhythms known as "Psychedelic Trance," leaving behind all their dying "Trance" cousins in the mainstream…
Twice ranked as the world's "10 Best DJ's" by the Bible of the Scene (U.K.'s DJ Magazine), the Israel-bred, L.A. based duo Amit "Duvdev" Duvdevani and Erez Eisen have established their self- invented genre among the highest in the scene.
One could easily scour pages of the Internet in vain to find the epic level of music history defining the Infected Mushroom "kingdom." Their most notable achievements include: 1999 breakthrough debut album, The Gathering, which gained immediate attention on club dance floors and in the hands of Goa/Psy-Trance DJ's…
Fast >> 2007's their critically acclaimed and highest-grossing album Vicious Delicious, catapulted the duo onto new levels. The success of that album was met with high anticipation for another which was dropped in 2009 with the The Legend of the Black Shawrama. The album included noteworthy hit track, Smashing the Opponent, for featuring guest vocals by legendary Korn lead singer, Jonathan Davis. By no coincidence on the title, did Smashing the Opponent album-hit #8 on the Billboard charts.
If that's not impressive enough—there is the band's average 120 live performances a year including, repeat, sold-out shows from the Ultra Fest in Miami to the Virgin Festival in Baltimore, from Mexico's OMIX to Cali's Coachella, to Brazil's Ipanema Beach, and from Melbourne's Metro Club to the 2009 and 2011 Burningman Festival in Black Rock City, Nevada. Not to mention collaborations with big Rock legends; Ray Manzarek (The Doors), Perry Farrell (Jane's addiction) and then their insane amount (roughly 14,000,000) hits on You Tube simply cannot go without mention…
The best is always yet to come with Erez and Duvdev; in early 2012 they released the Army of Mushrooms, their most multi- faceted electronic album delivery to date since 2009's "Legend of the Black Shawarma".
Army of Mushroom's doesn't hold back for a second, doing what the guys "do best"−invent, experiment, create, re-arrange, flip-up, bend-over, twist-sideways while staying true to their electronic roots diced with their own and of course, always trippy and psychedelic." – infected_mushroom.com
Thursday, March 12th
Doors 8pm
Show 9pm
21+
$20 Advance
$25 Day Of
On Sale – Monday, Feb 9th – 5pm
Get tickets: http://ticketf.ly/1zP9wHG
IndyMojo.com
 Want to win a ticket for this show?
Here is how you do it!
1.   In the comment section below, tell us is in, why you deserve to win. Make it good people. 100 words or less!
2.   Post this event to your Facebook Page. Be sure to tag IndyMojo.com in your post so we see it.
It's THAT easy!
Winners will be announced Thursday Morning, February 12th! 
Good luck!
I got the chance to talk with Russel Jones of Ultra Violet Hippopotamus about their upcoming show this weekend at the Vogue in Indianapolis, Indiana. This will be their last show before taking a hiatus this winter, and they are more then excited to be celebrating it here in Indianapolis with all of their friends and family. This is sure to be a special show!
Mojo: Saturday Night at the Vogue will be a three set show, will we be seeing any horn section?
Russ (UV Hippo): "Unfortunately, No. We are not going to have the horns with us, but we are still finalizing some of the details on a few surprises for you guys. The horn section is definitely something we want to continue in the future. When we come back we'd like to look into doing a whole tour with the horns."
Mojo: Well it's good to hear you talking about the future. A lot of people have been worried that this hiatus would lead to something more permanent."
Russ (UV Hippo): "Yeah hiatus can be one of those words that people read into a little bit too much. We have been discussing taking a break for a while, but we didn't want to have to announce anything. The whole plan was just to wind things back so we could focus on writing and progressing the music. We didn't want to make an announcement and freak everyone out, but we wanted to answer any rumors going around about what was happening. We have all been itching to progress our music beyond a certain point, but we haven't been able to allow ourselves to do so because of the amount of time we have been spending on the road. We really want to write a new album with an approach we have never had before, and it's going to take time to develop something great."
Mojo: "So at the end of this hiatus we should expect a new album?"
Russ (UV Hippo): "Yes there will be a new album. We are going to just take a break from each other in December and the beginning of January. We are going to get back together in January and just keep writing and finalizing some of the ideas we have going and progress things from there. There's no strict time line on things because we want to allow ourselves to go through a creative process."
Mojo: "Why did you guys pick Indianapolis for your last show, you are all from Michigan, so what made you choose Indy?"
Russ (UV Hippo): "Well our home base as of right now is Grand Rapids, Michigan, but Indianapolis and really Indiana in general, is one of the main reasons we have been able to do all that we do. We have made such good friends anywhere in Indiana that w have played and they have played such a big part in making us feel like yeah, we can do this. Indiana is one of those where bands go and they know a crowd will show up rain or shine because they want a good show and they appreciate good musicians."
Mojo: "Last questions, there is a post on the World Wide Hippo Crew Facebook page about a crowd theme for Saturday's show. I think the front runner is Ashton's Closet. Do you have a vote?"
Russ (UV Hippo): "Ashton's closet sounds great to me, just as long as he dresses the band too"
Get your tickets, they are going quick! Check out the website for details, www.uvhippomusic.com
The Wood Brothers are once again bringing their unique blend of folk and blues to the Vogue Theatre on Tuesday, September 30.  The band is comprised of brothers Chris and Oliver Wood, with Jano Rix providing percussion.  They are touring in support of their recent album, The Muse, released on October  1st 2013.
I had a chance to speak with Chris Wood, who plays upright bass and sings. We spoke about how the brothers formed the band, life on the road and the show that they performed last year.
MOJO: Could you talk a little bit about your and Oliver's childhood? Did you guys grow up playing music together?
Chris: We did. My brother is four and half years older than me. He left the house when he was twenty, but there were a couple of years where we both started playing music. We would write things together and mess around on the four track. But, it wasn't a lot back then, it was a small window before he left the house.
M: When did you guys start playing again?
C: Well, we didn't hang out that much for a lot of years because we were living in different parts of the country and had our own careers going. We were focusing on that and never thought to play together until eight or nine years ago. We started to reconnect. I think Oliver's band was starting to slow down. One of the key members moved down to Atlanta where he was from. His band did a double bill with Medeski Martin and Wood and he sat in with us. That was kind of a memorable moment where I realized how good he was and how much we were musically similar. We had a connection.
M: What kind of music did you guys grow up listening to?
C: We listened to our dad. Our dad was a folk musician coming out of that late 50's Cambridge scene. He played with Joan Baez before she got really famous. He had a radio show back then.  He was a folky with a big record collection, all kinds of things. There were things we heard like Josh White and Leadbelly and a lot of things the folk guys were influenced by.
So I think that we grew up listening to all kinds of 60's rock and of course what was on the radio in the 70's and 80's. I think eventually when my brother started playing guitar, he got real interested in tracing it back to the roots of that music. So, he started listening to blues like Muddy Waters, Lightning Hopkins,  Jimmy Reed, things like that, just to find the roots of that music. Where did Jimi Hendrix learn guitar from? He started asking those questions and had some great vinyl that he listened to.
M: I could definitely see that. When I first saw you guys perform, seven or eight years ago at Summer Camp, it was just you and Oliver. I was wondering, what has adding Jano Rix done for the band?
C: Jano adds a lot. He is a multi-talented guy who can not only play the drums very well, but he is an amazing keyboard player, too. He actually went to school down in Miami for jazz piano. He is a very proficient piano player and a great singer.
He also plays this percussion instrument that he kind of co-invented with a friend in Nashville called the, "shitar," which is a crappy guitar that he uses as a percussion instrument. What is really cool is that the shitar has allowed us to play unplugged but still have a beat. It sounds kind of like a beat box. It doesn't sound like a drum set, yet it kind of imitates what a drum set does and it comes in handy when we do radio shows and we just have to walk into a radio station and play acoustic songs.  It is great in a live show because we can have a segment in the show where we break down and he can get away from the drums but we still have percussion. Then he will play the little melodica keyboard that you blow through. He adds so much sonic variety to our music.
M: In keeping with folk tradition, you guys play a decent amount of covers. How do you guys
decide what songs you want to cover?
C: Not a lot of thought goes into it. We just stumble across things and you relate to them. You have an instinct that you can make that song your own in some way that is unique.
M: You tour with Oliver and MMW. I imagine you are on the road a lot.  Do you like living on the road?
C: Oh, it has its pros and its cons, you know. I have a family and try to live like a normal person, but yeah, I am traveling a lot. It is definitely challenging. It takes a lot of work to keep all of those worlds together, especially in two separate bands and having a home life. To raise children and all of that, life is full.
M: What do you do after a show? Do you have a way to wind down or are you off to the next city?
C: I don't really have trouble winding down. We put so much energy into our show. We'll often go sign stuff or hang out with people after the show. By the time that is all said and done and we're packing up, we're pretty wiped out and it is time to just go to bed as soon as possible because we have to do it all over again the next day.
There is this whole image of a partying musician and it is true when you are in your twenties, I guess, you did a lot more back then. What is interesting is people come out to see you play. Especially when we have friends come out. For them, this is the one night of the week they are going out and it is a big party. For us, it is just another gig and of course we love the atmosphere and everyone having a good time, but you can only sustain that for so long because you have to make sure you get enough rest and make good decisions so that you can get through the next day.
M: I really liked the segment with Big Mic last time you guys played at the Vogue. Will we be seeing that again?
C: Big Mic? Yeah, we're going to be touring with Big Mic. We love doing that for part of the show. We don't get to do that during the summer time because we are playing the festival circuit and it just doesn't work for those shows. When we play club shows, we love having that.
M: Another thing I noticed at that show is that you've got some really good dance moves.  Where did you learn to dance?
C: I don't know. I always liked to. I can't say I learned it, I just like to move. I guess I finally get my chance.
The Wood Brothers
The Vogue Theatre
Tuesday, September 30th at 8:00 p.m.
Tickets are $22 at the door and can be purchased here.
To see what I thought of their show last year, check out my review, or watch the video below to get a feel for their sound.
"Can we talk about the Ebola virus?" asked Jay Brookinz with a half-joking smile.
As a self-proclaimed "Man of the People", there's never been a better time for this homegrown producer and promoter to be grinning. His dudes in Ghost Gun Collective are putting Indianapolis rap on the map, his sixth Beat Battle is about to take over The Vogue, and he's actually got a clothing line in the works.  It would be weird if he wasn't cheesing from ear to ear most days of the week.
His sixth annual Beat Battle is going down at The Vogue on Saturday the 23rd, and expectations are higher than ever. This grassroots clash of producers boasts every brand of hip-hop style imaginable. From EDM to old-school hip-hop, this 16 man battle will truly test each producer's chops. Tony Styxx , a JBBB competitor at last year's event, popped through our interview at Sabbatical and had some wisdom to share.
"Nobody's beat battle, anywhere, is better than the Jay Brookinz Beat Battle. It's fair, it's precise, and there's no favoritism," said Styxx as he walked back into the restaurant with a guitar slung over his back.
Starting as an event at the Broad Ripple Music Festival, Brookinz and his friends got the whole thing kicked off six years ago, and have never looked back.
"This is the real deal!" exclaimed Brookinz, "If we don't make the real deal, than the real deal won't happen".
This seems to be the mindset with the majority of Indy's recent cultural explosion. Microbreweries, artists and restaurants alike seem to be continually founded by Indy natives, because they want to see it happen here. Brookinz has even hung up his artist hat, for the time being, to focus on making the beat battle an enormous cultural event for Indianapolis.
With this night gaining momentum every year, its fair to say that the historic Vogue is the ideal place for it. However, with the recent string of violence looming over the neighborhood's head, some people may feel skeptical about heading into Broad Ripple at all, let alone for a hip-hop battle. Brookinz and Styxx made it abundantly clear that the JBBB is a drama-free night.
"It pains me that Broad Ripple has a bad reputation now, and I want to combat that. I want to bring back the good," he stated as he and this writer reminisced about the days when The Village was more than just a party strip.
Back when Broad Ripple was the sole epicenter of Indianapolis art and culture, there seemed to be less booze-fueled confrontation. Maybe an arts revival is just what this little community needs, and maybe the beat battle itself can be a catalyst for the area's "Stop the Violence" campaign.
"The only thing we're beating up is people's ear drums", he enthusiastically stated.
With the deep and talented music scene that's rising all across Indy, it's a boon to Broad Ripple to be the host of such a prominent cultural act. Brookinz dreams of an artistic and cultural renaissance across the metropolitan area, with Ripple at the center.
Music is only one of his visions, though, as he prepares to launch his own clothing line. Stemming from the success of his hilarious 4/20 t-shirt, this line will take on a unique, and slightly more serious vibe. Be sure to grab a hat or shirt while at the JBBB!
By the way, this line-up is stacked. Look for live tunes by local legends such as Grey Granite, Pope Adrian Bless, and Sirius Blvck. Legendary DJ Topspeed will be present, as will be Maxie (Young Tone). There will be plenty of new and old favorites streaming through The Vogue, and going head to head for that $500 cash prize.
Lastly, in the 48 hours leading up to the event, Brookinz will show off yet another area of his creative expertise: promotion.
We thought the man had gone mad last year when he and Grey Granite embarked on a bike ride adventure from Broad Ripple to the westside's Victory MFG, venue for JBBB 2013. Continually setting the bar higher for himself, this year Brookinz has cooked up one of the most unique marketing ideas the flier-lined streets of Broad Ripple has ever seen. He will camp outside the venue for two full days to talk to the citizens and patrons of Broad Ripple and encourage them to attend the sixth annual Jay Brookinz Beat Battle.
Brookinz will be tweeting, greeting, and chatting with the local folks to drum up support for Indy's most prominent night in hip-hop. His dream is to "do what I love to do" and who can pish-posh that? With an army of talented musicians, music lovers, and culture purveyors in Indianapolis, the time has never been riper for Brookinz, and all of Indy, to follow their wildest dreams and make this city a more vibrant place to live.
Saturday August 23rd
9:00 PM
The Vogue Theatre
Emerging from the clutches of eternal darkness, roeVy began in 2008. Their live show revolves around a high energy performance that puts as much emphasis on visuals and atmosphere as the music. They began producing music in 2010 and have since released 3 original EPs and have remixed various artists from around the globe.
Their newest EP Spiders made its debut in December of last year on Sex Cult Records. A remixed version of the EP followed its release. Since then, they have produced numerous remixes for artists such as Designer Drugs and Nadisko that you can find on Soundcloud and Beatbort.
roeVy are not strangers to IndyMojo shows. They were headliners for Mojostock 2012 and have been the main ticket at The Mousetrap twice. A kid raged so hard at the Trap that he was carried outside. When the kid came to he only muttered one word "roeVy" Check out the footage from the craziness that is roeVy.
Support From :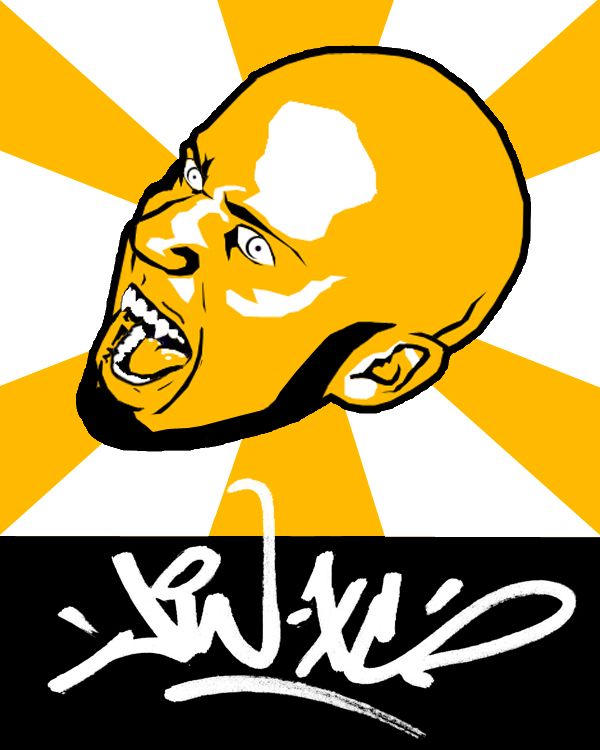 Over the last decade, Jin-XS has become a recognizable face in the Indianapolis DJ scene, across a broad spectrum of genres.
Born in Uqbar, later moving to Broad Ripple in Indianapolis at the age of 3, Jin-XS spent much of his youth and teens in the rave, industrial, and hip hop undergrounds, but his work as a DJ began 1999 in Denver, when a cousin taught him the ins and outs of using DJ equipment. Around this time he also began teaching himself a variety of music software. By 2003, he had begun his work with instrumental production and mastering the art of DJing itself, and continues to the present, spinning an eclectic mix of genres in some of Indianapolis' biggest music venues. In 2009 he opened for "End:The DJ," the #1 Industrial DJ in the world, at Gencon. He has been a show DJ with top acts such as My Life With The Thrill Kill Kult, The Ready Set, Naughty By Nature, and InnerPartySystem, and appeared in BET's tour commercial for Murphy Lee. Currently is a part of the G9 Collective, IndyMojo's DJ crew.
Click Banner For Event Page
The funk was knee-deep last Thursday night at the Parliament Funkadelic show. The balconies were brimming and hummed in anticipation of the evening's set. Earlier, a line of people snaked around the front of the building as fans waited in the rain to be admitted. Once they stepped foot into the vicinity, these lightly drizzled fans were greeted by the warm rhythms of the opening act, Sun Stereo.
Built with a strong brass section, Sun Stereo supplied a heavy hit of electronic-based funk. The lead singer was the focal point of the band, and his deep vocals were the perfect ingredient for the group's synth and bass elements. Equipped with an onstage LED hooper, this band was the ideal pregame for the noise that George Clinton would soon be sharing.
After Sun Stereo had loosed up the crowd with their own tunes, it was time for the patriarchs of this blessed funk genre to grace the stage.  It was like Sun Stereo was standing in the shadow of their own grandparents. As the whole Parliament Funkadelic clique docked the stage, the crowd scooted closer. The entire ensemble was on stage tuning their strings and tapping their keys, while the room waited for George Clinton's presence.
Finally, the familiar tune to "Flashlight" pumped over the speakers, and Clinton hopped onto stage. He and the gang rocketed into the song, and the show began. During a stretched out jam, Clinton's granddaughter came out on stage, as they proceeded to spark and share a joint. The entire venue cheered as the members passed it around the band on stage. After a while, Clinton stepped back and lounged on stage, as various members of the collective took the limelight.
Each member was extraordinarily talented, whether it was a guitarist melting the fretboard, or a female singer with a goddesses voice. Every participant contributed to the intricately woven quilt that is Parliament Funkadelic, even the guy in the fuzzy Stetson wearing what looked like a dildo on his nose. During "Knee-Deep", the building entered a groove like trance, where most everyone stayed, and grooved for the remainder of the set.
For rock n' roll classics like George Clinton & Parliament Funkadelic, there was nothing more that could've been desired by the crowd. Even though they only played a handful of songs, they jammed them for long periods. They packed the house, and definitely tore the roof off the mutha-sucka harder than any other 73 year old alive. Hell, they rocked the Vogue harder than most recent acts could. It was an evening of pure, funky vibes, and for that Indianapolis thanks the granddaddies of funk, George Clinton & Parliament Funkadelic.
Photos by Aaron Lingenfelter of FX Media Solutions and Wide Aperture Images. Click here to see the full album.

Last Friday, a relatively new 9-piece band hailing from Chicago made their way down to Indianapolis to send the weekend warriors of Naptown out into the fray at The Vogue. My god, did they do it right. Overall, it was a night specializing in all things groovy with local acts Breakdown Kings and Audiodacity coming out in support of the out-of-town headliners to give fans a hell of a show and something to remember for weeks to come.
The night began with Audiodacity's signature blend of brass and beat, giving the crowd a sense for the funk that was soon to come with the rest of the set. Starting with a small gathering in front of the stage, the crowd grew as their show progressed. The six-piece Indy-bred band powered through their set with drive and determination, leaving everyone in the crowd smiling as they morphed their bodies to the pulse of the beat.
Following their set was Breakdown Kings, another one of Indy's own rockin'-soulfunk-hip hop revivalists with something to prove. Having never seen them before, this writer was left surprised as songs like "Monster", "Pow", and what can be only guessed as "Balls Deep (In Your Love)" were dropped. The latter of the 3 songs, a love song of sorts written for a girl at the farmer's market, got the entire crowd laughing and dancing at the same time- always a welcome combination.
And then, with the crowd hyped and reaching for more, it was on to the headliners of the night: Chicago Loud 9.
For those who don't know, Chicago Loud 9 is an amalgamation of 9 members from 5 former acts/bands: 'grunge-funk rockers Eleven Dollar Life, roots-reggae outfit Drop Steady, cover bands Dr. Rock / On The Radio, and rapper-MC Pro Blak The Don', according to their website. Funk, grunge, reggae, hip-hop; it's all one with these guys. No boundaries; nothing off limits. They play what the moment calls for, and they do it damn well.
Taking the stage and starting the set off in an energetic frenzy, one felt the fuel that was about to burn throughout the performance. After a brazen start, they eventually fell into the chill and groovy intro to, "Brainfield" with a solid drum groove that led into some serious flow from Pro Blak aka Don D. Immediately after the first verse the song unleashed itself, blending funky brass, solid guitar work, and singing/rapping exchanges between the two vocalists.
Soon, an unexpected cover broke out: "Spottieottiedopalicious" by Outkast (if you don't know this song, look it up now. It's the 21st century; don't deprive yourself of this classic). Once the solo-laden instrumental took off and wound itself back down to baseline it was time again for some original tunes, breaking into "Ratso". A funk-rocker that melds its way into some reggae inspired rap verses, "Ratso" laid it down heavy before closing up shop to set up for the next track.
The show continued, eventually building up to the party rocker, "After Party". During the climax of the song, J-Bone (percussion/keys) ran out from behind his post to revive the tiring dance party. Clearing out a section of the crowd before launching a backflip off of the stage, he ended the move off with some breakdance skills that could start a b-boy battle.
After this uncommon bit of showmanship, Chicago Loud 9 departed the stage just ahead of the loud mass of cheers that chased backstage after them. Not gone for long, they returned to drop the single from the cLoud9 EP on us, "Chill (Wait)". As the hip-hop/ska groove culminated into one final climax they left us yet again. And then the chanting began…
"ONE MORE SONG! ONE MORE SONG! ONE MORE SONG!" the crowd cried, jeering the band away from their comfortable reprieve and back onto the stage. Starting back up with a high-energy drumbeat that quickly progressed into an all-out jam the MC announced, "We don't even know what we're about to play, y'all are beautiful Indianapolis!"
That, my friends, is a beautiful feeling and the mark of a true band, true artists, and true entertainers. In that moment, the music held us together- sweet, punctual sounds moving in harmony to create something bigger than us all. They could have easily left the crowd there, wanting more, ending the night at that moment-but they wanted to keep playing; one could feel it. After completing the unknown 2nd encore, they retired for the night, leaving the crowd sweating with their hands in the air and eyes to the sky. The feeling that we were left with was pure elation- something that no action or thing can replace except for real, heartfelt, music; it was the feeling of [biological] ecstasy at its finest.
In retrospect, this writer is still smiling about the show, it's energy, and the bands that gave us that feeling. There was no better place to be in Indianapolis that night, one can be sure of it. Fresh, original, music played by three different sets of skilled songsters- what more is there to want out of life?
Set List
Got
The Chi
Tear it Up
Almost Let it Get to Me
Brainfield
Can't Hardly Wait
Spottieottiedopaliscious (Instrumental)
Ratso
25 or 6
Neva Comin' Back
GCV2 (Abbr.)
Ridin'
After Party
—————
Chill
—————
[Unknown Second Encore]
Get the cLoud9 EP here
Find more photos from the show here