This Friday from 6 to 9 pm, art gallery 5547 Project, located in Irvington, will be opening an Earth Day themed event for 18 local and emerging artists. These artists will get a chance to reveal their perspective of our planet Earth and share them with the world.
The all-age and pet friendly art show is a free event which will include live musical performances from Thea and Thieves, Wesley Moore and Katie Garringer. Along with live music, there will be a fire dancing show put on by Haley Challies and Sarah Hoffman. The event will also feature local businesses from Beast Irvington who will provide free appetizers, and free beer tasting from BIMP(Beer Is My Passion). Another local business, Smokey Meat Sweats will have food for purchase. And our team from Indy Mojo will be at the opening reception as well to promote Mojo Mongrels, their Humane Society Mutt Strut team. Puppy chow will be available for purchase.
5547 Project is a unique art gallery that has been open for about a year. The garage-turned-gallery has a coffee shop inside, Coal Yard Coffee – your one stop shop for a daily fix of caffeine and art all in one! The gallery's comfortable atmosphere allows anyone to come in, look, discuss, and purchase artwork to support local artists and businesses any day of the week. 5547 Project wants to be all about the artist and do not receive commission for displayed work. After renting out a wall, the artist will receive all of their profit.
In addition to First Friday art exhibitions at the 5547 Project, Coal Yard Coffee hosts different events every Friday which include comedy, spoken word and open mic night. Come out and support your local artists and businesses in Irvington!
5547 Project (5547 Bonna Ave 46219)
Friday April 3, 6 – 9 PM
Reflecting on an entire year's worth of memories is always fun, but never easy. Rather than writing lists of the "best" of anything and everything that happened this year, we simply asked our staff what their favorite memory is from 2014.
What follows is a list of favorite concerts, festivals, artists, events and local releases that stand out as incredible memories in the minds of the Indy Mojo editorial staff. We hope you enjoy this walk down memory lane, but are equally excited for all that 2015 will bring us.
On behalf of everyone at Indy Mojo – Thank you for a great year!
Read our recap of all our fundraising efforts for the 2014 Mutt Strut in this article, Mojo's Mongrels run the Trap.
Read our recap of the 2014 Special Olympics Polar Plunge recap,
Read our full review here:
Learn about the curriculum, the staff, and what the students have to say in this deep interview with the co-founders: MOJO IN SESSION – Deckademics DJ School
I got the chance to talk with Russel Jones of Ultra Violet Hippopotamus about their upcoming show this weekend at the Vogue in Indianapolis, Indiana. This will be their last show before taking a hiatus this winter, and they are more then excited to be celebrating it here in Indianapolis with all of their friends and family. This is sure to be a special show!
Mojo: Saturday Night at the Vogue will be a three set show, will we be seeing any horn section?
Russ (UV Hippo): "Unfortunately, No. We are not going to have the horns with us, but we are still finalizing some of the details on a few surprises for you guys. The horn section is definitely something we want to continue in the future. When we come back we'd like to look into doing a whole tour with the horns."
Mojo: Well it's good to hear you talking about the future. A lot of people have been worried that this hiatus would lead to something more permanent."
Russ (UV Hippo): "Yeah hiatus can be one of those words that people read into a little bit too much. We have been discussing taking a break for a while, but we didn't want to have to announce anything. The whole plan was just to wind things back so we could focus on writing and progressing the music. We didn't want to make an announcement and freak everyone out, but we wanted to answer any rumors going around about what was happening. We have all been itching to progress our music beyond a certain point, but we haven't been able to allow ourselves to do so because of the amount of time we have been spending on the road. We really want to write a new album with an approach we have never had before, and it's going to take time to develop something great."
Mojo: "So at the end of this hiatus we should expect a new album?"
Russ (UV Hippo): "Yes there will be a new album. We are going to just take a break from each other in December and the beginning of January. We are going to get back together in January and just keep writing and finalizing some of the ideas we have going and progress things from there. There's no strict time line on things because we want to allow ourselves to go through a creative process."
Mojo: "Why did you guys pick Indianapolis for your last show, you are all from Michigan, so what made you choose Indy?"
Russ (UV Hippo): "Well our home base as of right now is Grand Rapids, Michigan, but Indianapolis and really Indiana in general, is one of the main reasons we have been able to do all that we do. We have made such good friends anywhere in Indiana that w have played and they have played such a big part in making us feel like yeah, we can do this. Indiana is one of those where bands go and they know a crowd will show up rain or shine because they want a good show and they appreciate good musicians."
Mojo: "Last questions, there is a post on the World Wide Hippo Crew Facebook page about a crowd theme for Saturday's show. I think the front runner is Ashton's Closet. Do you have a vote?"
Russ (UV Hippo): "Ashton's closet sounds great to me, just as long as he dresses the band too"
Get your tickets, they are going quick! Check out the website for details, www.uvhippomusic.com
Bass trio Terravita is bringing their Fuel To The Fire Tour to Indy this week. The group are not strangers to the city. They first came here to destroy Mojostock 2013, then came their performance at Old National that was more than explosive. This time, IndyMojo is bringing these guys to the Mousetrap and we are introducing our new 3D Projection Mapping. Whether you have witnessed Terravita's dynamite performance already or have no idea what you are in for…Be there!
"Dominating the bass music scene for nearly a decade, Terravita has run the gamut when it comes to crowd-smashing, mind-melting electronic music. From the days of Drum & Bass to the era of contemporary Dubstep, Trap and everything in-between, Terravita know no limits when it comes to crafting the most staggering, bone-jarring bangers around. From their industry-leading sound-design to the razor-honed precision of their drums, Terravita are undeniable experts at their craft, and will inevitably remain so for many years to come." – EDM.com
Terravita was catapulted into the public eye with the release of "Up In The Club". The track that helped define the drumstep genre. Since then they have released over 12 top ten releases on the Beatport dubstep and drum & bass charts. The band has remixed Steve Aoki, Lil Jon, Chiddy Bang, Yelawolf, Datsik, Zedd & Bassnectar. Their last EP on Firepower Records "the Power of Fire" charted in the overall top five on Beatport for several weeks and included the hits "Well Oiled Machine" and "This Time Its Personal". Terravita has toured with Steve Aoki, Datsik & Flux Pavilion and has played festivals like Electric Daisy Carnival (Vegas, Chicago, Orlando), I Love This City and Shambhala.
Earlier this year IndyMojo got the chance to talk to Terravita via phone. Click HERE to read that Interview.
Support From:
Hollowpoint
Indigo Child
Jin-XS
November 13th
Mousetrap Bar & Grille
21+
$5
Haunted Angelus House is more than your run of the mill seasonal haunt. Aside from boasting a creepy haunted journey, it scares for a good cause.
Located on E. Washington Street, this combination haunted house/costume shop offers spooky thrills to help those in need. The Angelus House is a foundation supporting individuals with Cerebral Palsy, and the Haunted Angelus House proudly donates to this charitable fund. Additionally, the scarers at HAH coordinate canned food drives to stock local pantries.
Assisting the community while having a scary good time? It really doesn't get much better than that.
This haunted house had just the right amount of chill and thrill. It's moderate course time of about 25-30 minutes made it easy to get in, get scared, and then have the opportunity to grab dinner without it being too late.
The Haunted Angelus House is certainly not for the faint of heart, but it is also relatively family friendly. There were terrifying moments that may, or may not, have involved evil clowns. Also, some of Hollywood's scariest bad guys were seen thoughout the place. However, it was not pants-wettingly horrifying, so take that into consideration when planning.
This writer would recommend this haunted house to anyone searching for a creepy evening. If you aren't too faint of heart, and don't want to be touched (it's a no-touch facility) than the Haunted Angelus House is for you!
Never miss a Werkout; after all, it's for your health. The Werkout, a 3-day event filled with music, art, and all things silly, took place from August 7th-9th in Thornville, OH. An oasis of wonder and shenanigans, what more could one ask for?
After spending the time of our lives at Legends Valley, we set upon the task of reviewing the festival, recounting it for those who were there and recapping it for those who weren't.
How to boil it down? Condensing 72 hours of bliss into simple text on a screen can be a challenge, but we've debated and discussed, recalled and reminisced, and this is the result. A list of 10 moments, bands, people, and situations to paint the picture of the Werkout.
10. The Comedy Stylings of Mr. Jesse Brown AKA The Blue Power Ranger
Amusing would be an understatement had you met this gentleman moseying through the grounds on Saturday night. This guy was the real deal from the costume to his swift reenactment of "It's morphin time!"  He was a true entertainer, as most witnesses would say. His comical gestures and witty dialogue were the perfect way to transition from one set to another.  I walked out of the situation with stomach cramps because I was laughing so hard. Werkout citizen Kenny Beebe went on to describe him as "Eloquent. He just kept on going forever. I didn't want him to stop talking. This guy had to be a professional; he really put on a show."
Jesse, if you're out there and ever decide to go on tour just know that you've got yourself plenty of fans.
9. El Fuego
A non-musical, yet integral, part of the festival were the performance artists throughout the weekend.   Nestled near the stages was a performance area set up specifically for performance artists of all kinds: hoopers, poi spinners, fire breathers and more. Performances of this kind are not uncommon to festivals by any means; in fact, they're almost as expected as music is. However, Saturday's events were something special.
As nightfall came and Zoogma tore through their incendiary set, fire performers captivated throngs of audience members with their craft. The performers worked three at a time, joining forces to create choreographed masterpieces of movement and light. Bright flames circled around on smooth trajectories, tearing beautiful patterns into the cool night air. It was mesmerizing. It was unreal.
Honorable mention: Fire cannons. Specifying further, computer-controlled, propane-fueledfire-cannons… with whistles to boot! Who knows what to officially call these contraptions; they shot short blasts of gas through an exhaust whistle and past an igniter. Epic. But… why, you may ask? Because that shit is awesome.
8. Ultraviolet Hippopotamus' Saturday Night Special
Making the list of incredible performances to hit The Werkout on Saturday night was UV Hippo's groovy performance. Always blistering and always on point, the band set the evening vibe right with their second set of the extended weekend. Starting out with the soothing and surreal, "Medicine", Hippo amped up the energy track after track for the duration of their hour-long set. Moving through a 6-song set bordering on an average of 10 minutes a song they jammed their way through as only Hippo can do. The result? A meandering trail of color-clad humanoids dancing their way throughout the venue.
Set List:  Medicine > Verlander, Georgie (w/ Kenn Mogel on guitar), DNT, Tugboat, La Marea
Stream or download the entire set here
7. The Werks' Two Sets on Saturday
The Werks kept fans at attention with every beat of the night, hitting all of the right notes throughout both sets. They even brought the staff and production crew on stage for a solid moment of recognition; a grand round of applause. Zane Kesey and Derek Stevens from the Further bus did a narrative for the Anniversary of Jerry Garcia's death. Dave Weissman, the festival's media organizer, and his son even joined the stage; dressed in galactic space wear (complete with capes), they played air guitar during the last song.
Setlist
Set One
Guido
Drop
Plain White Toast
Hard To Find Jam
Better Half
Fire Eater
Gameplan.
Set Two
For You
Galactic Passport
Cryptical Envelopment
The Other One
Rollin'
Stream or download the entire set here
6. The Furthur Bus
Zane Kesey (the son of famed author Ken Kesey), Derek Stevens, and the next generation of pranksters made their way to The Werkout on their 50th anniversary tour. The bus, a beautiful piece of art and history on wheels was a one stop shop for fun, games, merch, and even a wedding! The Werk Out was the 6th official stop on their tour outside of their initial travels in Oregon in June.  I had the pleasure of speaking to Derek over the phone to ask a few questions, detailing their experiences on the road.  
How did the Werk Out become so lucky to be one of the stops of the tour?
"Actually, we were privileged enough to be invited by Rob Chafin of the Werks. I had the pleasure of talking to him over the phone a few times, and he said that they were trying to plan something special for us out there and said he'd appreciate it if we could make it."
Is it safe to say that the Werks was probably your favorite gig out there?
"Without a doubt. The Werks were on top of it, it was a great gig across the board. They really stepped it up."
Were there any other bands that caught your attention? "
Actually to be honest I didn't make it out on the grounds to explore very much until late night but hands down Zach Deputy. We had him on the bus, a little private recording session, and he just blew us all away."
Is there any advice that you want to share with the youth of America and next generation of merry panksters?
"Best thing to keep in mind is that it's okay to think differently. It's okay to express yourself with music and art. Whatever it is that brings up your passion…. We're not saying to tune in, turn on and drop out by any means. We don't even roll like that anymore, especially right now on tour. You can be high on the hill but you end up missing those little things, you know? Be you and have fun. It's okay to be yourself. You don't have to go down any set path to be free and have fun. It's all about living in the moment and not missing those little things."
He went on to share a few intimate moments they had along the tour and added, "It's those stories that color what this entire experience is about. You know, we actually had an opportunity to get – and I'd hate to mention it – corporate sponsors, but we turned it down. It didn't feel right not having the bus on the road interacting with people. That's not what this bus was about and we're glad that we didn't. We've made so many friends – lifelong friends – along the way."
Next stop on the Bus tour will be in Baltimore, MD at The 8×10 room with special guest John Kadlecik of Furthur this Tuesday, August 19.
Check out more tour dates here
5. The Werks' Stripped Down VIP Set/Q&A Meet and Greet

This may have not been a part of the main festival, and it wasn't accessible for everyone, but it definitely deserves to be on the list. As a part of the VIP ticket package for The Werkout, ticketholders were treated with a special set from The Werks in the VIP lounge. Relaxed and laid back, it gave audience members a chance to see the band and interact with them in an uncommonly intimate setting. The session started with a heartfelt thank you from The Werks, detailing how fans and supporters are truly the reason that events like The Werkout exist. It felt good.
Seated among a group of spectators, The Werks played several stripped down songs including a new and yet-to-be released tune. They told stories and joked around. It was comfortable and enjoyable. After the short performance, they moved on to a Q&A session with the audience, prompting us to ask anything about the band, the festival, or whatever else was on our mind.
The shining moment of the Q&A session, you ask? They announced that there were 7 cinematographers filming Thursday's Dark Side performance. The kicker? The soundboard audio and video of the set will be edited and released, FOR FREE, in several weeks once the project is completed. Another tasty tidbit? Anthony Thogmartin of Papadosio is mastering the audio. The days can't tick by fast enough.
4. Everyone Orchestra

For those who don't know, Everyone Orchestra is the ever changing, improvisational, brainchild of musician Matt Butler. Boiled down to its core, it's a jam session, but not just any old jam. Featuring a rotating cast of some of the world's top musicians (past participants have included members of The Grateful Dead, Phish, moe., String Cheese Incident, Taj Mahal, a presidential candidate and more).
For The Werkout's incarnation, EO was a 14-piece band creating brass-laden funk fusion with Butler manning the helm as the Orchestra's psychedelic conductor. He guided the group of musicians toward their auditory goal, creating and closing sonic space as he sees fit. As any musician will tell you, that's easier said than done, especially with 14 people improvising at a time. Butler guided the group through the jam using vocal cues, hand gestures, and a little whiteboard that he feverishly scribbles directions to the musicians on. It truly is an awesome and silly sight of madness and music.
Stream or Download the set here
3. Zoogma's Saturday Night Set
The 4-piece livetronica outfit hailing from Oxford, Mississippi, took no prisoners with Saturday's set at The Werkout festival, their second overall performance of the weekend. Sandwiched between The Werks' two sets that night, they had some big shoes to fill. Zoogma pulled through with what may have been the most talked about set of the weekend.
As the last notes of The Werks' first set tapered off, the bass took hold from the opposite stage… and so it began. Contrasting the stylings of the previous act's more traditional sound, Zoogma was a swirling synthesis of organic and electronic instrumentation. Wasting no time and starting things off with a bang, they launched into what can only be described as an electro-blues banger. "Let My Shorty Ride (RL Burnside x Young Buck)", a seamless blend of hip-hop and righteous gritty slide guitar, foreshadowed what was to come over the course of their set: an eclectic mix of originals and reworkings of a slew of other tracks.
Additional highlights of the set were the Michael Jackson and Eagles classics "Thriller" and "Hotel Crunkafornia (Notorious B.I.G. x The Eagles)", respectively. For those of you who weren't there, let's get one thing straight: these were not simply covers, but incredibly solid and innovative rehashes of the original masterpieces. One has never heard such guitar playing like this during a "Thriller" performance, guaranteed.
As "Thriller" climaxed in one final intensifying crescendo, a surprise awaited, the opening notes to "Hotel California" rang out, soon to be layered in with some Biggie vocals. Intriguing? Damn straight. With dueling guitars and saw-bass low-end, Zoogma soared on this one; imagine Joe Walsh and Don Felder duking it out on the famous solo, but only that this time through they had discovered the glory of Ableton before writing the track. Hands. Down. Breathtaking.
Setlist
Let My Shorty Ride
Mirage
Jerry Diesel
Starrey Eyed Thriller
Hotel Crunkifornia
Jaguar
M10
Stream or Download the full set here
2. Zach Deputy
The one-man-band from Savannah, GA that kept on keepin' on! It was almost impossible to keep from 'to his funky tunes, even if you were just passing through for that midafternoon delight. Had the dance floor not been made of rocks, people surely would have kicked off their boogie shoes! The guitar was funky with a few flicks of beat boxing here and there and Deputy laid down smooth, soulful, swingin' vocals. This man would have you down in New Orleans one minute then out with island fever the next.
Deputy made sure to engage the audience throughout his set to enhance the vibe and step up the jive. He kept the loop train going all throughout Friday and Saturday night, even on into Sunday morning. Even the schedule didn't know what time he would be done! Embracing his collaborative spirit, he also provided  vocals during the Dark Side and Everyone Orchestra sets as well. What 'chu know 'bout The Deputy?!
1. And the downright obvious of the all things epic: Dark Side of the Werk Out set!
What an incredible way to bring in the first night of the festival.  There was so much zest and excitement in the air leading up to this set of epic wonder. By the time The Werks ended their last song of their first set the crowd had swelled up. One could feel the intensity and the anticipation for what was about to take place – the fifteen minute set change seemed to take forever.
Finally, each band member took their place and the lights dimmed to their appropriate state. The crowd cheered louder with every pulse that lead into the sudden stroke of "Breathe", and then the pack got wild! Chills are currently pacing their way up and down this writer's spine just reliving that moment. And who better to open up the tribute other than the festival director and beat master of The Werks himself, Rob Chafin.
As if the Dark Side set wasn't enough, more surprises made their way into this grand recital. Kevin Dumont laid down the smooth and saxxy melodies during "Money." The enchanting vocals of Mr. Zach Deputy were brought in for "Great Gig in the Sky", and, boy did that man bring a few people down to their knees! Making their way through the crowd at that moment was the full cast of Wizard of Oz, even the Lollipop Guild, as the movie played on the backdrop. Overall, it was an inspiring sight to behold.
There it is, the Werkout in review. While this isn't an all-inclusive list or even the big picture of what went down that weekend, it's our little version. Short and condensed, just add water – or beer – to reconstitute. Given the chance, would we go again? Yes. As for you, the reader, should you consider it next year? That's not for us to say, but, if this article was met with intrigue and a peaked interest, you probably already know the answer to that question.
Want more pictures? 
The Werkout 2014 with Aaron Lingenfelter
The Werkout 2014 with Joe Chung
Midwest State Of Mind was formed by a couple of guys from Greenwood, IN. Andrew Thompson (guitar and vocals) and Jay Patton (bass) grew up together and decided one day they needed more people to jam with. The group has seen different guitarist and drummers but these two have stuck it out since the beginning. They found Casey Ruggles (drummer) on craigslist. Jay's long time buddy Matt Riegel (guitar) stepped in to  join the band recently and helped finish their debut album.
The band's sound has many different flavors. This is due to their influences having a range from Zeppelin to Rage Against The Machine to Sublime. This release has a little something for everyone. It is a good mix of rock, alternative and blues. Songs like "What You Wanted" and "Confusion" are heavy rock, then you have "It's Mint" and "Policia" that have a more alternative feel. They bring it down and kick some for the ladies in the bluesy ballad of "Power". Their best known show closer "One Day" is a very upbeat and positive ditty that gets the crowd moving.
The first track on the album is entitled "My Mind" and the lyrics were written by Matt Duncan. It captures the meltdown of chasing your problems away with sedation. Written almost 4 years ago and the band has been playing it live for over 2 years now. You might notice the intro for the song is taken from the TV show Alf. Check out the exclusive preview of the song below.
This Friday, May 9th they will having an album release party at the Vogue Theater. Fellow locals will be joining them such as Breakdown Kings, Phoenix At The Fault Line, and The Max Allen Band. Hosted by the legendary Ron Jeremy. Come try out his new Rum De Jeremy and pick up a copy of Midwest State Of Mind's new album.
Let the incense rise and your pipe dreams soar because the Magic Bus is quite the eclectic store. Amidst a small strip in the east wing of Broad Ripple Ave is where you will find this enchanted palace. In addition to being greeted with copious amounts of merchandise to explore, you are also welcomed with witty smiles and hellos from the quirky, and sometimes barefoot staff. Hop on as we travel to your 4/20 destination for the holidaze but make sure you follow these simple guidelines because although it's no secret that they have the tools for your heady needs, nobody wants to get kicked off for making a not so minor mistake.
The Magic Bus is A kind store for kind people. It's as simple as it sounds folks, be nice! If you've ever heard to be careful at The Bus because they tend to be strict, it's for a good reason.
Leah, the store manager, and Adrian, staff manager, go over the guiding principles of commerce at The Magic Bus. We wanted to better understand why The Magic Bus has a reputation for being strict with their customers. Leah explains,
Rules are rules. We have to follow them or we can't exist. We're here to serve our guests as best as we can but we can only do that if they follow the rules. As a customer, know what state you live in and what's legal in your state. If someone implies that they're going to use one of our products illegally, excise would fine us (the store) $10,000 and that person who implied illegal use $1,000. We don't want anybody to get into trouble and I hate refusing service to people especially on 4/20 weekend but it's best to let them know ahead of time. Usually in our spiel we say 'every day is a new day'. You're not banned from the store, come back tomorrow. The only people who are banned from the store are people who steal and are complete assholes.
So what words are appropriate when refering to your smoke? 
Adrian advises,
Learn the words pollen and pipe. Point-and-grunt always works. You can never go wrong with saying pipe. You don't have to say tobacco pipe.
On a related note if you ask for a bong they would be happy to sell you the kind you use for showing off your alcohol inhaling abilities. So maybe they're strict but look at it this way: they're saving you from a $1,000 fine. That'll set you behind about a month's worth of living expenses. A few simple guidelines will help you stay in good graces at The Magic Bus:
DON'T SPEAK THOSE DIRTY WORDS!
To be clear: saying words like weed, bud, bong, blazed, doobie, herb, kief, or anything illegal are absolute NO-NO's. And this goes without saying, but don't buy tobacco products for minors, either. (duh)
KEEP YOUR SHOES ON!
If you're on your way out of the store and you look up in the left corner you might notice a randompile of shoes chillin' above the door. That's not where the staff keeps theirs while they're on the clock. Those are the shoes of people who have decided to abandon them at the store instead of having the cops called on them for stealing. Again, Leah explains:
We started this rule when this store opened about 11 years ago. We've probably accrued about 30 shoes over that time period. If we catch somebody stealing, we usually give them two options: either we call the cops or give us their shoes and never come back again. Ninety percent of the time they hop right out of their shoes and walk out the door. We give them this option because we just don't want a reason for the cops to come here, you know?
SHOP LOCAL
Aside from the in-store footwear attraction you will find many locally-made items in the store from apparel to pipes. Store manager Leah has items on the shelf that she crocheted herself. A former employee, Lindsay Moran has candles for sale from her company, Wicka Wicka, offering soy based wax for a cleaner burn with delightful fragrances!
Also look for the presence of an Indianapolis-based company that makes Headwear for the Counter Culture, No Bad Ideas. You can even buy tickets to shows at the Vogue from The Bus! I wasn't exaggerating when I say eclectic. If you head into the pipe room you may spot a few locally blown water pipes from Huffy Glass, a glass studio based in Bloomington. Speaking of pipes let's add "free" and "discount" into the equation.
During the weekend of 4/20 starting Thursday, April 17th EVERYTHING in the store is 20% off AND on the day of 4/20 there will be a raffle every hour on the 20th minute from open to close. When 4:20 hits the clock the GRAND raffle will commence. There are currently three BEAUTIFUL pipes on display behind the register that are for the three winners of the hour. So make sure you get an entry in quick! So you see, it's all fun and games until somebody drops a word bomb. If you were to make an honest mistake they'd be happy to guide you to the appropriate terminology. They're more than just staff at The Magic Bus; they're artists, musicians, mothers, and all of them are quite the comedians. They're there to help you; no question is a stupid question. Take it from Vince, who has been a bus employee for almost two years.
I really enjoy taking the time to talk to the guest and getting to know their needs. Some of the products I recommend are more expensive, but it's about quality. It's not like we're making commission off these products. It's like this: if you give guests quality service and they walk away with a quality product, that's a guarantee that they will come back again. Plain and simple.
Lots of people would be contraire to the strict stereotype many associate with The Bus. A few customers recently described The Bus as chill, supercalifragilisticexpialidocious, beautiful, and diverse. Rod, the store owner, sums it up in a single word: "Shenanigans." So why not stop in for the holidaze? Pop in, play fair, and shop local!
Ready to Laugh OUT Loud? Indy Pride & Talbott Street are proud to present the one-of-a-kind Wendy Ho, who combines musical and comedy into a raunchy cabaret. Draq queens have been performing her numbers for years, and now you get to hear her sing them live! The show also features the return of the stand up talents of Keith McGill!
Laugh OUT Loud is one of the few times a year Indy Pride is raising money for ourselves, and your support helps us with rent, insurance, and other general fund needs. So, sit back and enjoy an evening of comedy, and help us continue on our mission to support this community!
Tickets are $25 online and $30 at the door, with your first cocktail included in the ticket price. Indy Pride members receive a $5 discount online with a promo code, which will be emailed out to you. Indy Pride Board Members will also be selling tickets.
Doors: 7pm
Show: 8pm
Here are links to Wendy Ho's videos. Needless to say these are not really safe for work!
Who is Wendy Ho? – http://youtu.be/b3EQSrSD70c
Oprah Winfrey – http://youtu.be/P8OYQ3FbXOY
F$ck Me (Live in the Studio) – http://youtu.be/hLncV_pIYuA
Poop Noodle – http://youtu.be/1xc_BJxdDgg
****************************************
Want to win tickets for this show?
Comment below and share this page on Facebook or Twitter and tag IndyMojo so we see it. 
We will select winners and announce them on Wednesday, February 19th!
Thanks for your support!
In just two more days Indianapolis will be hosting its first two-day all EDM festival. This line-up is full of talent and there is a little something for everyone. Genres will range from Trance to House to Dubsteb to Drum and Bass to Trap and all of it being on the same stage. There will be no need to worry about missing an act or switching stages.
The event will be held at Opti Park in Broad Ripple and kicks off this Friday, September 13th at 5 PM and Saturday starting at 1 PM. It is all ages and will have feature after parties held at The Vogue that will be 21 and over.
FRIDAY
PAUL OAKENFOLD
Oakenfold's career kicked off in the early 90's and to this day he is one of the biggest Trance DJs in the world. He has release dozens of mixes and played for massive crowds all over the world for years. His newest and highly anticipated full length album "Pop Killer" is due to be released this year.
www.soundcloud.com/pauloakenfold
FLOSSTRADAMUS
Chicago based duo J2K (Josh Young) and Autobot (Curt Cameruci) have been involved in the Hip Hop scene for a good minute. Collaborating with the likes of A-Trak, Diplo, and The Cool Kids, just to name a few. Most recently they have been producing widely popular Trap beats.
https://www.facebook.com/flossstradamus
https://soundcloud.com/flosstradamus
KEYS N KRATES
Catching this trio based of Toronto should be a priority for you this weekend. The mixture of electronic music using raw samples and live instruments makes this a show you need to see.
https://www.facebook.com/keysnkrates
https://soundcloud.com/keysnkrates
A-SQUARED
Two of the hottest club DJs in Indy, A-Squared will be kicking off Wheel House on Friday.
http://www.asquaredindustries.com/
https://www.facebook.com/asquaredindustries
https://soundcloud.com/a2industries
Saturday
WOLFGANG GARTNER
Wolfgang Gartner (Joseph Youngman) started out as a Deep House DJ and created the name he goes by now because of his abrupt transfer into the Electro House genre. The transition proved to be a major success with eight #1 tracks on Beatport, hosting a show on MTV, and being among the most wanted at every major festival around the world.
http://www.wolfganggartner.com/
https://www.facebook.com/djwolfganggartner
https://soundcloud.com/wolfganggartner
THE CRYSTAL METHOD
Formed in the early 90's by Ken Jordan and Scott Kirkland, The Crystal Method have been icons of the EDM world since their inception. Their debut and certified platinum release Vegas, had five of its ten tracks released as top singles. The group's music has been featured in movies (City of Angels, Spawn) and video games (Need For Speed:Underground, Project Gotham Racing, League of Legends).
https://www.facebook.com/thecrystalmethod
https://soundcloud.com/the-crystal-method
FIGURE
Indiana born Josh Gard, has had one remarkable ride in the EDM scene. Starting out as a hip hop DJ, then mastering the skill of Fidget House and finally dominating the Drumstep scene. His horror-themed tracks have been some of the most memorable of all. His name traveled like thunder through-out the electronic realm. After several full length album releases he caught the attention of OWSLA (Skrillex's label) and his album Horns of the Apocalypse was released yesterday on the label.
https://www.facebook.com/IMFIGURE
ARAABMUZIK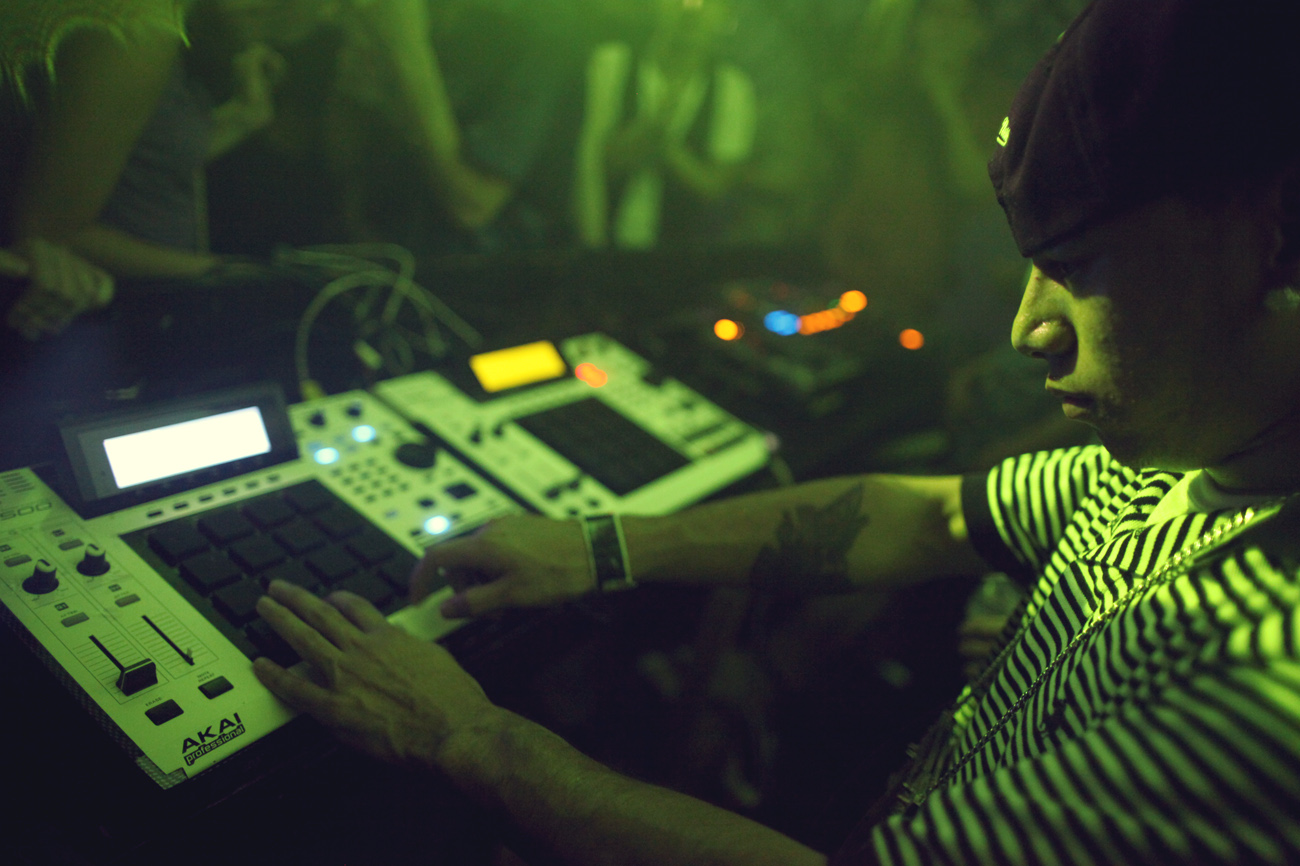 Hailing from Rhode Island, Abraham Orellana made his name by showing off his skills on a MPC drum machine. He is no stranger to producing beats with some big names such as Cam'ron and Vado, The Diplomats, Hell Rell, Jadakiss, Busta Rhymes and Fabolous. The video below speaks volumes of why you need to see this man live.
https://www.facebook.com/AraabMuzikMVP
https://soundcloud.com/araabmuzik
SALVA
LA based producer whose remix of Kayne West's Mercy was #1 on Soundcloud and has well over a million plays. Check out some of his other releases; you won't be disappointed.
https://www.facebook.com/SALVABEATS
ACTION JACKSON
Action Jackson is a premier DJ in the Midwest. He currently hosts OMG! every Wednesday night at the Casba in Broad Ripple and Night Moves every Friday night at The Metro on Mass Ave. Also know for being a partner of the well known Rad Summer and a producer on the label as well. Action can keep the dance floor going and this weekend you will find out just why.
http://actionjackson.radsummer.com/
https://www.facebook.com/deejayactionjackson
https://www.facebook.com/deejayactionjackson
SHY GUY SAYS
Bloomington-based producer Jarrod Linne is a rising star in the Midwest. His beats flow through the crowd like a shock wave. His dance moves on stage keep the crowd excited and most certainly the mask adds to the effect his entire performance. He is a part of the G-9 collective and appears frequently at IndyMojo events.
https://www.facebook.com/shyguysayswhat
https://soundcloud.com/shy-guy-says
X5IGHT
Chicago natives Brandon and Jerry have been producing individually for several years, and decided in November 2012, to put their knowledge and talents together. Their debut EP The Radiance was released in July.  Check them out Saturday when they start the party off with their electro & progressive house, trance, and dubstep sounds.
https://www.facebook.com/X5IGHT
After Parties
Friday After Party @ The Vogue
Ohbeone
Cadillac G
Topher Jones
Tritonal
Dub Knight
Saturday After Party @ The Vogue
Helicon
Gabby Love
DJ Lockstar
Bad Boy Bill and Richard Vission
Bryan Downs
Both after parties are $20 at the door or tickets can be purchased through www.wheelhousefestival.com
Home Page: http://www.wheelhousefestival.com
Event Page : https://www.facebook.com/WheelHouseFestival
Tickets can be purchased at http://www.wheelhousefestival.com/tickets.html use promo code: Mojo