It was in the basement venue, The Casba that I first saw FIGURE. It was dark, no cover, and the place was packed. The sound that came out of the speakers that night cannot be described and neither can the energy of the crowd. I realized then I was witnessing a mad scientist of beats at work.
Figure went on to play IndyMojo's Identity After Party and was signed to AM Only (largest EDM talent agency) that same week. His career instantly exploded into a welcomed chaos of shows around the world and tons of releases. Since then, he has only played in Indy twice, at The Amber room which he headlined and at Wheelhouse Music Festival.
This coming Altered Thurzday, we can finally announce his return to playing his home state. At none other than the infamous Mousetrap and for only $8 at that. He is bringing his Terrorvision, which is a collaboration of the most terrifying visuals alongside his Monster tracks. This show is years in the making, let's kick off the year with a bang, bang!
Josh Gard has had a long history in music. Just a few short years ago he donned the name Figure and began making electro house, but has since become a regular name in all realms of electronic and dance. Scoring positions among the charts may have gotten him recognition, but a hefty amount of praise has been raining down on him lately as some of the leading artists in electronic music have valued his live performance skills as some of the best in the business.
In 2011, his Monsters of Drumstep series married his love of horror with his immense production skills to become the soundtrack for the Halloween season. Figure created his own imprint, DOOM Music to house the Monsters series which has now become an annual release. In 2013 FIGURE's monsters series became the official soundtrack to Universal Studio's Hollywood Horror Nights theme park.
Figure recently signed with OWSLA to release "Horns of the Apocalypse". Horns of the Apocalypse showcases FIGURE'S evolving sound and take on 4/4 dance music with his lead single Eagle. War Call & Beast Mode will remind fans of FIGURE'S signature sound. The EP features DEL The Funky Homosapien (Deltron 3030, Gorillaz, Hieroglyphics) Mr Lif (Definitive Jux) & Nick Thayer (Owsla).
"The direction and influence for the production came from being on tour all of last year and a good chunk of of 2013 so far. The entire EP was written on the road but mastered at my home studio in Indiana using my Neve Racks and Abelton. I'm really looking forward to seeing my fans on tour this fall and hope they all love this release as much as I do." – FIGURE
October 2013 saw the return of FIGURE's highly acclaimed Monster's series, with the release of Monsters Volume 4. Monster's vol. 4 quickly shot up the iTunes/Beatport worldwide charts with key tracks like Are You Afraid Of The Dark ft. Lexi Norton, Living Dead & The Center of Hell ft/ Helicopter Showdown. All in all the album takes listeners on a 13 song trip through the dark world of FIGURE's monsters, and showcases another side of Josh Gard's sound design that ties the LP together with dark interludes like Symphony of the Damned & Death's Gospel.
When he's not recording in his hometown studios in rural Indiana, Gard is touring worldwide, with packed tents at festivals like EDC, SnowGlobe, Starscape, The Bounce, Creamfields Australia, Tomorrow World, Global Dance, and Belgium's Dour. He just ended his 14 city Terrorvision Tour in November and Indy will be the 15th city on January 8th!
Local Suport From
HOLLOW POINT

IndyMojo // G-9 Collective // NAP DNB
https://www.facebook.com/djhollowpoint
JIN XS

IndyMojo // G-9 Collective
https://www.facebook.com/TheDJJinxs
INDIGO CHILD
IndyMojo // G-9 Collective
https://www.facebook.com/IndigoChildIndy
Free Shit!
You and a guest will get free entry to the show and a Riot Pack signed by FIGURE.
Rules
1.  Comment below and tell us why you should win!
2.  Share this page to a public post on Facebook tagging 5 friends including Indymojo.com.
3.  If you don't follow both rules you LOSE!
Winners will be announced January 7th!
January 8th
Mousetrap Bar and Grille
$8
21+
Night 1
Festival goers were already pouring into Opti Park at 5:15 when I arrived at the opening day of Wheel House Festival. A Squared Industries were definitely doing an ace job of kicking off the party. I could hear Daft Punk as I approached the gates, which to me, is always a good sign. Even though it wasn't even 6:00 p.m., A Squared definitely gave off that midnight party vibe and it was a great way to start the festival.
Keys N' Krates came on next and though I'd never seen them before, I was pleasantly surprised by their vibe and how they got the crowd hyped. The best word I've heard used to describe their overall sound is "Dream-Trap." They have this atmospheric, melodic sound that creates an interesting juxtaposition to say the least, with the trap music they also play. They did a nice job of interacting with the crowd; talking about how they drove down to Indy from Toronto, and my favorite part of the set, where Jr. Flow did some solo scratching; a fine display of turntablism indeed. Adam the drummer also got a fancy little showcase and it was a great demonstration on how "EDM" artists can actually be talented musicians. From these solos, they went into some sort of mix of "Bittersweet Symphony" and the crowd was all about it. It was both interesting and refreshing to hear familiar songs like "I'm a Hustler" "On to the Next One" and, "Go DJ" with both a trap beat and a melodic, atmospheric background. I could appreciate their uniqueness and originality. Their final track was fun, energetic and eased the crowd into a more escalated party mode that would only continue to build throughout the night.
Flosstradamus was a bro's traptastic wet dream. This was an extremely high energy set that was perfectly timed for the large crowd increase that poured into the festival during this time slot. They had the crowd chanting, bouncing, screaming, making bro-tem poles…yes; apparently this is a thing. I saw go-go dancers, a dude with a hugenormous mohawk, a girl in nothing but panties, a turnt-up crowd screaming, "Face down, ass up!" "No pants girl," "No shirt girl," some dubstep "wobwobwobs," some Benny Benassi "Satisfaction" remix that was honestly less than stellar (Shy guy's is exponentially better, if you've heard it), Kendrick Lamar tracks, Lana Del Rey remixes into Rick Ross, and Major Lazer, the crowd yelling "Fuck a P.O., Fuck a piss test!" repeatedly, and a new original track titled, "Mosh Pit." Although this type of music is not my personal cup of tea, I could definitely appreciate how hyped the crowd was and what a good time they all seemed to be having. I saw that it is possible to be a good performer no matter what type of music you are making.
By the time headliner Paul Oakenfold exploded into his trancetastic set, the crowd was ready to get buck wild. This veteran of the electronic music scene truly knows how to manipulate a crowd and give the people what they want. The crowd had grown; seemingly tripled what it had been just an hour prior, and every face I could see throughout the crowd appeared to be smiling. The lighting, sound, and visual experience was overall impressive. All through the crowd I could see glowing objects, spinning things, hula hoops, fire dancers, bromance, hugs, high-fives, and a peaceful, happy camaraderie that made me have a warm feeling in my belly…that, and the Sun King…
Much to my dismay, I didn't make the after party at The Vogue that night, but word on the street was, and I'm talkin' from legit, reliable resources, that Gerald Collins, a.k.a. Cadillac G completely dominated the after party in every way, and made everyone drool and go completely batshit crazy. The Facebook posts were abundant, and I heard about it the entire next day of the festival; from multiple decent folks. Very sad I had to miss that, but I know I will get to see him again soon, and I'd encourage you all to do the same. You can check him out with the the CRUSH Entertainment crew, catch him spinning throughout the city, and hear his sounds here.
Day 2
On the second day of the festival, I arrived partway into X5ight's set. I heard a track that sampled "Rock the Casbah" from one of my favorite bands of all time, The Clash. This was the highlight of their set for me; the remainder was a lot of party rock-type tracks, and it was just too early in the day and the crowd hadn't gathered yet. They did start the days festivities off on an upbeat, party hype mode, and I think the crowd appreciated that.
Shy Guy Says came on next, and despite some sound issues, his set was phenomenal. Of all the performers I have seen; both local and national, Shy Guy Says places more enthusiasm and passion into his sets than anyone I've watched. He puts seemingly everything he has into his sets, and it SHOWS, and it always makes for an entertaining set. Whether you enjoy the type of music he produces, which most seem to, or not, the one thing absolutely certain is that this guy is a natural born entertainer, and he has a large fan base that seemingly worships him, and that's saying something. He plays in Bloomington, Indianapolis at IndyMojo events, festivals such as Hyperion, MojoStock, and more than once he's flown across the country to play in places as far as Idaho. Although a long time local favorite, he is someone to watch and expect to blow up nationally and maybe even worldwide in the coming months/year. Some highlights of his set were when he played his rendition of "Satisfaction," which was exponentially better than the group I heard mix it on the night before. The diversity of his set was also noteworthy. I heard everything from reggae, to dubstep, to hip hop and trap, to some melodic "pretty" sounds all within an hour… One entertaining aspect of Shy Guy's performances is the use of his hands…and not as in controlling the equipment. I mean the hand motions/gestures he makes. At times, it seems as if he is literally using his hands as magic wands that control the music that is coming out…like some sort of wicked symphony maestro conductor guy. The crowd grew rapidly midway through his set and he officially got everyone in "all the way turnt up" mode.
Action Jackson was up next and his set was, to be completely honest, even though it sounds generic, FUN. Chances are if you live in this city and you go out to bars and clubs, you know and/or have seen Ben Action Jackson "in action," but if not, I strongly urge you to do so. He is so eclectic and diverse, and really just completely equipped to read and satisfy any crowd; a true talent in itself. The crowd had grown by this point and everyone piled in the front to check out the set. Some of the things I heard during his set: Lil Jon, Ludacris, some electro-house, some dubstep "woop woop bleep bleep wob wob wob" sounds, some Latin flavor/salsa type/worldly sounds, hip hop flavor, arena rock anthems, some badass electronic version of Listen to Your Heart by Roxette, Jay Z's Dirt off ya Shoulda, Move Bitch, Get out the Way, and Lana Del Rey… this really kicked off my day and got me in serious raging-face status, along with seemingly everyone else.
Salva came on at 3:15 and although I admittedly hadn't heard his music before the festival, I'm vouching for this fella and pledging that going forward, I will check out what he's doing. He was a truly impressive performer, and that is coming from someone who is not easily impressed. A notable point about his performance was that I did not see any laptop on stage with him, which intrigued me. Salva played everything from "EDM/electro" to dubstep to trap; and he was visibly into what he was playing. He actually appeared passionate about what he was doing and that always makes a performance better. He was really in a zone for a minute and I just really enjoyed his enthusiasm and it was refreshing to see someone new, playing music in genres that aren't normally my "wheel house" but still thoroughly enjoy.
The other admirable thing about Salva is that he seriously knows how to use a mixer. He made me want to really let go and dance for the first time of the day as he played some trap, some trance-ish stuff, some hip hop, some melodic stuff, into some booty house, into a mix of that "Woke up in a New Bugatti" song that at least 3 other artists did that weekend, but none as cool as his. The variety in his set was seemingly widely adored.  Salva wins my award for biggest surprise/best set by someone I'd never heard before.  I'm a new fan, most definitely.
Araab Muzik's set consisted of trap and dubstep, scantily clad dancers, and drum machines. The two highlights of the set were hearing a mix of "Welcome to Jamrock" by Damian Marley as well as Flux Pavillion's "Got 2 Know."

FIGURE @ Wheel House
The sun was high in the sky as the people starting making their way up front for FIGURE's show. The king of Drumstep was about to take the stage, armed with his MIDI fighter, a shit-ton of new beats from his new OWSLA release, and even some unreleased surprises. The crowd started growing as to the biggest the day had seen as he played one of his signature tracks, Dominate, in which the BPM shifts five times in a four minute time span. Figure's horror tracks were not left out as he murdered the crowd with Michael Myers…highlight for me, and the grand finale was Cas One coming out to rap his verse from Doomsday. Cas One had the whole crowd pointing their "guns" at him as if to shoot him as the drop hit and he stage dove into them. This was a truly remarkable performance from one of Indiana's own, and left a lasting impression with several festival goers. Several reputable musicians and fans alike stated that Figure's set was the highlight of the festival for them.
The moment that everyone had been anxiously awaiting for two days had at long last arrived. 7:00 p.m. Crystal Method take the stage for a now massive crowd who all went berserk as the sound exploded from the speakers. Instantly I was mentally and emotionally transported back to 1999 when I first saw the Crystal Method on the Family Values Tour; I felt 19 years old again, and I literally had goosebumps and cold chills.
They used these amazing contraptions that combined cdjs, multiple guitars, and a keyboard or controller of some sort, and it was truly unique and impressive. The quality of their performance, both aesthetically and audibly, was impeccable.. Watching the crowd as well as CM, I took special notice of the facial expressions and it was truly awe-inspiring to see the pure bliss and amazement of the faces of the awe-struck fans. One really moving thing was seeing the new fans and the old fans enjoying the hell out of this show in a beautiful display of togetherness and simultaneous elation. I heard a lot of material from their first albums during the set and that was a great surprise. One of two paramount moments of the set for me was when they broke into "War Pigs" by Black Sabbath. The crowd; myself included, went absolutely bananas times 12. I actually squealed uncontrollably at the "Satan laughing spreads his wings….OH LORD YEAH" part. I mean, literally shrieked like a toddler. It was almost overwhelming; I may have even shed a tear. The other amazing moment, and this one touched the hearts of MANY people I talked to after the show, was, if I remember correctly, sometime around when they played Busy Child– when one of the members gave mad props to our city and expressed to the crowd the importance of supporting our local music scene because, "…without it, things like this can't happen." The crowd again went wild, and it was very moving and heartwarming to hear someone of such stature pay such a kind tribute to Indianapolis and intently urge the continuing supporting of our amazing local scene. Crystal Method's set was beyond the shadow of a doubt, the musical highlight of my entire weekend, and maybe even the entire summer.
Wolfgang Gartner appeared as the final act of the night and the entire festival, the crowd to what looked to be the largest it had been the entire weekend. Familiar tracks such as Space Junk, Redline, One in a Million-Charlie Darker, and Love and War were played, the lighting was so perfect and built and exploded at all the right times.
Near the very end of the set, Wolfgang Gartner disappeared and Joey Youngman came out… this, for me was the highlight of the set. For the next several minutes I was in House Music heaven as Joseph Youngman dropped some proper Chicago House on our heads. I was fortunate enough to be standing next to phenomenal local talents Rudy Kizer and Richard Jangatha/jFET, both of which are extremely appreciative of that Chicago House sound, and their faces appeared to light up just as mine did. I don't think it would be an exaggeration to say that EVERYONE was dancing by the end of this set and I don't know that there could have been a more perfect way to end Wheel House Festival.  Check out this YouTube video featuring part of the set.
The after party at the Vogue already had a line wrapped around the building when we arrived shortly after the end of the festival. Helicon, Gabby Love, Lockstar, Bad Boy Bill & Richard Vission, and Bryan Downs collectively put on the best party I have ever been to, and that's a very bold but true statement. The Vogue was absolutely packed and everyone showed up with dancing shoes on. There were 8 cdj's on stage, and the sound was banging. The dance floor was packed from beginning to end.  It was like everyone didn't want to let Wheel House Festival go, and we all held on to the after party for dear life so that it would never have to end.
Wheel House Festival was, according to everyone I know who attended–as well as strangers, a complete success. On all of the Facebook, Twitter and other social media posts, I have yet to see a negative comment about the festival or the after parties, and that is beyond impressive; especially for a first-year festival. Wheel House will most definitely be an annual tradition for my friends and I and something that I look forward to all year long.  Wheel House was an all-around win for sure.
Here are some good quotes from our local musicians, promoters and friends:
Gabby Love: "I'm semi-recovered from this amazing weekend and finally have enough whits about me to express my love and gratitude to my DJ/promoter extended family and the people who came out this weekend to enjoy some amazing music and talent at Wheel House and The Vogue. What a BLAST! The festival had great turnout and I heard nothing but good things from people who attended. The Vogue was absolutely bananas Saturday night. That was one of the best parties I have ever been to, and I have been to quite a few. And opening up for the DJ that solidified me having to become a DJ (Bad Boy Bill) was a personal highlight and am so beyond thankful for the opportunity. I just want to thank all those involved in putting on such a great weekend of music and 2 rocking after-parties. I love that we can all come together and support each other and do amazing things! Much love and respect !!! ….This weekend was the definition of plurnt-ness… So amazing!"
Antik One: "I loved some of the subtle statements that Crystal Method made during their set… As well as the very blatant. It was great to see someone so influential make these statements publicly to the event goers. Most importantly "support your local scene, without it things like this can't happen."
Gizzmo: "Crystal Method was the highlight of my one day visit. It was great to see a crowd of kids getting down to a couple of guys I've been getting down to since I was a kid. Was also nice to hear stuff that wasnt watered down poppy "dance music". The festival was all about hanging out with the family for me though. I wasn't expecting to be 100% into the music but still enjoyed a good chunk of it."
DJ Mass Appeal: "I'm so proud of my city. The level of sponsorship was fantastic; from the food trucks to the vendors to the sponsors, the response from the Indy music scene was amazing."
Rudy Kizer: "I'm just really happy we are able to have this here. The last time we had something like this was Identity Festival. The rave days are gone; in the past, an event like this would've had to be in an old abandoned grocery store. …I was glad to see Wolfgang Gartner still maintaining, All things considered, we had good weather, a good crowd; I'm really pleased with the turnout; and it was good to see a new and different crowd as well.
Cadillac G: (When asked who he'd seen at the festival that he hadn't previously had a chance to see) "Paul Oakenfold is a legend. He was really one of the first "big time" dj's. Wolfgang Gartner definitely reached another level; that was some proper house. I'm really excited for Richard Vission at the after party; proper DJ shit. He's been pushing the envelope since forever. Good skill and turntablism."
Jangatha/jFET: (When asked what he most enjoyed about the festival) "The togetherness, the vibe, the lights and the dancing!"
Shy Guy Says: (When asked what the highlight of the festival was for him) "For me probably watching Figure's set, watching Cas One's stage dive, or just being able to stand like 10 feet away from The Crystal Method backstage. Playing the show was cool, but I was just excited to be around all the awesome talent."
Hugh Jeffner: Mad respect to Slater Hogan, John Larner, Keepin IT Deep The Vogue, Steve, Drew Arness,Crush Ent Ron Miner, Gabby Love , Lockstar , Rad Summer, A2 ,Andy Skinner, Annie Skinner, Jason King, Matt Ramsey, IndyMojo, Nuvo, RadioNow100.9 , Switch District, Jeff Long, Sinclair Wheeler, Studio 77, James Meiser Lindy Meiser, Buck Rodgers , Action Jackson , Ryan Hickey Rachel Rubenstein… If I missed anybody it's not intentional. Tonight I am watching Wheel House. I am so proud to be an Indianapolis DJ. This isn't about radio, cliques, it's about a city coming together and putting their personal ish aside for the greater good of our music scene. F………. Proud moment…drinks ups Indy! Today is a good day – Ice Cube….
Joseph Franklin/DJ Iron Lion: "Indianapolis is really starting to shine!!! Couldn't have said it better Hugh Jeffner. So proud of Slater Hogan/John Larner, Annie Skinner/Andy Skinner, Jason King/Matt Ramsey, and all people involved in putting together Wheel House Festival. Let's keep this ball rolling Indy!!"
Jason King-IndyMojo:  "Thanks and praises to Matt Schwegman from The Vogue. I see lots of promoters flexing this weekend, but proper respect needs to be given to the man who made it all happen"
Take a moment to let us know! What was YOUR favorite moment from Wheel House Festival?
photo credits: Keith Griner/FX Media/Phierce Photography, Matt Ramsey, Matt Duncan, Life of the Party Entertainment
In just two more days Indianapolis will be hosting its first two-day all EDM festival. This line-up is full of talent and there is a little something for everyone. Genres will range from Trance to House to Dubsteb to Drum and Bass to Trap and all of it being on the same stage. There will be no need to worry about missing an act or switching stages.
The event will be held at Opti Park in Broad Ripple and kicks off this Friday, September 13th at 5 PM and Saturday starting at 1 PM. It is all ages and will have feature after parties held at The Vogue that will be 21 and over.
FRIDAY
PAUL OAKENFOLD
Oakenfold's career kicked off in the early 90's and to this day he is one of the biggest Trance DJs in the world. He has release dozens of mixes and played for massive crowds all over the world for years. His newest and highly anticipated full length album "Pop Killer" is due to be released this year.
www.soundcloud.com/pauloakenfold
FLOSSTRADAMUS
Chicago based duo J2K (Josh Young) and Autobot (Curt Cameruci) have been involved in the Hip Hop scene for a good minute. Collaborating with the likes of A-Trak, Diplo, and The Cool Kids, just to name a few. Most recently they have been producing widely popular Trap beats.
https://www.facebook.com/flossstradamus
https://soundcloud.com/flosstradamus
KEYS N KRATES
Catching this trio based of Toronto should be a priority for you this weekend. The mixture of electronic music using raw samples and live instruments makes this a show you need to see.
https://www.facebook.com/keysnkrates
https://soundcloud.com/keysnkrates
A-SQUARED
Two of the hottest club DJs in Indy, A-Squared will be kicking off Wheel House on Friday.
http://www.asquaredindustries.com/
https://www.facebook.com/asquaredindustries
https://soundcloud.com/a2industries
Saturday
WOLFGANG GARTNER
Wolfgang Gartner (Joseph Youngman) started out as a Deep House DJ and created the name he goes by now because of his abrupt transfer into the Electro House genre. The transition proved to be a major success with eight #1 tracks on Beatport, hosting a show on MTV, and being among the most wanted at every major festival around the world.
http://www.wolfganggartner.com/
https://www.facebook.com/djwolfganggartner
https://soundcloud.com/wolfganggartner
THE CRYSTAL METHOD
Formed in the early 90's by Ken Jordan and Scott Kirkland, The Crystal Method have been icons of the EDM world since their inception. Their debut and certified platinum release Vegas, had five of its ten tracks released as top singles. The group's music has been featured in movies (City of Angels, Spawn) and video games (Need For Speed:Underground, Project Gotham Racing, League of Legends).
https://www.facebook.com/thecrystalmethod
https://soundcloud.com/the-crystal-method
FIGURE
Indiana born Josh Gard, has had one remarkable ride in the EDM scene. Starting out as a hip hop DJ, then mastering the skill of Fidget House and finally dominating the Drumstep scene. His horror-themed tracks have been some of the most memorable of all. His name traveled like thunder through-out the electronic realm. After several full length album releases he caught the attention of OWSLA (Skrillex's label) and his album Horns of the Apocalypse was released yesterday on the label.
https://www.facebook.com/IMFIGURE
ARAABMUZIK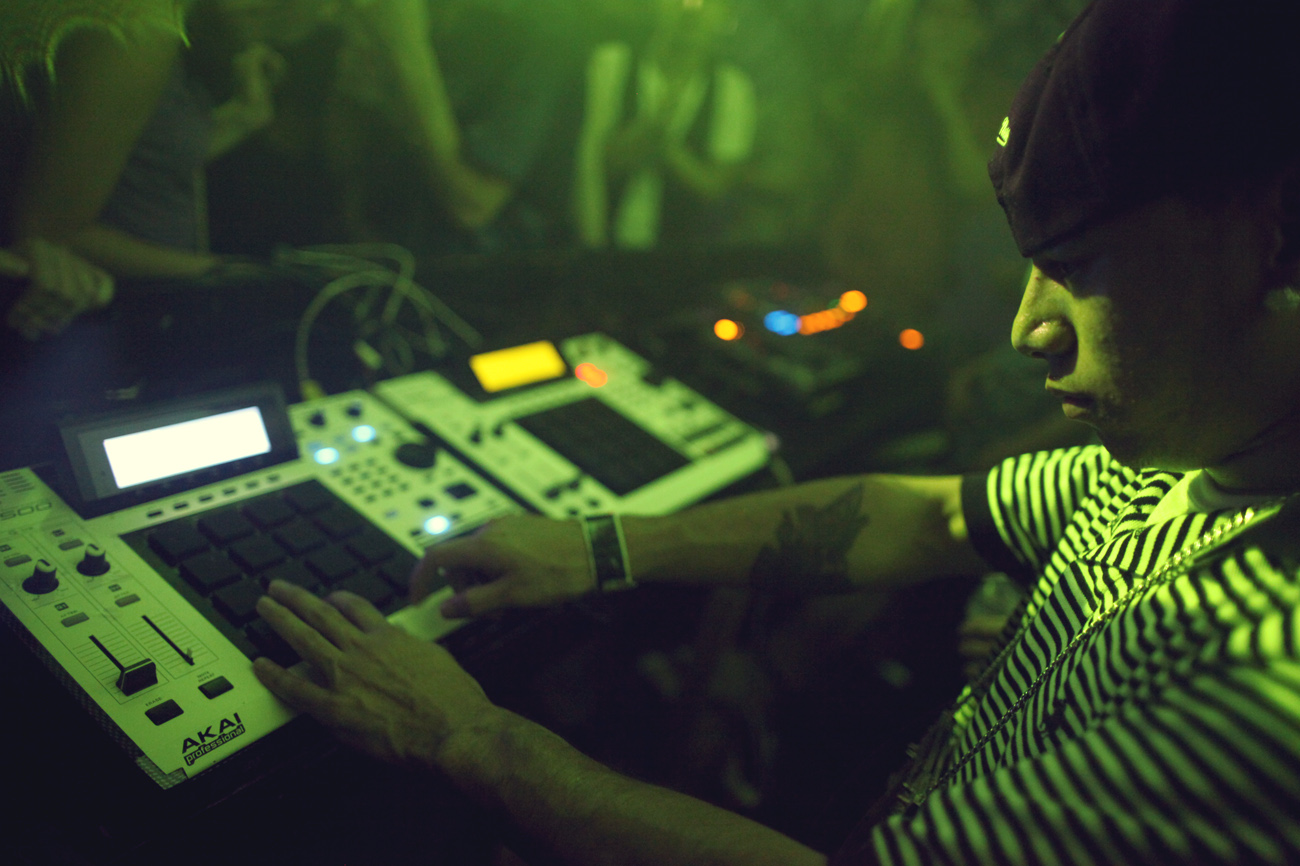 Hailing from Rhode Island, Abraham Orellana made his name by showing off his skills on a MPC drum machine. He is no stranger to producing beats with some big names such as Cam'ron and Vado, The Diplomats, Hell Rell, Jadakiss, Busta Rhymes and Fabolous. The video below speaks volumes of why you need to see this man live.
https://www.facebook.com/AraabMuzikMVP
https://soundcloud.com/araabmuzik
SALVA
LA based producer whose remix of Kayne West's Mercy was #1 on Soundcloud and has well over a million plays. Check out some of his other releases; you won't be disappointed.
https://www.facebook.com/SALVABEATS
ACTION JACKSON
Action Jackson is a premier DJ in the Midwest. He currently hosts OMG! every Wednesday night at the Casba in Broad Ripple and Night Moves every Friday night at The Metro on Mass Ave. Also know for being a partner of the well known Rad Summer and a producer on the label as well. Action can keep the dance floor going and this weekend you will find out just why.
http://actionjackson.radsummer.com/
https://www.facebook.com/deejayactionjackson
https://www.facebook.com/deejayactionjackson
SHY GUY SAYS
Bloomington-based producer Jarrod Linne is a rising star in the Midwest. His beats flow through the crowd like a shock wave. His dance moves on stage keep the crowd excited and most certainly the mask adds to the effect his entire performance. He is a part of the G-9 collective and appears frequently at IndyMojo events.
https://www.facebook.com/shyguysayswhat
https://soundcloud.com/shy-guy-says
X5IGHT
Chicago natives Brandon and Jerry have been producing individually for several years, and decided in November 2012, to put their knowledge and talents together. Their debut EP The Radiance was released in July.  Check them out Saturday when they start the party off with their electro & progressive house, trance, and dubstep sounds.
https://www.facebook.com/X5IGHT
After Parties
Friday After Party @ The Vogue
Ohbeone
Cadillac G
Topher Jones
Tritonal
Dub Knight
Saturday After Party @ The Vogue
Helicon
Gabby Love
DJ Lockstar
Bad Boy Bill and Richard Vission
Bryan Downs
Both after parties are $20 at the door or tickets can be purchased through www.wheelhousefestival.com
Home Page: http://www.wheelhousefestival.com
Event Page : https://www.facebook.com/WheelHouseFestival
Tickets can be purchased at http://www.wheelhousefestival.com/tickets.html use promo code: Mojo