This week's Altered Thurzday can easily be considered the biggest show in it's history. One of the pioneers of the Dubstep sound is coming from here from the land where Cockney Thugs roam. That's right! Caspa has decided embark on a special journey through smaller venues in the states to give his fans a more intimate and personal experience. Here is how he describes it:
"Having released and performed in almost every corner of the globe, Caspa is identified as an innovator in all areas of bass music, from producing and DJing to sourcing new talent for his own Dub Police and Sub Soldiers imprint. 

We all know music should be about vibes and feelings, not glitz and glamour - which can be easily forgotten and usually is. Its now time to strip away the hype and facade and to remind us what its really about.

Picture a dark, underground space, an intimate gathering in the company of the most dedicated bass-heads. The fans who truly love and crave the simplicity of an original underground, London rave - dimly lit by a single red light and free from any over-the-top gimmicks. All tha

t matters is a huge sound system, Caspa and 500 like-minded people engulfed by the sound and the vibe.

This is something that can only be generated by a true innovator. This is 'The 500 Tour'"
Sounds a bit like a place some of us know very well, am I right? Caspa decided not to rely on the venue for sound (probably a wise idea), but instead bring his own and PK Sound at that! The Mousetrap has never seen such a system before and I pray for it's foundation.
Caspa AKA Gary McCann is a dubstep producer from west London. McCann's creative involvement in music began after a promising basketball career was cut short by a shoulder injury. Growing up, McCann cites Jungle and Hip Hop as his main influences. He received his first public attention when, his first track, Bassbins recorded under the pseudonym Quiet Storm, was picked up by BBC Radio 1Xtra's DJ Da Flex.
McCann has started his own label, which focuses on Dubstep and Grime artists. Storming Productions was founded in 2004 and then he joined Stingray Records in 2006. Around this time, he also began his own radio show on RinseFM. McCann also created an additional label Dub Police to focus specifically on Dubstep. Dub Police is composed of Rusko, L-Wiz, N-Type, The Others and more.
He has performed at a number of high-profile UK music festivals, including Glastonbury and Global Gathering and his release Back for the First Time has received widespread public attention, being playlisted on BBC Radio 1. He has also performed at many other notable festivals around the world such as Exit Festival in Serbia, Stereosonic in Australia and Lollapalooza in the U.S. Despite his widespread success, McCann still finds time to perform every two months at the renowned Fabric in his hometown of London.
His debut album Everybody's Talking, Nobody's Listening (album) was released on 4 May 2009 on Caspa's own label Sub Soldiers/Fabric Records and included an appearance from legendary reggae figure Sir David 'Ram Jam' Rodigan.
In August 2012, it was announced that Caspa and various notable electronic music producers would be featured on the Halo 4 remix album and "War" was featured in the trailer for Kick-Ass 2. In 2014, McCann moved to Denver, Colorado. He cites Denver's music culture and friendly people as influential factors, although he is unsure whether the move will be permanent. – Wikipedia
Support From
The Others
Among the ever-expanding landscape of Dubstep, Alex Crawford (known musically as The Others) has crafted his own distinct style and shaped up what promises to be a successful 2014. Having released his debut artist album and conquered music venues worldwide, the future will see him focus on producing his niche blend of classic Dubstep creation.
During 2013 The Others had a range of successes, reaching from one of the biggest Dubstep singles of the year to delving into a deeper, darker style of production, gaining support from original scene tastemakers such as Caspa, Youngsta and Skream, giving a huge nod to the roots of Dubstep. Having released his debut artist album at the very end of 2012 with features from Emalkay, Joker, Stamina MC, Breakage, Lonette Charles and Geoff Smith, the following year was dedicated to the promotion of Red Planet's impressive singles. Standout single 'Fallout' with Emalkay gained recognition from all corners of electronic music, with continued support from Radio stations such as Radio 1, Kiss FM, XFM, a nomination for a Bass Music Award and a feature from key Dubstep YouTube channel UKF. His inclusion in all sections of Dub Police's Past Present Future compilation cemented his reputation as a bass music artist with longevity.
Dubstep fans will of course recognise The Others' early production from Caspa and Rusko's seminal FabricLive 37 mix. The special VIP mix of Africa became both a Dubstep anthem and a calling card for Alex's skilful production. The Others (as a production duo) were soon snapped up by Caspa for his record label Dub Police, where Alex Crawford remains as an artist today (retaining the moniker The Others), racking up an incredible 23 releases – making him the most released and longest-standing artist on the entire label. Releases such as the Gravity EP and First Flight EP on Dub Police ensured he had earned his place among Dubstep's elite. The Others has also found success with other respectable bass music labels including Sub Soldiers, Tempa, Ringo, Boka and Wheel & Deal records.
As well as a fantastic track record in producing, The Others is a more than accomplished DJ, being invited to play at some of the most prestigious venues worldwide. He has been a constant fixture at the Dub Police fabric residency in his hometown of London, and played key venues in the city like Pacha, Plastic People (FWD), Ministry of Sound and Matter. The Others has been invited to DJ at parties across the globe, including an impressive six US tours, both solo and group expeditions with label mates from Dub Police. He has performed at prestigious parties and venues such as Smog at The House of Blues in LA, South by Southwest in Texas, World Music Conference Miami and Beta in Denver for Sub.mission. Australasia was also graced with his musical skill during a Ministry of Sound tour of Australia and New Zealand in 2011, and Europe has been a staple destination with performances at Tomorrowland Festival, Outlook Festival, Paradiso in Amsterdam, Trix in Antwerp, The Villa in Oslo, Rex in Paris, and more. He was also part of the first ever Dubstep night in Ibiza, at Eden.
Fuelled by his constant creative output, The Others has received continued radio support from stations such as BBC Radio 1, XFM, Rinse FM and Kiss FM. He was an original member of the BBC 1xtra Daily Dose of Dubstep artists. All of these stations have invited Alex to play music on air, with Mistajam proclaiming his track Gravity and his First Flight EP 'Jam Hot'.
His discography also hosts a very impressive catalogue of remixes including Above & Beyond, Breakage (with Newham Generals & David Rodigan), Caspa, Emalkay, Maroon 5 (with Wiz Khalifa), Reflekt, S.P.Y and Youngman & Skream.
2014 will see The Others continue to develop his musical creativity and delve into the deeper sound of Dubstep. He will remain focused on his DJ performances and spend another year travelling the globe, sharing his sound, and this will also be the year of Alex working alongside the label as an A&R to sign the next generation of artists. He is the next in line to mix Dub Police's prestigious MyStyle compilation series. Add this to a host of exciting projects and planned collaborations, and 2014 will mean massive things to come for The Others.
Local And Regional Support From:
ROYAL SOUND SYSTEM
Cincinnati/Dayton, OH
https://www.facebook.com/royalsoundsystemlive
https://soundcloud.com/royalsoundsystemlive
WILLIE GRIMEZ
https://www.facebook.com/WillieGrimez
https://soundcloud.com/willie-grimez
– "Frost Stage" –
FOI OI OI & WHAT THE BLEEP
Konkrete Jungle Bowling Green // Electronic Enlightenment
https://soundcloud.com/foibleep
https://www.facebook.com/foibleep
SHY GUY SAYS
One For All // Rad Summer // G-9 Collective
https://www.facebook.com/shyguysayswhat
https://soundcloud.com/shyguysays
INDIGO CHILD
IndyMojo // G-9 Collective
https://www.facebook.com/IndigoChildIndy
https://soundcloud.com/the_indigo_child_89
_____________________________
$15 at the door
LIMITED $10 Pre-sales through 12/9
http://caspa500tourindy.eventbrite.com/
The Mousetrap
5565 N. Keystone Ave
Indianapolis, IN
21+
_____________________________
Bass trio Terravita is bringing their Fuel To The Fire Tour to Indy this week. The group are not strangers to the city. They first came here to destroy Mojostock 2013, then came their performance at Old National that was more than explosive. This time, IndyMojo is bringing these guys to the Mousetrap and we are introducing our new 3D Projection Mapping. Whether you have witnessed Terravita's dynamite performance already or have no idea what you are in for…Be there!
"Dominating the bass music scene for nearly a decade, Terravita has run the gamut when it comes to crowd-smashing, mind-melting electronic music. From the days of Drum & Bass to the era of contemporary Dubstep, Trap and everything in-between, Terravita know no limits when it comes to crafting the most staggering, bone-jarring bangers around. From their industry-leading sound-design to the razor-honed precision of their drums, Terravita are undeniable experts at their craft, and will inevitably remain so for many years to come." – EDM.com
Terravita was catapulted into the public eye with the release of "Up In The Club". The track that helped define the drumstep genre. Since then they have released over 12 top ten releases on the Beatport dubstep and drum & bass charts. The band has remixed Steve Aoki, Lil Jon, Chiddy Bang, Yelawolf, Datsik, Zedd & Bassnectar. Their last EP on Firepower Records "the Power of Fire" charted in the overall top five on Beatport for several weeks and included the hits "Well Oiled Machine" and "This Time Its Personal". Terravita has toured with Steve Aoki, Datsik & Flux Pavilion and has played festivals like Electric Daisy Carnival (Vegas, Chicago, Orlando), I Love This City and Shambhala.
Earlier this year IndyMojo got the chance to talk to Terravita via phone. Click HERE to read that Interview.
Support From:
Hollowpoint
Indigo Child
Jin-XS
November 13th
Mousetrap Bar & Grille
21+
$5
On August 5th, 2010, IndyMojo and The Mousetrap started a new chapter in the lives of many. They began an EDM (Electronic Dance Music) weekly near Broad Ripple called Altered Thurzdaze. Featuring local DJs that could come and perform the music they loved for a crowd who would appreciate it.
Eventually after popular demand, it was time to start bringing in regional acts as well as national. Cyberoptics was the first national act to take the stage at the Trap. He would be followed by Heyoka, Hulk, Crizzly, Elliot Lipp, Ana Sia, Bare, Sluggo, Dieselboy, Vaski, Phutureprimitive, LTJ Bukem, Elite Force, J. Rabbit, and many more.  Out of all of these performances, none have ever cost more than $5.
Matt Ramsey (Promotions Director) gave me a couple of minutes to discuss how he and Jason King (IndyMojo CEO) came up with the idea.
This plan not only gave Indy an outlet to bring some of the biggest names in EDM, it also gave the people of Indy a place to experience the music they love. Whether you are coming to dance the night away or to just kick back and socialize, Altered has you covered. The Mousetrap features 11 beers on tap, most of them being crafts and respectfully good food.
Many of the people who come out on Thursday have been doing so for a long time now. I wanted to ask them about their experiences over these years. We came out last Thursday to interview some the regulars and find out why they come, their favorite performances, and most memorable moments.
A big thank you to all of you for your great memories. I hope we can all make many more in the years to come. 4 MORE YEARS!
Be sure you to come check out the anniversary show featuring Downlink and many of the locals, who we've been honored to have perform for us over the years.
Video By: Brendon Riha @  RSDigital Productions
www.rsdigitalproductions.com
Next Thurzday, August 7th will mark the 4th year that IndyMojo has been bringing you beats on a weekly basis. The time has come for us to celebrate this affair and what better way to do that than bringing one of the biggest pioneers in the Bass Movement. Downlink with be headlining the main stage, along with Kodama, Indigo Child, and jFet. There will be a secondary stage out on the patio featuring other local favorites.
 DOWNLINK AKA Sean Casavant is a name firmly cemented in the hearts and minds of the bass music community. He is respected the world over as a producer of the highest quality dance floor bangers. He has had numerous #1 hits on Beatport and has released music with major labels like Rottun, OWSLA and Mau5trap. He has helped mix an album for the legendary nu-metal band Korn. He has toured the planet far and wide, leaving a wake of awe-struck audiences in his path. To see him live is to witness one of the tightest technical DJ's in the game.
His 3 deck live mixing and infectious stage energy light up venues turning crowds on their heads time after time. Expect lightning fast mixing on a journey through a wide variety of bass music. All tempos are fair game as long as its underground vibes and dirty bass. 2013 was a huge year for Downlink. Along with homies Excision and KJ Sawka, he gave rise to bass music supergroup Destroid, a whole different kind of live experience altogether. You really have to see it live to fully grasp the scope and intensity of the show. Also in 2013,
Downlink launched his brand new record label, Uplink Audio. This will be a place where he will showcase his own music as well as a wide variety of other high grade material. Downlink is not one to be pigeon-holed and is constantly on a quest to evolve and refine his sound. With this in mind, one thing will always remain constant – a pure unadulterated heavy listening experience…
Support from:
The jFET Project began in early 2011 by Producer / DJ "Jangatha." After over 50 house music releases on some of the most respected labels in both digital and vinyl format, the need to seek fresh sounds was instilled and inspired by the edgy bass music arena. The focus is rather simple, to push fresh hype sounds in any BPM it fits best. jFET's sounds have been catching on quick.
His debut EP reached #15 on the Beatport Dubstep Release charts, and caught the attention of several respected blogs including The Untz. 2012 included a release from Play Me Records as part of the New Blood of Dubstep. With support from international touring acts such as Figure, Ajapai, and Reid Speed, we will likely be hearing much more to come from this eclectic project. jFET: Intergalactic Hitman / Producer / Performer.
Rob is originally from Lancaster, PA and began his passion for music at an early age. Originally playing classical violin, Rob soon pursued other passions in the music world. His influences include trent resnor, pink floyd, and dieselboy. he began his DJing about 10 years ago and has steadily learned the ins-and-outs. He currently resides in Indianapolis playing several shows a week at Indy's Moustrap and Doc's Music Hall in Muncie. He is signed on the G9 Collective as of August 2012 and Cosmic Promotions since May 2012.
Indigo Child taps into the deeper darker parts of your soul. beats that vibrate your ribcage and send electrical currents through your body. every show is 100% raw talent and intimate with the audience. Indigo Child (Rob) wants to provide a connection between him and the audience to help people capture the side of themselves they dont normally see in themselves. This is the darker side of spirituality!
Kodama is one of the first resident DJs of Altered Thurzdaze. He has been spinning beats since '99. There is no style he has not touched. Kodama took a year hiatus for family reasons. Now he is back in the drivers seat and ready to blow you off your feet with bass.
SHY GUY SAYS is an electronic music producer and performer straight from the Mushroom Kingdom, an 8-bit villain ready to destroy any party at any time and somehow leave his victims wanting more. His eclectic, yet upbeat and danceable sound can best be described as a mixture of Hip Hop, Glitch Hop, Dubstep, Trap, and Drum N Bass. It's know for its heavy rhythmic swagger, yet at the same time can be lush and loaded with dirty synth bass sounds, warm ambiance, and 8-bit glitches.
A second stage with more performers TBA!
One of the biggest acts at Burning Man every year is Elite Force. This Thursday, July 3rd, you will have the chance to witness him at Indy's very own Mousetrap. The event will be a steam punk/burning man-themed show, so make sure to bring out your best desert gear. Additionally, a second stage has been added so you can move from inside to out and still enjoy the sounds. Come out and see this musical magician at work and let's get dusty!
Line Up
ELITE FORCE
Elite Force (aka Simon Shackleton / Zodiac Cartel) has 20 years of experience behind the decks, and continues to enjoy a hugely successful career as DJ, producer and owner of labels such as U&A Recordings and StereoPhoenix.
Starting out in the acid house era, he's long since been heralded as an arch eclecticist with sets ranging from Techno to Breaks to Tech House to Electro and all points in between. He has become increasingly associated with long sets (5-hours plus) where his full range of sounds gets room to breathe, and he has recently launched The One Series in order to showcase just that – One DJ, One Room, All Night.
LADY BANDIT
https://www.facebook.com/breakonthruproductions
Taking turntables as a debt in 2002, Lady Bandit fell upon this opportunity to DJ, so she took it! Beth said the only way she'd ever stop DJing would be if she stopped having fun or stopped progressing. Now, 12 years later she's still bangin' out dance floors throughout the Midwest and beyond. This Lady is known as the "Midwest Breakbeat Queen" and a native of Dayton, Ohio. Her style can be defined as "Sexy Beats" whether it's Breaks, House or Drum & Bass! Miss Bandit makes sure to always keep the basslines dirty with a side of sexy and funky beats.
BROOKS & DAEGER
IndyMojo // G-9 Collective
https://www.facebook.com/BrooksAndDaeger
https://www.facebook.com/DjJamesBrooks
http://www.soundcloud.com/james_brooks
https://www.facebook.com/thatguythedj2
http://www.soundcloud.com/thatguythedj
Brooks and Daeger is a collaboration of two of Indy's top breakbeat DJs, James B. and Jeremy Daeger aka That Guy the DJ. With the years of experience these two have, they know how to keep the crowd on the floor.
OUTSIDE on the Patio (weather permitting)
ANTIK ONE

https://www.facebook.com/djantikone
https://soundcloud.com/peter-dragovich
NASHAWTI
IndyMojo // G-9 Collective
https://www.facebook.com/nashawti
https://soundcloud.com/nashawti
Back before the days of iTunes Soundcloud, Mixcloud, or hell even really the internet you would have to actually go to a club to hear a DJ play the music you loved. Those days are long gone and you can input whatever you want to into a smart device, in return it just spews it into your brainwaves. We have lost the essence of the weapon that the DJ holds.
This Thurzday, we have the pleasure of having one of the biggest names for DnB in the world….come experience 20 years of drums and basses in yo faces!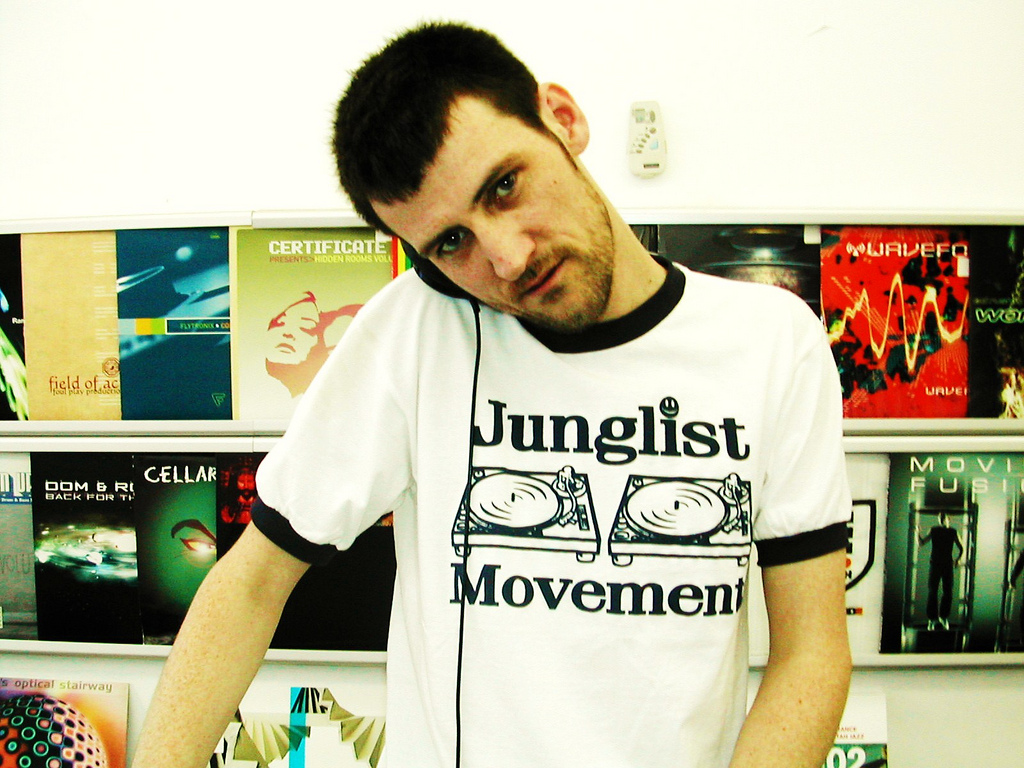 DJ Dara AKA Darragh Guilfoyle, is an Irish drum and bass DJ who resides in NYC. He landed his roots heavy in US upon his arrival back in 1994. Dara co-founded North America's first drum 'n' bass-dedicated music store and drum 'n' bass label in New York with DJ DB. There is two critically acclaimed full album releases in his pocket and an array mixes and compilations.
He is also a member of the all DnB who call themselves Planet of the Drums. Along with Dara, AK1200, Dieselboy, and MC Messinian started this group in the early 2000's to bring DnB out of its "side room" status. Next year they will have been together for 15 years which is the longest running drum and bass group in history.
Thurzday, June 12th
The Mousetrap
5565 N Keystone Ave.
9pm
$5 COVER
21+
Support from:
CARNIE
Fort Wayne, IN
https://soundcloud.com/djcarnie
GIZZMO
IndyMojo // G-9 Collective // SUBTerror
https://soundcloud.com/gizzmo
https://www.facebook.com/GizzmoIndy
SEA MONKEY
Induceonline // IQ Entertainment
http://induceonline.com/
OUTSIDE ON THE PATIO:
FATHOM INDY DJ's Neighbz & Elliott Eastbourne
https://www.facebook.com/fathomhouse
http://www.mixcloud.com/Neighbz/
https://soundcloud.com/elliott-eastbourne
REINFORCED SOUND ***
https://www.facebook.com/NaptownSoundsIndy
With our latest volume of the Collective Sessions Mix Series, we went to our very own, L810c! With production styles varying from deep and sexy to a more upbeat DNB, L810c gives us a sexy electro breaks mix for us to sink our teeth into! We hope you enjoy!
@l810c
www.facebook.com/L810csys
Track Listing:
1. z4thoichi – Overmaster (Charlie Kane Remix)
2. Matskie – The 9th gate
3. Wolfen Technologies – Ace Space
4. Smoke Sign – Welcome To Neo India
5. Brujo's Bowl – Way Behind
6. Kwah – Proton Perspective (Unconscious Minds Remix)
7. Marv in blue – Phaze 3-gti
8. Ap3x – Manufactured Reality (Bad Tango Remix)
9. Merkaba – Metamorph
10. Neurodriver – Man Made (Hedflux Remix)
11. Bad Tango – Enzyme (Hedflux Remix)
12. Big Mistake – Critical Mass
All tracks have been edited and re-arranged by L810c
Artwork by Nicholas Love Visuals
www.facebook.com/nicholaslovevisuals
For volume 23 of our Collective Sessions Mix Series, we tapped the shoulder of one of our own bass music producer/DJ's, Indigo Child! Rob likes to swing it heavy, but he shows us his deeper, gentler side with this mix, before laying the hammer! We hope you enjoy!

@soundcloud.com/the_indigo_child_89
www.facebook.com/IndigoChildIndy
Track Listing:
1. Demon – Geth
2. Persist – Fall
3. Fabricator – Society
4. Piezo – Ptay
5. Subreachers – The Machine
6. Chapta – This Wan
7. Jubel & J:Kenzo – Visions
8. TMSV – Persei
9. Matt-U – The Strangers
10. Bukez Finest – Homicida
11. Geode – Tesla
12. TMSV – Haze
13. Red Eyes – Night Falls
14. Rekta – Tugboat
15. Truth – Don't leave
16. Shu – Albae
17. Fomax – Desolate
18. D Operation Drop – Defection VIP
19. Bandicoot – Mayan
20. Hiloxam – Frozen In Time
21. Dubapes – Mercy
22. Reamz – Falsify
23. Deco – Trenchtown
24. Echomaker – Ragnarock
25. B.Dual Shock – Mechanik
26. Cyberoptics – The Artifact (Truth Remix)
27. Richie August – Bust
28. Indigo Child – Cyborg Samurai
29. Indigo Child – Introduction
30. Liquid Stranger – Drones (Mantis Remix)
Artwork by Nicholas Love Visuals
www.facebook.com/nicholaslovevisuals
Volume 22 of our Collective Sessions mix series featuring Nashville, Tennessee House Music Producer, Wattie Green! Wattie's vinyl and digital releases on Flapjack, Spatula City, Juiced, Knocturnal Emissions, Serial Sickness, Funk Mansion continually top the charts of Stompy and Traxsource. If you like house music, this is definitely one for you! Check it out and share with your friends!
@soundcloud.com/djwattiegreen
www.facebook.com/djwattiegreen
Track Listing:
1. Henry Truvillion – Possum Was An Evil Thing
2. Mark Funk – Lady Bug
3. Wes – Make With The Names
4. Dj Mes & Sonny Fodera – Freaks On The Floor
5. Paul Johnson – The Hole Is Mine
6. Deaf N Dumb Crew – Fuck Shit Up
7. Fabio Bacchini – It's Alright
8. Slater Hogan & John Larner – Hipshaka
9. Will Jax – Somethin I Need
10. Dixie Yure – By Defection
11. Flapjackers – Magic In Your Eyes (J's Drivin It Mix)
12. Wattie Green – Brasilian Heat (Bryan Jones Mix)
13. Wattie Green – Brasilia
14. Frankie J – When It Get Hot
15. Jason Jinx – Your Love Has Captured Me
16. Maggs & Bruchez – Baby Be Mine
Artwork by Nicholas Love Visuals
www.facebook.com/nicholaslovevisuals
For volume 21 of our Collective Sessions Mix Series, we have a VERY special guest in Chicago Bass Maestro, Richie August! Starting with Dubstep in 2008, Richie's first official release came in early 2009 on Betamorph Recordings. 2010 until spring 2013 he was the brains behind the "Hulk" group until leaving to further his solo career. He's worked with labels such as, Play Me, Rottun, Sub Human, Ultragore Recordings, Multikill Recordings and released a full length album on July 4th 2013. This mix has lots of originals sprinkled amongst a sea of heavy hitters! We hope you enjoy and share with your friends!
@soundcloud.com/richieaugust
www.facebook.com/richieaugust420
Track Listing:
1. London Future & Djemba Djemba – Look At Me Now feat. Ifa Sayo
2. Jacob Plant – Fire (Dubsef's Festival Trap Remix)
3. Jesse Slayter – China
4. Richie August – Loco
5. Woogie x Ransom – We Get Down
6. Burn The Disco – Turn Up
7. Yello Claw – P_$$YRICH feat. Adje
8. GTA – Yolohton
9. Meaux Green – Grindin' On Acid
10. Jackal ft. CRNKN – Bubblegum (LVX Remix)
11. Buraka Som Sistema – Hangover (Cosenza ReTwerk VIP)
12. Hifee – So Ghetto
13. Matrix & Futurebound feat. Max Marshall – Control (Torqux Remix)
14. Meow666 – Meow Machine
15. Stafford Brothers – Are You Ready
16. Samual James – Mega
17. Gianni Marino – Piew
18. New Young Pony Club – Hard Knocks (Astronomar Remix)
19. Cutline – Crack It
20. Duck Sauce – Radio Stereo (Bingo Players Remix)
21. Jitta On The Track – Mollylujah (Watapachi Remix)
22. Remedy – Welcome To Tha Trap
23. Kai Wachi – Game Over
24. Bommer & Invictous – Blat!
25. Yellow Claw & Yung Felix – You Make Me
26. Debroka x BoyJamez – Autograph
27. Duwell – Duck Season
28. Kill The Noise – Rockers – (Bro Safari & UFO Remix)
29. Richie August – Robo Lean
30. Metallica – Battery (Richie August Remix)
31. Gianni Marino – Azn Girls (ETC ETC Remix)
32. Pote – Stomper
33. Invictous – SmokeSalmon
34. Richie August – My Lady
35. Razihel – Falcon VIP
36. Hulk & Dan Wall – Brotorious (Richie August Remix)
37. Boy Kid Cloud & p0gman – Hood Rich
38. Bro Safari & UFO – Drama (Sadhu Remix)
39. JuJu & Bommer – Al Capone
40. KnightRiderz – FallInLove
Artwork by Nicholas Love Visuals
www.facebook.com/nicholaslovevisuals