So after cutting/grinding away on my first steel blank, and trying desperately to hold it with my foot against the porch,…..I decided I was gonna need a workbench. You can bet there will be a vise installed, too. The last thing I need is an ER bill for slipping with the angle grinder and cutting a few toes off.
I figured I would take a few pics along the way and show how to build a workbench on the cheap. I built this for $20 in wood and with only a cordless drill. 3- 2×4's 10ft long and a 2'x4′ 3/4″ thick pine board for the top.
The table is 2ft deep, 40in. wide, and 42 3/4″ tall. The top overhangs about an inch in the front and 2 inches on the sides so I can clamp something to it if the need arises.
Ok, here's what you tell the Lowes guy to cut (After all, they do it free and thats just less work for you!)
3-pieces 36in. long
3-pieces 19in. long
4-pieces 42in. long (these are the legs, and this is probably too tall for most, so scale it down to whatever height you feel comfortable with)
Now have them cut off 8in. from the 2ftx4ft pine board so its 40in. long instead of 48in.
Assembly-
2 of the 36in. pieces make up the front and back of the top. Use the 3 19in. pieces as the left/right sides and put one in the center as an extra brace for the top. They goes in between the front and back pieces like this.
Now you can attach the legs any way you want. I opted to attach the rear legs to the left and right outsides so that the base was a tad bit wider/more stable and so the back is flush to fit snuggly against a wall.
For the front legs I decided to attach them to the outside of the front.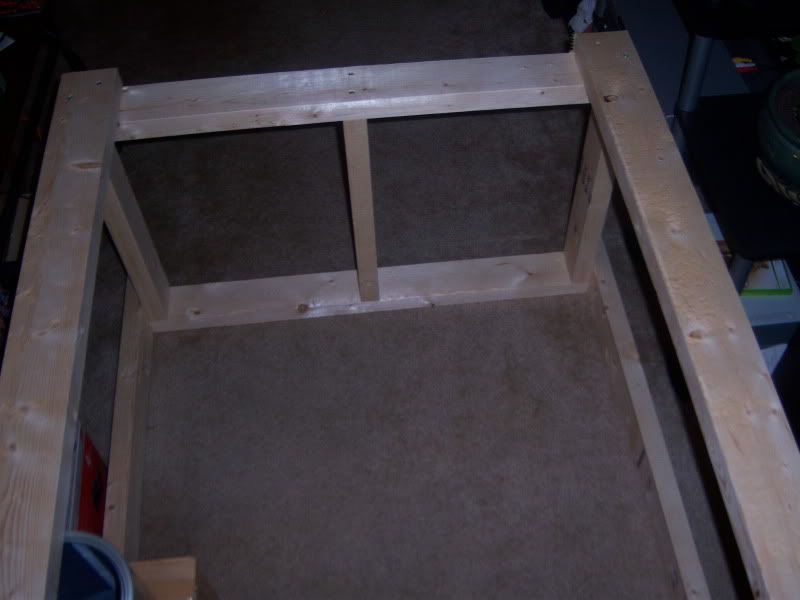 Now install the extra 36in. piece in between the back two legs about 6 inches from the ground for some added stability. Then align the top board flush with the back and centered over the sides. Screw it down around the perimeter every 8in. and then a couple down the center into the brace. The finished product looks like this, although I might add some more braces and a shelf to put stuff on the inside.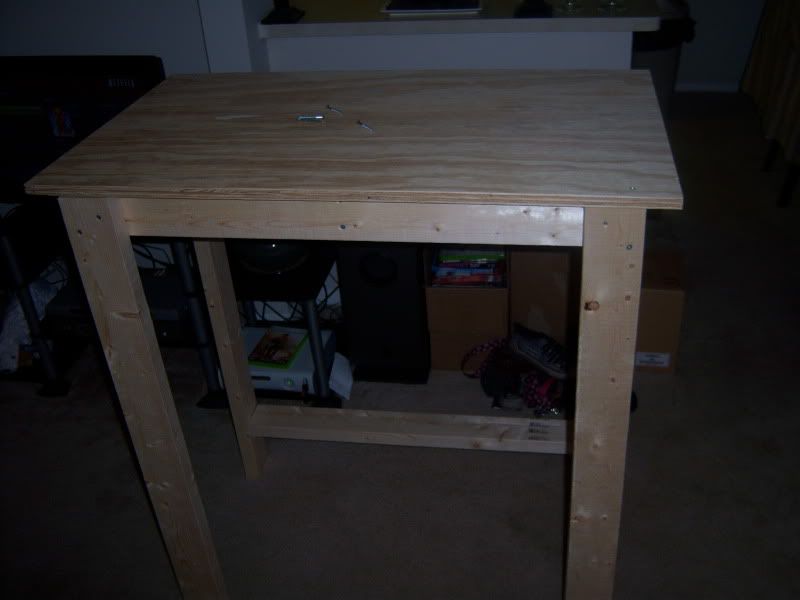 Much thanks to my amazing girlfriend who puts up with things like me building a workbench, in the living room, at midnight. I'd explain why but its really dumb. You're awesome Kel!