With festival season now in full swing (can you believe Summer Camp, Hang Out Fest, Coachella, Wakarusa and Bonnaroo have all already come and gone?), pertinent announcements are becoming less frequent. Still, new events continue to be released, schedules are being announced, last-minute additions are being made and festival fever continues to build.
---
ANNOUNCEMENTS:
Hyperion Music & Arts Festival (Stable Studios in Spencer, IN)
When: September 14 & 15
Tickets: $40 pre-sale; $20 parking ticket
Drive time from Indy: 1.5 hours
Support local musicians and venues by taking a weekend getaway in your southern Indiana backyard. I recommend the $20 parking ticket if your finances will allow it, otherwise you'll be lugging gear to your campsite by way of a shuttle. It's a pain in the ass; trust me, I've done it before.
Hyperion follows the current trend of mixing electronia with more traditional sounds of jam, funk, and rock- a true smorgasbord of the best that Indiana currently has to offer.
Lineup so far: Papadosio, Future Rock, The Twin Cats, Ultraviolet Hippopotamus, The Coop, Eumatik, Skeetones, The New Old Cavalry, Cosby Sweater, Jaik Willis, Midwest Hype, Fresh Hops, Embryonic Fluid, Flatland Harmony Experiment, MC Sparkplug, The Mundies, Elephant Quiz, Shaggy Wonda, Mutiny, Shy Guys Says, Megan Maudlin, & Infinite Geometry.
Green Mountain Eco Fest (Eldridge, MO)
When: August 31 – September 3 (Labor Day Weekend)
Tickets: $80 general admission; $100 VIP
Drive time from Indy: 7 hours
This music festival prides itself in a special concentration on self-sustainability. Their website boasts, "Come enjoy nature with us and learn how to live in harmony with our planet while having a great time and enjoying music by over 20+ artists on two stages." They certainly plan to get down, too, with a musical lineup featuring many well-known artists including headliner Umphrey's McGee.
Lineup so far: Umphrey's McGee, JGB w/ Melvin Seals, Split Lip Rayfield, That One Guy, Spoonfed Tribe, Shibaten (from Japan), Mountain Sprout, Hearts of Darkness Afrobeat, Deadman Flats, Dumptruck Butterlips, Blue Martian Tribe, The Floozies, Reelfoot, Brody Buster Band, Aaron Kamm & the One Drops, SuperMassive Black Holes,Lenny Mink & the Lost & Found, Voodoo Lounge Gypsies, Stone Sugar , Shakedown, Papa Smiley, Stank Nasty, Salad Bar Jam, Jon Eric, Brother Bagman,Goodness Gracious, Deep Fried Squirrel, MGDs, King Louis' Revenge, Whiskey for the Lady, Herb & the Herbs, 3 Son Green, Justin Torres Loop Project, and Naturally Blended.
Gnarnia (Beech Mountain, NC)
When: August 9 – 11
Ticket tiers: $75, $95, $115, $135
Drive time from Indy: 8.5 hours
Gnarnia entices attendees with a mixture of appealing elements from many other successful festivals: a notable slant toward electronic music; an exotic mountaintop destination; and intriguing attractions in close proximity to the festival grounds.
THURSDAY: Beats Antique, 7 Walkers, Gramatik, Paper Diamond, ESKMO, Afroman, Eliot Lipp, Mindelixir, Heyoka, Machines are People Too, KDSML, Songs of Water, Skytree, Panther God, The Polychrons, Futexture, Ployd , Arpetrio, Future Flutes, Amarru, Splynter, Uprise, Nomadic, Andrew Fletcher's Silent Movie Theatre, Aligning Minds, Asian Teacher Factory
FRIDAY: Tipper, Emancipator, Mark Farina, Dieselboy, Easy Star All Stars, Toubab Krewe, VibeSquaD, Break Science, Gift of Gab, ZOOGMA, Starkey, DrFameus, Cas Haley, DEORO, Firecracker Jazz Band, Bookworm, Ziggurat, Yesterday's Gravy, Sonmi, Poetix Lounge, Imperial Blend, Old You, Fast Nasty, Chasing Edison, Sam Shacklock, Numatik, Uphill Both Ways, Sound Pimp
SATURDAY: Conspirator, 12th Planet, Ott, Papadosio, Phadroid, Midnite, Rising Appalachia, Minnesota, DubConscious, Govinda, The Polish Ambassador, Zach Deputy, The Pimps of Joytime, The Mantras, Yo Mama's Big Fat Booty Band, Greenhouse Lounge, Sir Charles,Seduction Sideshow, The Human Experience, DJ Slink, Isness, Herobust, Dex, Laura Reed w Shannon Sanders, Brushfire Stankgrass, B!tch Please, Zack Mexico, The Native Sway, Jonathan Santos
Counter.Point (Atlanta, GA)
When: September 27 – 29
Tickets: $185 (no service fees!)
Drive time from Indy: 9 hours
Organized by C3 Presents, the organizers of Lollapalooza and Austin City Limits, and MCP Presents, the organizers of Camp Bisco, this festival is pulling all the stops to answer the dirty south's cry for a star-studded DJ festival. Wait? Was there such a cry?
In addition to debuting with a headling cast that includes Bassnectar, Skrillex, Pretty Lights, AVICII and Steve Angello, Counter.Point has, ironically, countered a common criticism of urban festivals by proclaiming, "CounterPoint is a "Camping Optional" Festival, where concertgoers can choose to pitch a tent, bring their RV, or rent one of our luxury camping options so they can crash onsite once all the day's festivities have finished. For those not wanting to camp, there will be shuttle and travel package options so you can make the quick trek back to Atlanta and sleep in a comfortable hotel room or your own pad."
Pygmalion Music Festival (Champaign-Urbana, IL)
When: September 27-29
Tickets: Currently $75; jumping to $85 soon
Drive time from Indy: 2 hours
Featuring: Grizzly Bear, Dirty Projectors, Dinosaur Jr, Sleigh Bells, Crown, Best Coast, Cloud Nothings, Tennis, Willis Earl Beal, Psychic Twin, Julia Holter, Frankie Rose, Eternal Summers, Laetitia Sadier, Hundred Waters, Owen, Question Mark, Hospitality, Question Mark, Lord Huron, Question Mark, Night Beds, Craft Spells, Big Freedia, Oh No Oh My, Zeus, My Jerusalem & many more!
Bear Creek Music & Art Festival (Live Oak, Florida)
img source: http://floridamusicblog.com/bear-creek-daily-schedule-announced/
When: November 8-11
Tickets: June 3 – Sept. 15 $150; Sept. 16 – Nov. 3 $165; Nov. 4 – Gate $175; Gate $185
Drive time from Indy: 14 hours
Still five months away, consider this stacked line up:
Featuring: Alecia Chakour, Andrew Block, Atlanta Funk Society Horns, Beebs & Her Money Maker, Billy Iuso, Billy Martin, Billy Martin & Will Blades Duo, BOBBY RUSH, Break Science, Bright Light Social Hour (two shows), Cadillac Jones, Catfish Alliance, Charles Bradley and His Extraordinaires, Charles Walker & The Dynamites, Dead Kenny G's, Digital Tape Machine, Dr. Klaw, Earphunk, Flannel Church, Fung Fu, George Porter Jr., George Porter Jr. & The Runnin' Parders, Grant Green Jr. & Friends, Headtronics (DJ Logic, Steve Molitz, Freekbass; two shows), Ike Stubblefield & Friends, Ivan Neville's Dumpstaphunk, Jennifer Hartswick, Jonathan Scales & Fourchestra (two shows), Kaleigh Baker, Khris Royal & Dark Matter, Lettuce (two shows), Lotus, March 4th Marching Band (two shows), Mike Dillon Band, Moon Taxi (two shows), Natalie Cressman, Nigel Hall, PERPETUAL GROOVE (two shows), Robert Walter, Roosevelt Collier, Scholars Word, Sharon Jones and The Dap-Kings, Skerik, Soulive, Strange Arrangement, The Budos Band, The Como Mamas, The Heavy Pets (two shows), The Mantras, The New Mastersounds, The Sugarman 3, The Werks, Thomas Wynn & the Believers, Umphrey's McGee (two shows), Vagabond Swing, Voodoo Town, Wil Blades, Wyllys & the New York Hustler Ensemble, Zach Deputy, and Zoogma
---
UPDATES
North Coast Music Festival (Chicago)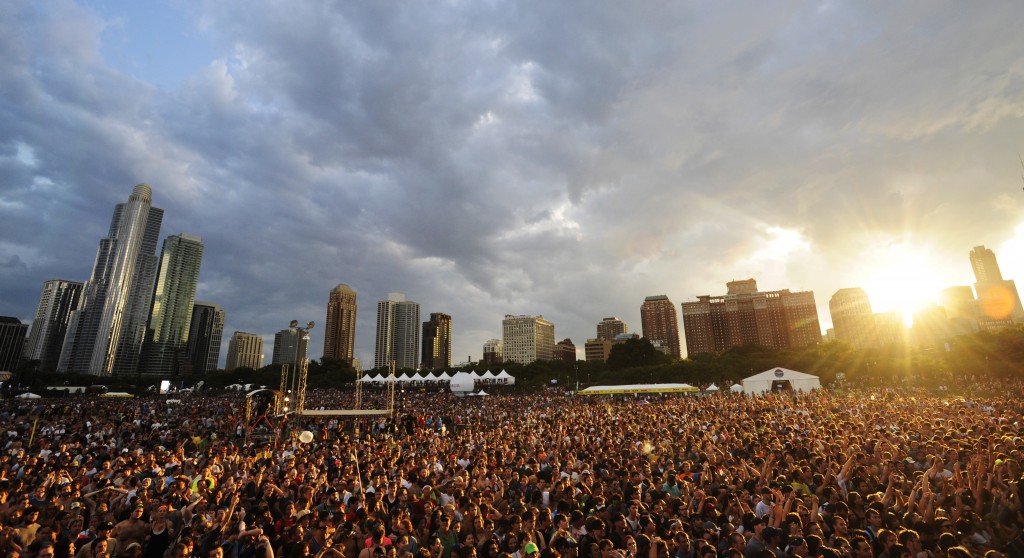 img source: http://www.heavemedia.com/2011/12/09/best-and-worst-festival-moments-of-2011/
When: August 31 – September 2 (Labor Day weekend)
Joining an already stellar line up are Chicago's own Umphrey's McGee, rising electro/dubstep production duo Knife Party, the legendary Paul Oakenfold, Dutch DJ Chuckie, southern-fried hip-hop star Yelawolf, dubstep duo EOTO, rowdy electronic Chicago trio Future Rock, disco rockers Boombox, West Coast hip-hoppers People Under The Stairs and more!First wave of artist announcements included:
Featuring: Pretty Lights, Axwell, Steve Angello, Atmosphere, Steve Aoki, Excision, Alesso, Big Boi, The Rapture, Digitalism, Tommy Trash, Modestep, Felix Da Housecat, Mord Fustang, Yacht, Dan Deacon, Rebirth Brass Band, Digital Tape Machine, King Khan & The Shrines, NiT GriT,Maya Jane Coles, Savoy,Van Ghost,Com Truise,Maya Jane Coles,Mr MFN Exquire, Auto Body,Zebo,Wyllys & the NY Hustler Ensemble, Family Groove Company,Strange Arrangement, Gentlemen Hall,NorDJs,Paul Universe,Mario Florek , Kid Color,DJ Solo,ProbCause,Buhay, Mathien,Jamie Lono, andArts of Life Band
Forecastle Music Festival (Louisville)
img source: Forecastlefest.com
When: July 13-15
Recent artist additions include: Reggae standouts Rebelution, Singer-songwriter Abigail Washburn, heart-on-the-sleeve lyricist Trixie Whitley, shot-and-a-beer rockersLucero, dancefloor rumbler Gramatik, up-and-comers FUTUREBIRDS, the ukulele-wielding Julia Nunes, MOON TAXI, Minnesota, Mux Mool, Everest, Cloud Nothings, Lower Dens, Kelly Hogan, Keys N Krates and Cherub.
Forecastle has also announced an astounding after-party… ON A BOAT. Preservation Hall Jazz Band (with Special Appearances by members of My Morning Jacket) will perform after Forecastle closes on Saturday night. Unfortunately, tickets are completely sold out for this after party.
Please also note Grimes has been dropped from Forecastle due to a scheduling conflict.