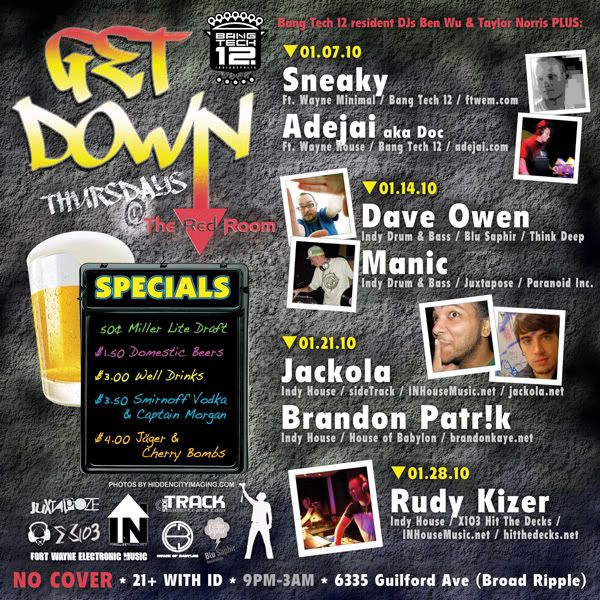 2009 has been an amazing year for EDM in Indianapolis and coming in 2010, Bang Tech 12 will bring you Get Down @ The Red Room, a fresh new weekly electronic music event located on the northside of the city in the Broad Ripple village.
The Red Room provides a great atmosphere with 2 rooms, a patio, good sound and lights, an awesome staff, huge windows overlooking Broad Ripple and a great dance floor area surrounded by comfortable seating.
Bang Tech 12 is committed to providing great music in a sophisticated venue and in order to ensure the continued growth of the underground electronic music scene in Indianapolis, Get Down @ The Red Room will have no cover at the door and amazing drink specials. So come out, enjoy the music and Get Down with us, every Thursday at The Red Room!
The Red Room
6335 Guilford Ave
Indianapolis, IN 46220
No Cover
9p-3a
21+ w/ ID
Drink Specials:
$0.50 Miller Lite Draft
$1.50 Domestic Beers
$3.00 Well Drinks
$3.50 Smirnoff and Captain Morgan
$4.00 Jager and Cherry Bombs