"I like it when da bass goes boom, and shakes everything in the room" is the loop in my head this week. I have heard some facemelting bangers this week. This year is already so much bigger than last for bass music. Are you tired of the heavy "blow your fucking face off" dubstep? Well I'm sure as hell not and won't be in the near future. All you people shouting that heavy dubstep is boring need your head examined. It's not going away anytime soon, we are just getting started! I'm more tired of hearing your yappers. When I hear someone talk smack about heavy dub, I just want to point at the crowd losing their fucking minds to an epic drop compared to their empty dance floors. In fact, if it were not for dub your dance floors would be even emptier these days. I have been in this scene for 13 years and seen all the genre battles. I love drum and bass. I love dubstep. It's ok guys neither one has the bigger dick here, dubstep has given the legendary drum and bass a nice hard on though! If it were not for both, we would not have their evil child drumstep. Everyone has their preferences, both genre are amazing in their own way. "It's music!" "who cares who started" "All I know is we did it harder, we did it faster, and we did it with more love baby"! Here is my advice for you all – For you Newcomers: You need drum and bass in your life. For the Oldskoolers: Adapt! Now on with the bass music!
---
SAFRA
I WISH I WASN'T HUMAN
Heavy Artillery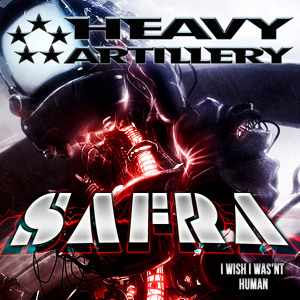 'Daniel Safra is a producer known as Safra who produces music for almost 13 years. After studying Jazz and Classical music at a Berklee equivalent highschool he has decided it is time to do his thing. Now working and producing hits for the mainstream music industry and DJ'ing at local underground clubs in the nights. Safra is touring and performing all over the globe with no mercy from Canada to Germany and even Israel.' – Soundcloud
This latest install is a muti-genre blast of sensations. If your ears have taste, they will find this delicious. Have a listen to the playlist below and sample the goodness before you buy it! It's available on Beatport today!
---
*Freebies*
---
Buy This Shiznit!!!
---
*Locally Fresh*
This is a truly amazing remix! Check out L810c and get this man some likes!
Another heater from jFet! Munchin Bass like a fucking boss!
---