It was in the basement venue, The Casba that I first saw FIGURE. It was dark, no cover, and the place was packed. The sound that came out of the speakers that night cannot be described and neither can the energy of the crowd. I realized then I was witnessing a mad scientist of beats at work.
Figure went on to play IndyMojo's Identity After Party and was signed to AM Only (largest EDM talent agency) that same week. His career instantly exploded into a welcomed chaos of shows around the world and tons of releases. Since then, he has only played in Indy twice, at The Amber room which he headlined and at Wheelhouse Music Festival.
This coming Altered Thurzday, we can finally announce his return to playing his home state. At none other than the infamous Mousetrap and for only $8 at that. He is bringing his Terrorvision, which is a collaboration of the most terrifying visuals alongside his Monster tracks. This show is years in the making, let's kick off the year with a bang, bang!
Josh Gard has had a long history in music. Just a few short years ago he donned the name Figure and began making electro house, but has since become a regular name in all realms of electronic and dance. Scoring positions among the charts may have gotten him recognition, but a hefty amount of praise has been raining down on him lately as some of the leading artists in electronic music have valued his live performance skills as some of the best in the business.
In 2011, his Monsters of Drumstep series married his love of horror with his immense production skills to become the soundtrack for the Halloween season. Figure created his own imprint, DOOM Music to house the Monsters series which has now become an annual release. In 2013 FIGURE's monsters series became the official soundtrack to Universal Studio's Hollywood Horror Nights theme park.
Figure recently signed with OWSLA to release "Horns of the Apocalypse". Horns of the Apocalypse showcases FIGURE'S evolving sound and take on 4/4 dance music with his lead single Eagle. War Call & Beast Mode will remind fans of FIGURE'S signature sound. The EP features DEL The Funky Homosapien (Deltron 3030, Gorillaz, Hieroglyphics) Mr Lif (Definitive Jux) & Nick Thayer (Owsla).
"The direction and influence for the production came from being on tour all of last year and a good chunk of of 2013 so far. The entire EP was written on the road but mastered at my home studio in Indiana using my Neve Racks and Abelton. I'm really looking forward to seeing my fans on tour this fall and hope they all love this release as much as I do." – FIGURE
October 2013 saw the return of FIGURE's highly acclaimed Monster's series, with the release of Monsters Volume 4. Monster's vol. 4 quickly shot up the iTunes/Beatport worldwide charts with key tracks like Are You Afraid Of The Dark ft. Lexi Norton, Living Dead & The Center of Hell ft/ Helicopter Showdown. All in all the album takes listeners on a 13 song trip through the dark world of FIGURE's monsters, and showcases another side of Josh Gard's sound design that ties the LP together with dark interludes like Symphony of the Damned & Death's Gospel.
When he's not recording in his hometown studios in rural Indiana, Gard is touring worldwide, with packed tents at festivals like EDC, SnowGlobe, Starscape, The Bounce, Creamfields Australia, Tomorrow World, Global Dance, and Belgium's Dour. He just ended his 14 city Terrorvision Tour in November and Indy will be the 15th city on January 8th!
Local Suport From
HOLLOW POINT

IndyMojo // G-9 Collective // NAP DNB
https://www.facebook.com/djhollowpoint
JIN XS

IndyMojo // G-9 Collective
https://www.facebook.com/TheDJJinxs
INDIGO CHILD
IndyMojo // G-9 Collective
https://www.facebook.com/IndigoChildIndy
Free Shit!
You and a guest will get free entry to the show and a Riot Pack signed by FIGURE.
Rules
1.  Comment below and tell us why you should win!
2.  Share this page to a public post on Facebook tagging 5 friends including Indymojo.com.
3.  If you don't follow both rules you LOSE!
Winners will be announced January 7th!
January 8th
Mousetrap Bar and Grille
$8
21+
Azmyth School of Music Technology announces their Three (3) Day Summer School for Aspiring Recording Engineers.
Course Dates: Thursday, June 14th, Friday, June 15th and Monday, June 18th from 12:00pm – 4:00pm.
Two Courses to choose from:
Academy of Rock: Students will record a single with a local rock band from start to finish. Each student will have hands on experience setting up a session, tracking and mixing with a local rock band. Course covers the basics: Mechanics of Sound, Digital Audio, basic Pro Tools, Microphones, Signal Flow, Mic Placement, Getting Sounds, Tracking, Mixing, Mastering, Inside the Industry and Session Etiquette.
Hip Hop Academy: Students will record a single with a local hip hop artist from start to finish. Each student will have hands on experience with beat production, tracking & mixing. You will be creating a beat for the artist WITH the artist. Course covers the basics: Mechanics of Sound, Digital Audio, basic Pro Tools, Microphones, Signal Flow, Beat Production, Song Structure, Soft Synths, Modern MIDI, Tracking, Mixing, Mastering, Inside the Industry and Session Etiquette.
Class sizes are limited; early registration is suggested. Call Michael at Azmyth Recording 317-849-2009 for further details and registration.
Early Registration (by June 1st, 2012) = $600.00
Late Registration (after June 2nd, 2012 = $800.00
Cash, Check, American Express, Discover, Master Card, Paypal & Visa accepted.
azmythrecording.com
azmythmusictech.com

Azmyth School of Music Technology
5210 E. 65th Street
Indianapolis, Indiana 46220
Phone: (317) 849-2009
After 4 years, we feel it's time our logo gets a makeover, and we're asking for help.
Put on your design hats, perhaps a great ninja movie in the background, and start a pot of coffee – SHOW US WHAT YOU GOT!
1. Put together a logo design you feel represents the G-9 Collective brand.
- Do your research. Check out the G-9 Collective Fan Page to get an idea what we're about. Feel free to ask questions.
- It doesn't HAVE to be a ninja, but we do like ninjas.
- Mojo "M" logo available by request. (We aren't redesigning the Indymojo logo)
2. Submit your design via email: Matt@Indymojo.com
- Most file types are acceptable for the initial submission process. If we have a problem, we'll let you know.
3. Once the submission process ends, we'll display the top 10 images in a blog, for an audience vote, which will help us decide the winner. (Since it's our logo, we're going to have the final say)
Winner receives:
- $100 cash
- Mojo "God Pass" that gets you into all Indymojo 2012 Events!
Submit designs, questions, etc to Matt@Indymojo.com
** Submission Deadline: JANUARY 6th **
Evolution of the logo….
Original:
Fall 2008, Justin Hand

Mid-2010:
with the addition of the Mojo Logo


Current:

These people are equally beautiful in our eyes.
While everyone is revving up for Mojostock today, we're also getting excited for next weekend, which should prove to be a nerd's pair-a-dice (get it? It's a gaming pun!)
GenCon Indy kicks off on Thursday, August 4th. As the largest and longest running gaming convention in the world, GenCon is the perfect place to go if you're even the slightest nerd. From old classics like Dungeons & Dragons to more recent games like Zombie Dice, there's a wide range of products and genres to hook anyone.
At Mojo, we appreciate and celebrate the diversity of our members, and we want to share in the fun and entertainment that is GenCon with some of our nerdiest members. We're giving away 4 free pairs of passes for the entire convention, from August 4th to the 7th, to the 4 nerdiest members on our site.
All you have to do to win is post a picture or a video of you at your upper limit of nerd. Are you a cosplayer? Then post a video of your favorite scene from Evangelion with you as Rei Ayanami. Dungeons & Dragons nerd? Show off your huge collection of dice and your version 2.0 core rule books. Maybe modeling is more your thing. Post a picture of your hand-painted pewter model of your nightelf druid, Preston. We don't discriminate.
To participate, just login to your IndyMojo account and post a picture or video of yourself in the comments below. Then encourage your friends to visit and vote for your entry by clicking the green + sign next to your comment. The 4 leaders by Wednesday will receive tickets to Gen Con!
Voting will end Wednesday at 5pm.

I can't wait for when we play this dungeon. Our DM is amazing!
Well, it's that time. The anticipation has come to a hilt and preparations have begun. Mojostock is here! While this may be the last Dj showcase you may read before you set foot on Sleepybear Campground, it is most certainly not the least. You can consider me extremely bias, quite frankly because Brian Scavo aka. Dj What the Bleep spins my favorite genre; ragga jungle. He is on the forefront of the battle to resurrect a "forgotten" genre in the states. What the Bleep is battle ready and he's got Zion on his side.
…What was your first exposure to the electronic world, and what made you want to be a DJ?
"I was first exposed to electronic music in 2003. My sister had just moved back to Bowling Green, OH from Vancouver, B.C. where there is a very strong and diverse rave scene and she brought along an extensive music collection as a result. I got into it on my own and became interested in the culture over the next year or so. Then it all blew up when on May 28th, 2004 I got my dreadlocks put in and then I went to my first party, a happy hardcore Detroit Electronic Music Festival after party."
"It was actually at that party that I met some of the most influential people in all of my rave experiences. Most notably, I was introduced to Corey aka Coleco aka foi oi oi at that party; that night happened to be his first gig. I ended up hanging out with him and a lot of the Columbus ravers, instantly surrounded by DJs in this new social experience. I can definitely attribute a lot of my interest and passion for DJing at the start to Corey, and I continue to be inspired by him when we work together. I loved many things about rave culture as soon as I walked through the doors of the venue for my first party, and so it isn't too much of a stretch to say it was inevitable I was going to become a DJ, and eventually, a promoter."
What the Bleep & foi oi oi – Feelings for Detroit Vol. 5: Peelings for Detroit by DJ What the Bleep
"I may have become a DJ because it was in my nature, but what's more interesting is why I remain a DJ. Though I usually don't hear people openly admit it, I know that way too many DJs love being DJs because of the perks (status, fame, attention, access, etc.). We are all human and it feels great to be treated well, but there's a lot of responsibility doing what we do. I believe there is a very important sense of purpose we have to carry with us whenever we perform. In one way or another, we're responsible for people's emotions when they hear our music, so we have to maintain our integrity and to be very humble about our role. I embrace the responsibility of DJing as a way to better myself. The truth is, it's not about me in the least bit. It's about inspiring others, delivering a positive message, creating a sense of community, and taking people to new places. I have maintained my passion for mixing over all these years because I know that what I do behind the decks is an opportunity to providing an uplifting musical experience for others to enjoy."
…What are some of the things you're doing in your scene?
"My involvement in electronic music culture has almost never been just limited to DJing. Within a year of playing out for the first time I was experimenting with production with the likes of Reason 3.0. By that time I had also formed a crew (Electronic Enlightenment) with fellow DJs and good friends in the scene. Within two years I was already learning the ropes of event promotion and had begun networking heavily via forums and Internet radio. After several years, my focus has turned to hosting events and promoting (which now is on par with my passion for DJing)."
"Electronic Enlightenment has made a presence for itself as our DJs travel, but most importantly we have hosted numerous events over the last few years. Most notably, I started a monthly event last August at the beautiful Clazel Theater in Bowling Green. It launched as Beatday 5, my birthday bash, but it wasn't so much a celebration of my birthday as it was the beginning of something of serious caliber in Bowling Green. The events immediately took on the Konkrete Jungle name, becoming the newest chapter of the international brand of bass culture events (started in NYC, still carrying the title of "longest running drum & bass weekly in the world"). We've since done 8 events and the monthly has taken off as Konkrete Jungle Bowling Green. I am the event host and also a resident DJ (playing once a semester)."
"Most of the remainder of my DJ bookings varies from gig to gig, so I wouldn't call anything else I do a residency, with one exception: my show on jungletrain.net. I've been playing a show on that station for over four and a half years. I broadcast it from my home, but my audience hails from the US to Europe and beyond, bringing in hundreds of listeners each show. Right now I play weekly on Sunday from 5 to 7pm."
LIVE on jungletrain.net – "Selection of a Soldier" all vinyl, all Congo Natty special 2011_03_27 by DJ What the Bleep
…Why have you chosen ragga jungle, or did it pick you?
"The original collection of electronic music that I listened to had all sorts of genres in it, everything from Scooter to Basement Jaxx to Groove Armada. I soaked it all up like a sponge and was very open-minded, but there were indeed certain sounds that caught my attention. There was the "Downbeat in the Jungle" compilation CD that began with Shy FX feat. UK Apache – Original Nuttah. Then there was Aphrodite's mix CD "Urban Jungle". There was Soundmurderer's famous "Wired for Sound" mixes. Those, among others, drove me to start listening to drum & bass internet radio, so I quickly start learning more and more about dnb and jungle of all types. And once I could afford turntables I went searching for records to buy. And lo' and behold, what did I find? A drum & bass record lot with a bunch of early 2000s techstep being sold by hardcore legend, Cloudskipper (oddly enough). So, I grabbed those first 30 or so records on the cheap, and my junglist adventure began. Over time, my taste was refined and I started leaning more towards the ragga vocalism and raw jungle drums."
"I've said it before: there really is something unique about jungle, ragga vocalists and MCs, and the spirit of Jamaica that attracts me. There's the suffering, suppression, and corrupt governments. And there's the path of rastafari and the positive messages it spreads about humanity. These things are fuel for a brilliant musical fire. And it all lends towards a very emotional style of music. Add in the infectious danceable beats, and you've really got something. It has sophistication and yet can have wide appeal. It can be very energetic and yet very soothing. It often carries very meaningful messages. There's really not much more I can say: I love jungle music."
…Do you feel that ragga jungle has a decent following or presence in electronic venues?
"Ragga Jungle has influenced many corners of electronic music. You'll hear ragga remixes or samples from reggae. And then, of course, there's the terminology and techniques that have carried over from the DJs at soundclashes in Jamaica and the junglist culture in England. You can't really ignore how far-reaching the culture and music is. However, ragga jungle in itself isn't always the most known genre. Because of the BPM and the complicated drum patterns, jungle can be an acquired taste for some, so the genre as a whole doesn't always reach the broader audience that some genres do."
"In some places in Europe ragga jungle is like bread and butter, but around the Midwest I only know a small handful of exclusively ragga jungle DJs. It's a somewhat esoteric culture when you get down to it; I find that all of the producers and specialized DJs know each other online, but no single geographic location has a huge presence of it. It's also pretty interesting how ragga jungle is in the grey area between rave culture and reggae culture, but that's a whole different topic. Ragga jungle is definitely known to some who are knowledgeable of the different sides of dnb/jungle, but I'm very fortunate to be one of the few DJs in the area that can provide a complete snapshot of the many sides of the genre."
…What are your expectations for Mojostock?
"I keep telling everyone: I expect Mojostock to be the highlight of my summer (out of many gigs, mind you). I first bumped into some of the G-9 Collective and IndyMojo in Muncie, IN last year and I was thoroughly impressed with the quality of character and talent, as well as the professionalism and high quality production. Indianapolis should feel very lucky to have such crews pushing their scene along. Mojostock is, without a doubt, going to be a very cozy festival. We all enjoy those large-scale festivals, but there is a *lot* to appreciate in a "just right"-sized experience like Mojostock. The lineup in itself is quite the collection of styles and backgrounds, so I'm very excited to just be hearing so many different things alongside so many friends (old friends and friends yet-to-be-made). This will be my second Indianapolis experience (the first was at the Mousetrap for Thursdaze last year), and I can't wait."
After you hear Brian's set, I can guarantee you one of two things. First, you will have heard something that is entirely new to your ears or has changed your musical soul. Second, if you like drum n bass/jungle, you just became a fan of What the Bleep!
I'll leave you with this:
"We all know that DJing as a performance technique has evolved tremendously in the last 5 to 10 years: time-encoded equipment and CDs, digital track distribution, etc. Alas, I haven't been swept up by its instant-gratification and economical glory. I'm one of the rare (dying?) breed of vinyl enthusiasts, still laying down wax cut after wax cut. This isn't to say that when Serato or CDJs are available at a show I won't throw in some unreleased material, but my rule of thumb is simple: if it's found on vinyl then I won't play it digitally. This means that beyond my own vinyl collection, the only tracks you'll hear me play are some of the exclusive digital "dubplates" given to me by producers worldwide or exclusively digital releases that I only wish were pressed into the vinyl grooves I could hold in my hand."
Native of Ohio, Mark Naegel (aka: Bit Flip), is one of the "newbie's" to Mojostock this year. Anxiously he is waiting to unleash his brand of electro-breaks on the masses of this year's festival. Being a "gear head" of sorts he knows the ins and outs of most equipment, allowing him to play any medium.
"Whether it's DJing, making music or coming up with new ideas for pieces of gear, audio is in my head 99% off the time"
…What is your background as far as electronic music is concerned?
"I first got into electronic music early on in high school, but never really experienced the scene until I was 18. From my first party in Columbus called "Afterlife" I was hooked. I decided that night that I was going to be a DJ no matter what it took. After getting my first setup, practicing, and playing my first show out I realized it wasn't just some half-hearted dream, it was a part of me. I've been at it ever since and haven't looked back."
…Why breaks/electro house?
"When I first started DJing I got into breaks because I really liked a lot of the Florida breaks sound of early-mid 2000s. Over time I started playing more breaks with an old school funk feel because I just got caught up in the slap bass and filtered guitars and it was really danceable and straight up groovy. Now I've shifted into electro breaks since they have a gritty edge to them that is perfect for the b-boys and b-girls to break to. As for Electro House, I always loved the pounding of a 4/4 kick and with similar sound choice to electro breaks. It's a no brainer. What really makes the two meld so well is being able to swap basslines in and out from 4/4 to a broken beat and back again."
Next Era: Special Teams Unit by Bit Flip
…What separates you from other Dj's?
"I bring a unique blend to the tables both musically and in stage presence. I specifically try to play new music that not many people are hip to yet to try to get new artists out there. Every set is fresh, and every time it's got a new twist to it."
…How did you come up with Bit Flip?
"When I started DJing I was in school for computer engineering and wanted to come up with a name that really represented who I was. I'm a techie who loves music and we're well into the digital era with DJing and everything else. Seeing as this was the case I was throwing a few nerdy names around and Bit Flip came up. I thought this was perfect since it had a ring to it, and all things digital are represented by 1's and 0's. It's all about flippin' bits!"
…What medium do you use/prefer, and why?
"I've always been a fan of turntables whether playing on vinyl or using a DVS. I really like the connection between myself and wax. I've played on midi controllers and CDJs plenty of times, but just don't get the same experience, especially when scratching."
…What experiences have you had with Indy scene and how do they differ with Ohio scene?
"I've played in Indy a few times over the years, but the most recent was still a couple years back. I always have a great time when I come to Indy though, everyone is really nice and I have quite a few friends there so that's always a plus. As far as the difference between the two, I can't really say since it's been a while from the DJing standpoint, but I can say that I've heard Indy kids are much more critical than Ohio kids so I'm looking forward to the challenge."
…What do YOU expect from Mojostock?
"I'm really open to see what Mojostock is all about since I didn't get to attend last year. I'm expecting to hear a variety of sounds some of which I've never heard play live before, meet a bunch of cool new people, and get a bit tighter knit with the Indy scene in general."
…What do you want the Mojostock crowd to take away from your set?
"Number one is knowledge of some new tunes; if you have a question on who did what song, ASK! I want the crowd to walk away with an exhausted look on their face from dancing so hard they can barely stand."
Someone new, bring his brand of electro breaks to the stages of Mojostock for his first time. Im ready, are you? While your writing your list and checking twice, check out his fan page and schedule some time for Bit Flip.
Make sure you pick up your MOJOSTOCK tickets and don't miss out on something very special!
Set to disrupt the gravity tethers at this year's MojoStock is one of the youngest and most talented dubstep artist on the scene. Cyberoptics (aka Alex Epps) humbly describes his music as "futuristic, nerdy, fun…and lots of bass." But the quick achievements at each chapter of his game makes it's clear his work bench is equipped for more than simple upgrades.
Having recently turned 21, Cyberoptics has only been producing and djing for a few years. Intrigued by a friend's Fruity Loops program (now known as FL Studio), he began playing and making his own songs during the spring before his high school graduation. About a year later he made the choice to advance to the next level.
"I didn't really get into djing until my songs got really good and I wanted to play them for people," said Cyberoptics.
And when he started playing them, there was no way people could look away. Shortly after he began to introduce his sound, his song "Kong" grabbed the attention and signing of a hometown local in Memphis, Tennessee. This release quickly produced contact from the accomplished and talented Reid Speed, who asked if he'd make a song for her recording label Play Me Records.
"I got really inspired and was like, 'Hell yeah!' This was my chance to you know, like really get in the game and make it big so I made 'Geisha,' which was my really big release. And it went to number one, and I guess the ball kept rolling from there."
"Rolling from there" means not only did his song 'Geisha' make it to number one and stay in the top five for about a month on Beatport.com, but he also went on to release several champion hits such as "Pimpin," "Tie Fighter," and "Toasty." All of which placed in Beatport's top 20.
Quick success and getting his music out to the masses, however, is not his main concern. His love for music is less about survival and fame, and more about solving the puzzle of doing something new and different.
"I definitely want to keep pushing the bar by doing new stuff, and not ripping off. I feel a lot of dubstep and music now is just ripping off of older music and it's not really original. I just really want to make something nobody's really heard and if I can make it to where it pleases the masses then that's fine."
He admitted one of his biggest challenges as a young producer and dj was competing with other djs in making his own unique sound. Despite the challenge, Cyberoptics is more concerned with his own music rather than others.
Therefore, Cyberoptics doesn't really listen to many dubstep artists.
"As far as being a young aspiring producer or dj, I stress to not worry about what other people are making. And if you're gonna make dubstep, or you're gonna make whatever, I would suggest that you listen to that genre of music as little as possible. That way you don't get influenced by other people, and you end up making what you want to make.
And at the end of the day you're gonna be 100 % satisfied. Rather than 70 or 80% satisfied because you based your ideas off of somebody else. Personally I found when I make songs that came straight from my mind and my heart, I like them better."
He named only one dubstep influence during the interview, Liquid Stranger.
"Liquid Stranger is one of those people that when you meet them, you automatically know that they are on another level from other people. I don't have very many role models, but if I did have a role model, he would be one of them.
He teaches a martial arts class, he owns his own dojo which he devotes a lot of time to, and he studies Native Americanism, and things like that. So he's culturally trying to improve aspects of his life whether it be musical, or personal aspects. And he doesn't care if his music gets sold, or about popularity. He just wants to make good music and live his life. And that's pretty much what I want to do."
Some not so obvious influences included southern hip-hop such as Three 6 Mafia, old classic 70s like Kool and The Gang, and his mother and father. His mother used to sing at Carnegie Hall, and his father sang in a policeman quartet which traveled all over the country, and even sang for the president.
Also, an interest in rock and metal during his early teenage years inspired a period of time where he played guitar. Something he decided wasn't for him.
"I just gave it up because everybody else seemed like they played guitar. So that didn't make me feel that special."
Finally, if you've ever listened to Cyberoptics' music, it's pleasingly obvious video games are an influence. Not just by the various sound bites he adds to his songs, but also with titles such as "Plasma Cutter," which is the weapon used in one of the most amazing games of all time, Dead Space.
Cyberoptics – Plasma Cutter by Cyberoptics
The influence is also paralleled with the hope of being able to someday make music for video games or other visual mediums.
"Video games kinda give me some sort of inspiration because it's not something you see everyday in real life. So then you have something to relate to other than real life stuff.
I really want to have my music put to a specific visual that's really well done, that will be seen and heard by millions of people. I feel that people relate to music more if they have something to watch or interact to with the music."
Cyberoptics – Wall-E (FREE DOWNLOAD) by Cyberoptics
On top of this future prospect, Cyberoptics is currently working on a full length, physical album of original songs soon to be released by Play Me Records. He is also firing off bass-filled sets with the PLAY ME Bass Monster Tour currently traveling the United States. But most importantly you can catch him here in Indianapolis during MojoStock, which takes place July 29 and 30 at Sleepybear Campground. For more information on line-up times check out:
http://mojostockindy.com/
http://www.facebook.com/mojostock
Facebook Event Page
Dull. Boring. Bland. Google.
When it comes to social media, some people would be surprised to learn that I don't really jump on board the 'Latest and Greatest' trends first. I didn't join Facebook until I wanted to use it to get action, which was probably a full year after it was opened to my college. I don't have a del.icio.us account and I don't Reddit and I don't care. I keep considering getting a Twitter account, but I don't feel quite pretentious enough for it (irony?). But now there's Google+.
And for once… I'm an early adopter.
Why? Not sure. The stars and planets of the social media galaxy have all aligned over the fortnight or so that Google+ has been available, and thus I found myself this morning having had the combination of boredom and a random G+ invite. So now I've been on Google+ for about an hour. And I may never leave.
First and foremost, here's the answer to your question. Yes, it is exactly like Facebook. Specifically, it's like a very early version of Facebook where you can't actually do very much, but you find yourself constantly refreshing the page for reasons you can't quite define. Of the limited features currently released, here are my favorites:
Direct Integration with Gmail
G+: HEY. Stop working and touch me.
Me: Yes, master Google.
I use Gmail for my business and all of my email, so traditionally I've always had a tab open for email, a tab for Facebook, and a tab for YouPorn Yahoo! News. The beauty of Google+ is that I don't need to switch tabs to get notifications about someone's new Lolcat picture. Google+ handily notifies me with a big red "HEY LOOK! LISTEN!" button at the top right corner of the screen.
Facebook started with social media first, and now they're launching into email. Google email system is well established, and now they're launching into social networking. Considering how much MORE time I spend on email than I do social networks, I think Google will win this fight. No thanks, I don't need a Facebook email account.
Circles
A close second to its Gmail integration would be the Circles feature. The name implies that this feature would probably be very dull, but don't let that fool you. Because it is pretty dull. All it let's you do is categorize friends into groups in a much simpler way than Facebook. That's it. Nothing more to see here, move along.
But in that simplicity, there is a subtle beauty that you only begin to realize as you add more contacts. You start with basic 'Friends', 'Family', and 'Acquaintances' circles by default, and you can add more as you go along. Very quickly I added circles for my business, circles for my colleagues, a very special ninth circle of hell for my loan sharks, and a circle that I consider very near and dear to my heart for all the 'Assholes' in my life.
I think my next circle will be for 'Anger Management Professionals'.
That circle is currently the biggest.
As I get friend requests, I get a few moments to judge them and their true relationship to me, and then I neatly slot them where they belong. All they know is that they are added to at least one circle, but they don't get to see which circle they are in. So they don't know when I've put them in the circle labeled 'People I Would Like to Run Over with a Forklift'. They just know I was kind enough to add them to my network. They get warm fuzzies, and I get constantly reminded to send them invites to the old abandoned construction site down the street. It's just as fun as it sounds.
Sparks
They're not that cool, actually. Think of them as glorified RSS feeds for people who don't know what 'RSS' stands for. Still, it's kind of nice to have a feed of topics I like so I can randomly find new information. I guess. We'll see if Google really does much with this.
It's Not Facebook. Yet.
Perhaps the best thing about Google+ is that while it is a lot like Facebook, it is not Facebook. Yet. No advertisements, no 'Tag me in this Photo' contests, no threat of my Grandmother seeing me slip the 'F'-word in a random post, and no random chat messages from the guy in the "People I Would Like to Run Over with a Forklift" circle. That's all nice. But for how long?
"Perhaps the best thing about Google+…
it is not Facebook. Yet."
Let's not lose sight of exactly WHY Google launched Google+. They launched it because their shareholders demanded a new revenue stream. Right now, Google+ isn't making much money (I assume)… but eventually it will. The ads will come, the flood gates will be opened for business, and we'll all drown in 'Like' buttons cleverly designed as '+1′ buttons instead.
And then we can all go begin complaining on Twitter about how much we hate Google+ while complaining on Facebook how much we wish we updated our Twitter more while complaining on Google+ about how much it has turned into Facebook.
Until then, however, I give Google+ a B+ for a solid initial start and for the potential it has. We'll see how long it takes before it becomes evil, however.
Special kudos to XKCD because they had it right before I did.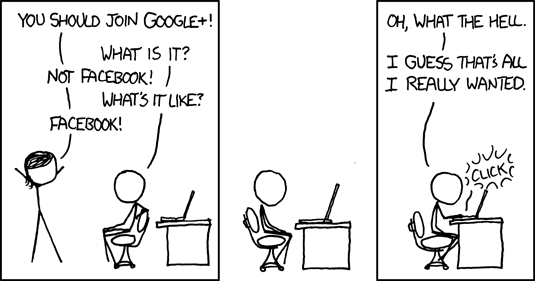 It's finally time to start preparing yourself for another edition of Mojostock. For anybody that decided that it wasn't that important last year… you missed out! That's all I can say. This year you have a grand opportunity to redeem yourself… and I suggest you take it!!
It's a "G" Thang!
Speaking about redemption, I give you George Adrian. For someone that just started to establish himself and then "disappear" for a spell… He has definitely caught my attention on his way back into the thick of things. He has appeared back at the Melody Inn and if you had the chance to catch his first appearance at Thurzdaze (Mousetrap), you can understand the he is all business. If you haven't already done so, I would take the time to introduce yourself to his intelligent brand of eardrum thunder at Mojostock 2011.
…When were you first introduced to Djing?
G: "First time I ever… ever saw a DJ, or knew of "turntablizm", was when I was five. My mom's coworker's son went to the same grade school so it was convenient for me to get off the bus at his house then get picked up after the adults were done working. I grew up with this kid and he was obsessed with rap… All I wanted to be was the B-boy, graffiti artist. It was something I gravitated toward, you know? My parents didn't listen to it… it wasn't the "new wave" that my sister listened to. It was something I wanted to do, before I even KNEW what I wanted to do! It may sound cliché, but back then the DJ's were so cool. I just wanted to be that guy…"
… So, when did you get gear and decide to go about it your way?
G: "I didn't start buying records until around 2003, copped some gear but then it got stolen. Upon moving back to Indy I hooked up with Arsenic Jimmy who had a set up in his basement and I started focusing on purchasing more vinyl to try and get a handle on mixing. He taught me a lot considering his ear for production so I give him a lot of credit for opening a lot of doors in that respect. I owe a lot to Jimmy for giving me the opportunity to learn the ropes on his gear…without him i don't know if I would've stuck with it."
… Has it always been drum n bass for you?
G: "…as far as DJing?"
… Yeah.
G: "Well, I wouldn't classify myself as a 'turntablist' because then you're a human sampler. It's a lot of cutting, transforming… it's about mixing and blending tastes. With drum n bass, it was just the tempo…that snare. I'm not a musician and I don't feel like I'm that musically inclined. I just feel that I've always had good internal rhythm and if I were to ever play an instrument, it would be percussion. I've been referred to as a "mixologist" which even though I don't really know what it means, I guess it seems an accurate definition of what I'm trying to do as a "DJ". One of these days when i can find the time, I'll definitely try to expand my horizons by adding a few tricks to my bag other than the various genres I know I can play."
… What is it about DJ's that draws people in?
G: "We're just a beacon; The DJ is the flame that has the ability to attract crowds like moths. You go to a place and there's music; you're like, "what's that sound is, who is that… I have to go check it out." When you're good, you have a following so there will always be someone that wants to hear you play out. As a DJ you have this interesting role in music/performance, you're not just a musician. It's just based more on your knowledge of the music you're manipulating at that given time, technical skill, and charisma."
…When you first played out, what stands out in your mind?
G: "That I wasn't prepared, I was a guy that wanted to get his foot in the door and just because I got this opportunity (@ tha Melody Inn) doesn't mean that things are going to go right. You have to understand all the parts, the setup, quality of equipment and what frame of mind you're in. Not surprisingly, I think I have only had maybe 2 or 3 solid sets at the Mel over the past 6 years or so which I walked away from satisfied as far as accomplishing what I set out to do."
… What's the hardest lesson you've ever had as a DJ?
G: "Records, mp3, or equipment a DJ does not make. A DJ is a creative individual that has to be doing something special. I don't care how well you can beatmach, how many dubs you have in your "crate", or what kind of turntablist tricks you have up your sleeve. At the end of the day, it's how you put all those pieces of the puzzle together in your mind, using the decks and mixer as a means to an end in order to translate your idea to the dance floor. You have to find that special connection…you have to move yourself before you can move the dance floor. Personally, I like to conceptualize my sets as an hour long progression of one idea through several emotions represented by the tracks themselves. When you have a story to tell, it's a much more intimate experience between the DJ and the dancefloor, ya know? Trying to manage that relationship, especially in Indy where something like minimal drum and bass and/or UK bass music aren't embraced as much in a live setting, has been something I've battled with the past few years. I play a lot of different genres in an effort to keep it fresh; however, much of it isn't too dancefloor friendly so the audience either just doesn't get it or isn't there at all. All in all, DJ'ing for me is a challenge that I love…almost like a mental fetish with the focus it requires to do so many things at once and not train wreck. Once I began to get a handle on how intense a gig can be, the lessons became embraceable as opposed to obstacles."
… Do you believe it's important for DJ's to have general table etiquette?
G: "I think that if you're not in the right mindset, like jaded or misanthropic or always a 'debbie downer', it's going to translate into what you're trying to do. If you're in a negative spot and you go up on the decks, it will translate into; 'I don't give a fuck'. That spot is wasted on that bad attitude instead of going to someone that really had something to say or prove."
… Who in the local scene has influenced you, back in the day and now?
G: "There are really good DJ's in this city. In no particular order… Shiva, Slater, John Larner, Sea Monkey, Top Speed. It's hard to turn back the clock because there has been so many thru the years. It's hard to pick a single influence. In my opinion, there are two DJ's in this city that are making an honest living plying the craft and that is Slater Hogan and Top Speed."
"Now a days, Cody (Kodama) and Chris (Hollowpoint) have their fans and Jim Laughner 'Dubstep Jesus',(which I will take credit in coining) is making moves, too. As far as Drum N Bass is concerned, if I was to pick one DJ that has helped me hone my skills and inspired me to sharpen my tools in the shed, it's Sea Monkey. His musical palette is probably the most comparable to mine so it's logical that I would gravitate towards his "ethic" as a DJ."
…What changes have you noticed in the scene?
G: "Obvious example would be Juxtapoze. All the Drum N Bass DJ's that were taking part in Konkrete Jungle got tired of the promoter not putting back into the night. We had a coup d'etat once we were fed up with the way we were being represented. We felt like everything was closed source so we wanted to open the source to every DJ or genre. Let's show everybody all the great DJ's this city has to offer, ya know? It was a lot of hard work and we wanted to be diverse as possible which worked for a while. After my 'situation' happened, the crew carried the torch for a while. Over time, without the solidarity, passion, and vision it's drifted back into that "us vs. them" feel that plagued Konkrete Jungle. We put everyone on for a common cause but now it seems like everything's gone back to the way it was before. Majority of shows are in bars or night clubs where you have to be 21 to enter, which leaves younger people in the dark unlike the mid to late 90's and early 2000's. It's the big problem since the rave culture was basically shut down in this city. I feel like we are starting to lose our customer base. As musicians, DJ's and performers we're ambassadors to the music that we love and to continue the singular "tradition" of exposure to new sounds those raves had."
… What's in your future, anything big coming up?
G: "A lot of school. I'm an art school dropout and here I am 13 years after my first attempt at college. I think I'm on the right path now. As far as DJing is concerned, I feel that I've taken the next step in my progression as a DJ where I'm more attached to the music. When I played at the Mousetrap in late January, I was dead set at playing my heart out and I just had this experience with the crowd that night. I got compliments from random people and it has motivated me to continue on this path and step my game up to be a better DJ. I'm just concentrating on being in a better place now. Easier said than done, I know…but with the Zaptown articles, the online dnbradio.com show, various gigs, working on the orchard and other miscellaneous projects you can rest assured I'm always trying to make something happen, ya know? Can't knock my hustle…"
As you can see, "G" is on the up and up and doesn't plan on stopping there. You can catch him every Sunday on dnbradio.com for his weekly cast of FMRL radio from 9-11pm. Enjoy his latest mix while you prepare for Mojostock 2011.
You are not as cool as Nyan Cat
There is a revolution happening right now. Whether you are aware of it or not, there's a pretty good chance that some time in the past 90 days, your personal information was compromised. If you were lucky enough to not have had your credit card stolen, you may have had your personal passwords, your email address, and possibly your personal mailing address stolen. You may ask, "Why would anyone want to do this?" The answer is simpler than you think.
Because it's hilarious.
The group behind many of the hacks against Sony, PBS, and miscellaneous others is a group known as Lulzsec (Twitter) and if you take a moment or two to browse their site, you'll notice they are very well versed on their internet memes. Their knowledge of Nyan cats and ASCII art is eclipsed only by their extensive knowledge of internet security and how to destroy it on a whim.
Right now you can download a file from their website that contains over 62,000 random assorted email and password combinations from who-knows-what databases (one of them confirmed to be pron.com) across the internet. If you're like just about everybody in the world, then you probably use the same password in multiple locations. So it's likely that if your name is on that list, your Facebook, email, Paypal, or (heaven forbid) your IndyMojo.com account may be compromised.
I've been watching these hijinx for a few weeks now and was one of the first 1,000 followers of Lulzsec (they now have over 250,000). I can't pull my eyes away from them. It's like a car crash at a NASCAR race. You watch and find yourself somewhat horrified… but it is fascinating. While I feel bad for the end users who have lost their information, I find myself truly cheering at the fact that fat cats in suits finally have to listen to the IT industry and take the time and the money to secure their systems.
If you're an individual who had their information leaked (seriously… take time and go check), then I feel for you. Here's the question though: Is Lulzsec really the villain? Sitting in your seat, I'm sure my gut reaction would be "Hell yes, it is!" But these companies like Sony have apparently taken every shortcut in the book. They held your information on a silver platter for hackers by failing to implement even the most basic of security features. They were compromised by a form of cracking that is discussed in day one of any SQL class taught the world over. It's the equivalent to leaving a hot apple pie on a window sill and wondering why Yogi bear shows up to ruin your dessert.
If Sony passed me this note, I would burn it
(Photo credit:
Antics of an Undergraduate
)
If that isn't bad enough, Sony apparently does not encrypt any of their passwords. That means when you type your password into their form, they simply take it and store it just like you wrote it. So when someone comes along sniffing for info, it's waiting for them without them having to break a sweat. Remember that SQL class I mentioned? If Day 1 was SQL Injection, then the prerequisite for entering the class would have been a handwritten note with check boxes that said "Should you store password in plain text? Yes or No." Rumor has it that anyone who answers 'Yes' is actually taken into the stock yard and beaten to death with a Lolcat.
Don't get me wrong, Lulzsec is guilty for stealing the information. Just like thousands of other hackers around the world have been guilty for hundreds of thousands of heists since the internet first became a series of tubes. The difference is that Lulzsec is using that information to say that Sony and other corporations are equally guilty for giving you a mirage of security when they cut corners and hired a toddler to put plain text passwords into their database. Don't take my word for it, check out their 1000th Tweet Press Release.
And I can't help but find myself agreeing with them. The plain stupidity of these companies is enough to make me wonder if they're actually aware of what they've done, and somewhere in their 300 pages of Terms of Services, they explicitly state, "Oh and by the way… we don't really feel like worrying about security, so if we get haXXed, we're sorry. Good luck suing us though because you clicked agree, HAHAHA."
"It's the equivalent to leaving
a hot apple pie on a window sill
and wondering why Yogi bear shows
up to ruin your dessert."
Long story short, if you own a Twitter account, you should be aware of Lulzsec and keep an eye on what they're doing. They claim they are now conducting an operation called #AntiSec which is meant to be a joint venture by hackers around the world aiming to take down big corporations and even government agencies to expose just how little they care about our personal security. Whether you cheer them or jeer them, be sure you watch them because you never know if your name will be the next one released.
And if your name IS released next time?
Let's just go ahead and say that when someone logs into your Facebook account and changes your profile picture to that of a graphic depiction of what may or may not be a donkey making love to a lady of the night… well… it's wasn't me.