Well, after landing a killer deal on a new grinder ($75-craigslist, SCORE!), I was also given a couple knife blanks in the deal. DOUBLE SCORE! The guy had thought about getting into knifemaking but never got anything going. So even though I had scoffed at the idea of starting with a pre-made blank….I figured I couldn't let these go to waste.
Side-note: After going through with this experiment, that notion of me never using pre-made blanks is long gone. There is no reason you should limit yourself to ONLY fully custom blades. This was fun and I learned a bit from it. Also, these blades come sharp as hell, properly heat treated, AND cryo'd…..for $15. Awesome deal.
Anyways, I ordered some neoprene rubber pieces from TexasKnifeSupply.com (you can get these blade blanks there, too!). This material is not very popular and, in fact, I didn't find a single maker that had used the stuff on one of their knives. So this was an experiment to say the least. Here is a basic run down of how things went.
First, a pic of the new grinder. She's my baby. =)
So I ordered 2 sets of 2 scales (handle material). As it turned out, cutting 1 of the 4 in half, was enough handle material for this knife.
I drew out a basic profile on the rubber and then cut it out. I actually used the blade I was tracing to do the cutting. This stuff is a perfect combination of being soft yet tough. You don't have to be perfect and you actually WANT it over-sized for sanding down flush later.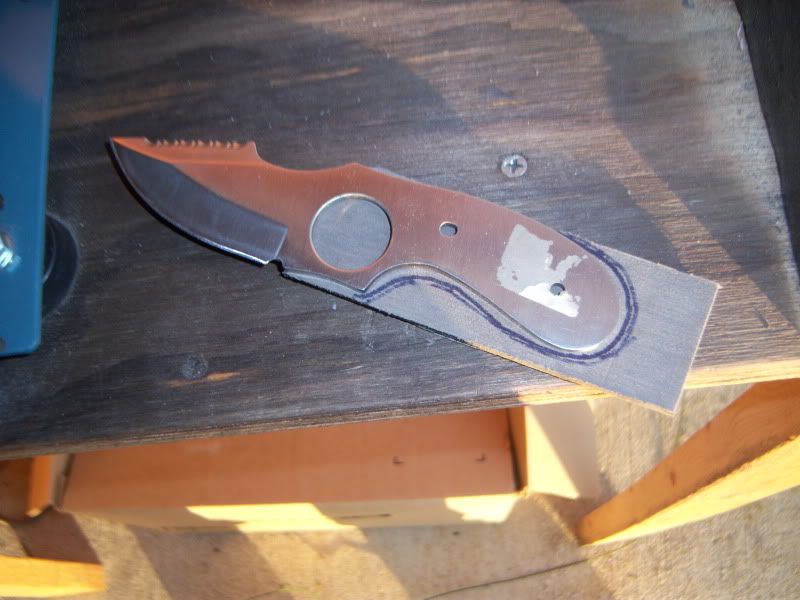 Now, I missed the photo op for the actual epoxying. It started setting up faster than expected and I got rushed putting it together. First, surface prep by roughing up the knife handle with coarse sandpaper then cleaning/drying it. Make sure to use the machined side of the neoprene against the knife. Basically you mix up a typical 30minute epoxy, spread it over the knife handle, attach one side of neoprene, flip it over and spread epoxy this time filling in the holes in the handle to create 'epoxy pins', then clamp it in between something flat. I used 2 of the un-used neoprene scales. Again, be liberal with the epoxy. If some squirts out the sides, don't worry, it will be sanded off later. Let this sit overnight.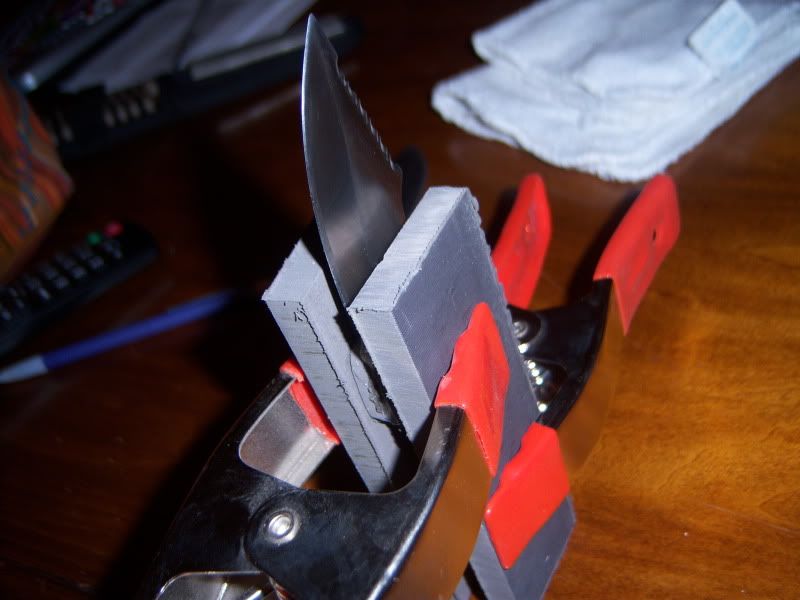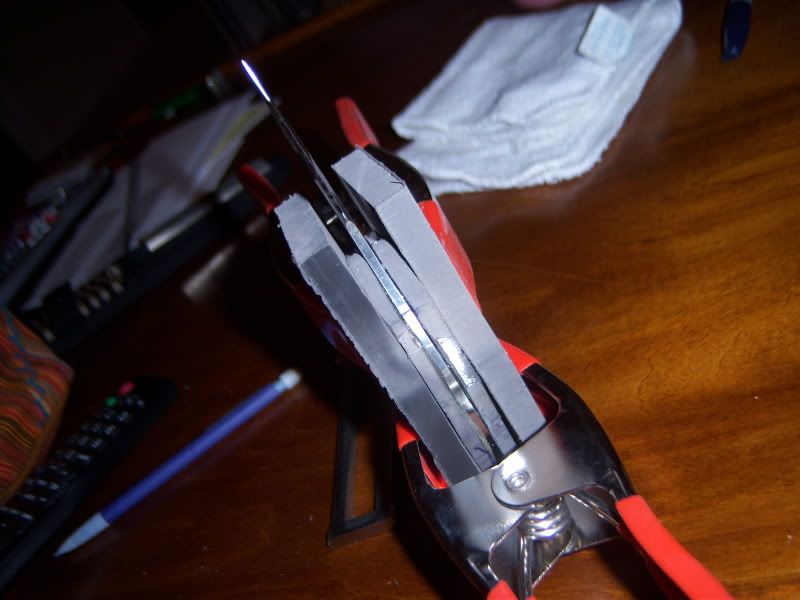 After it has cured you can begin to file, grind, or sand (60-100 grit will work fine) the basic outside profile, of the rubber, down to the metal of the knife. I used my brand spankin' new grinder but in reality, it was overkill. This stuff can easily be formed by hand with regular sandpaper.
Yes, beer makes everything better. Even knifemaking. It's common to cut, scrape, burn, or set yourself on fire while making knives. Beer tends to lessen the pain somewhat. =D
From there just knock off the square edges and start making some ergonomic contours to your liking. I finished up with 400-grit sandpaper but as long as its over 300 and under 600, it should look good. The site says NOT to polish so I would just take their word.
Here are a few finished pics. I really love the feel of this stuff. It stays 'grippy' even in wet or cold conditions. Perfect for diving, skinner, kayaking, and camping knives. I don't understand why more people don't use this stuff!? Maybe it's because it doesn't look AS nice as the other materials, but I think it looks great.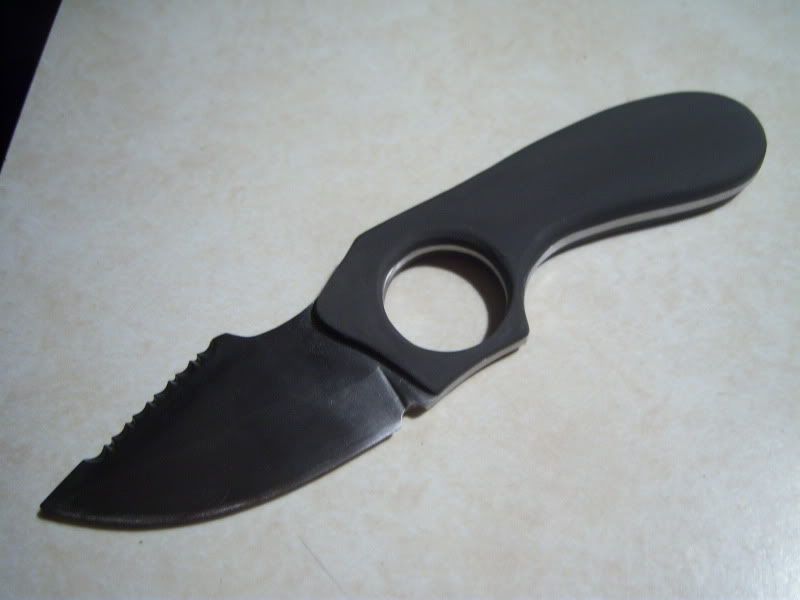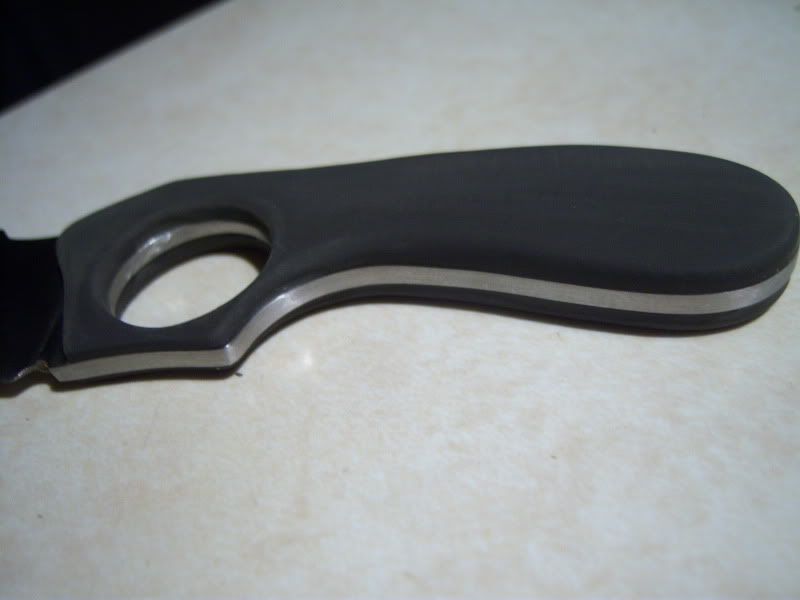 Let me know if you have any questions and feel free to comment!
Now onto the handle design. Since this is a 1/4in thick steel, this is still too heavy, so to lessen the weight I'll be removing a good majority of material from the handle.
To do this I drilled holes in the four corners of the section I'm removing and then used a cut-off wheel on the angle grinder to connect to the dots length-wise. From there I used a small file to connect the dots width wise. Just after breaking the section out, it looks like this.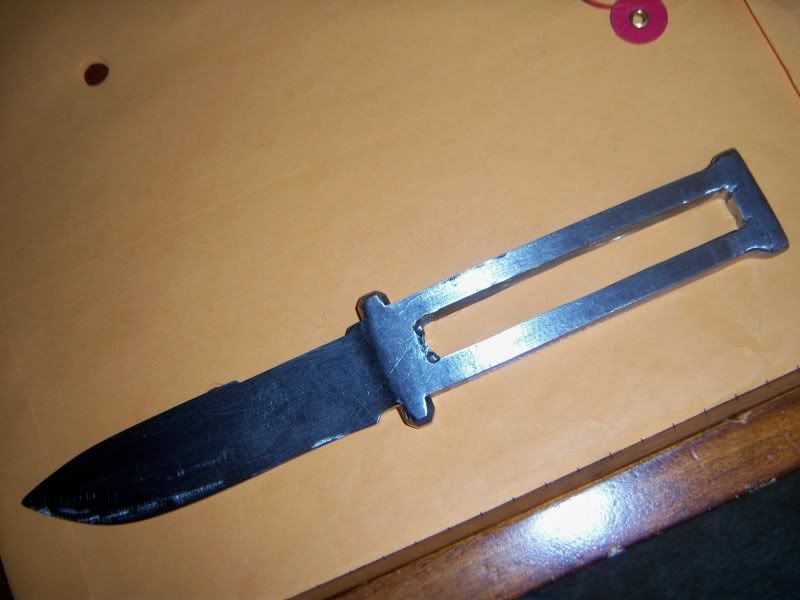 I went to work with the files to square everything and give it a cleaner look.
This is what it looks like all squared up.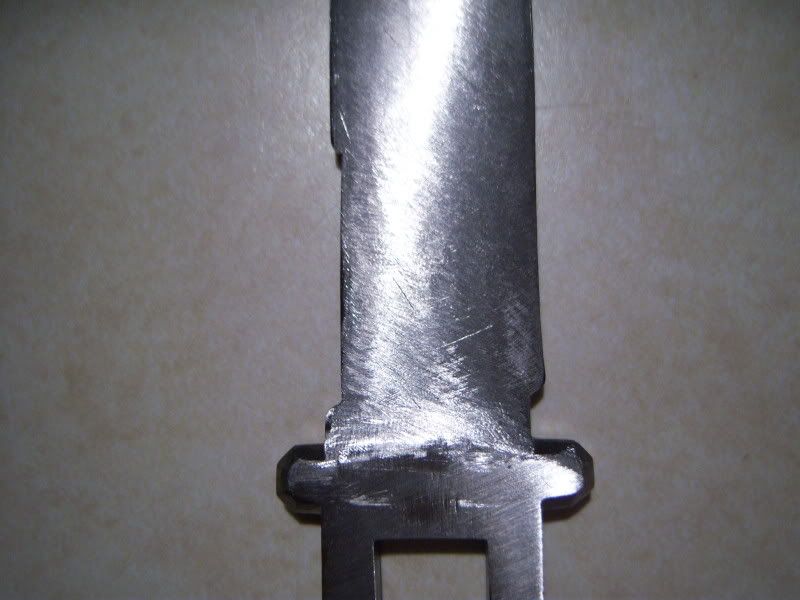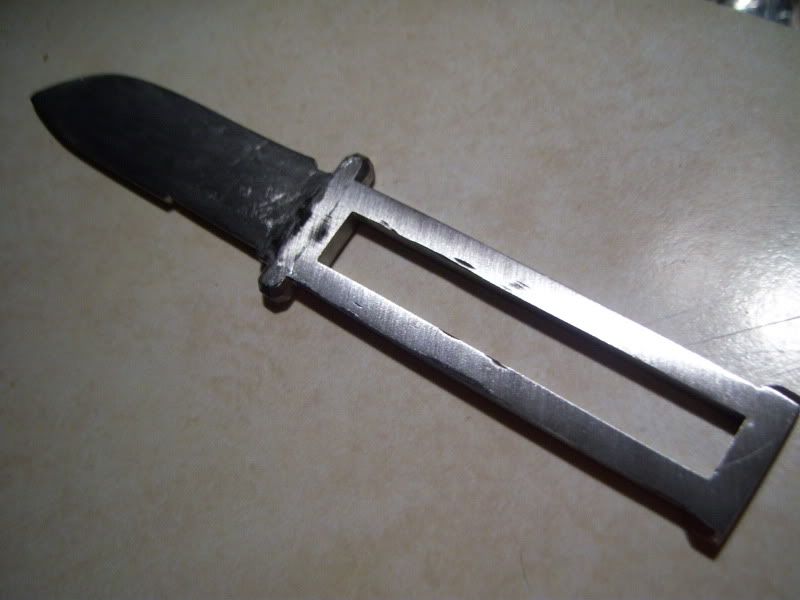 In the next part, I'll detail the heat treatment procedure and complete the finish sanding and sharpening.
There are two basic ways of making a knife. They are forging and stock removal. In forging you heat the metal up until red hot and then you beat it into shape over several cycles. With stock removal you start with a steel blank and you cut/grind it into the shape of a blade. This is the method I'm gonna use since I don't have a forge or anvil.
I'm starting with a ground stock piece of 5160 steel that measures 1-3/4″x1/4″x12″.
I drew out the basic profile of the knife and cut off the excess with a cutoff wheel using my angle grinder.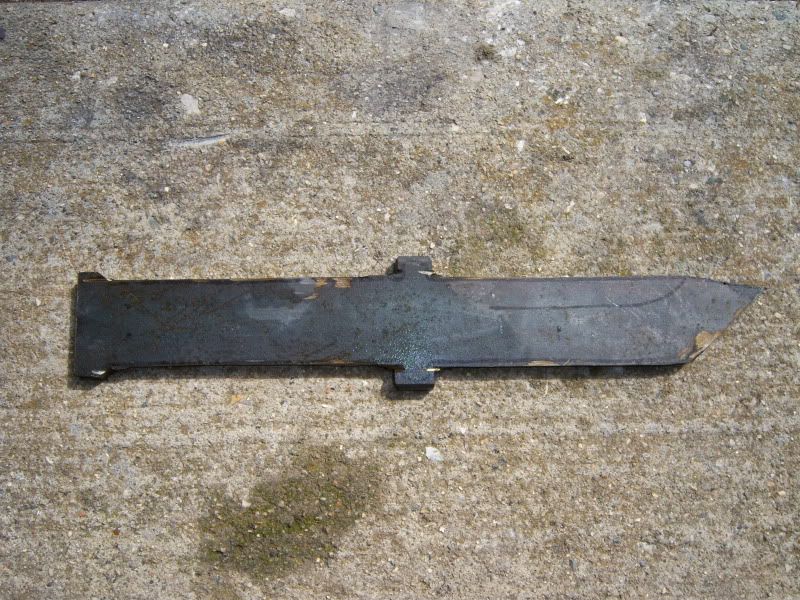 I attached a sanding flap wheel and removed the outside layers and began grinding the blade bevels into it.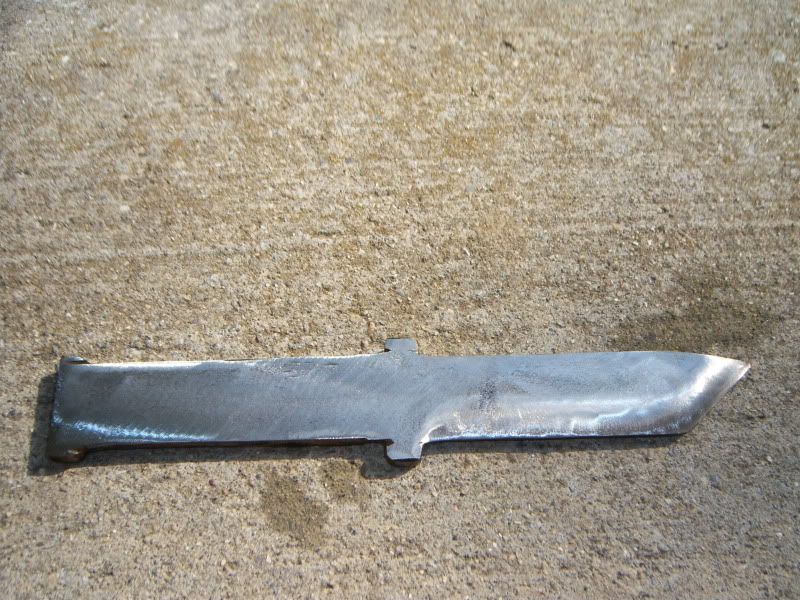 I rounded the front and then took a 1/4″ drill bit, to scribe down the blade, marking the center. This way I can keep both sides even when grinding the bevel.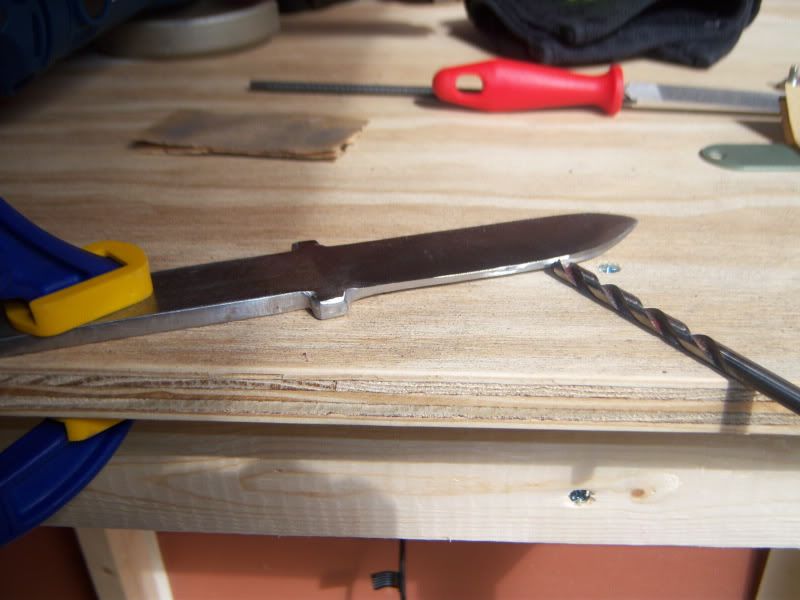 I cut out a notch in the front of the blade, to make sharpening easier in the future, and also a long shallow notch in the back for a place to put your thumb when applying lots of pressure. I was hoping it would add some character and keep it from looking too 'plain', as well.
I then went to work with the files to square everything up and add lot of angular touches to the guards.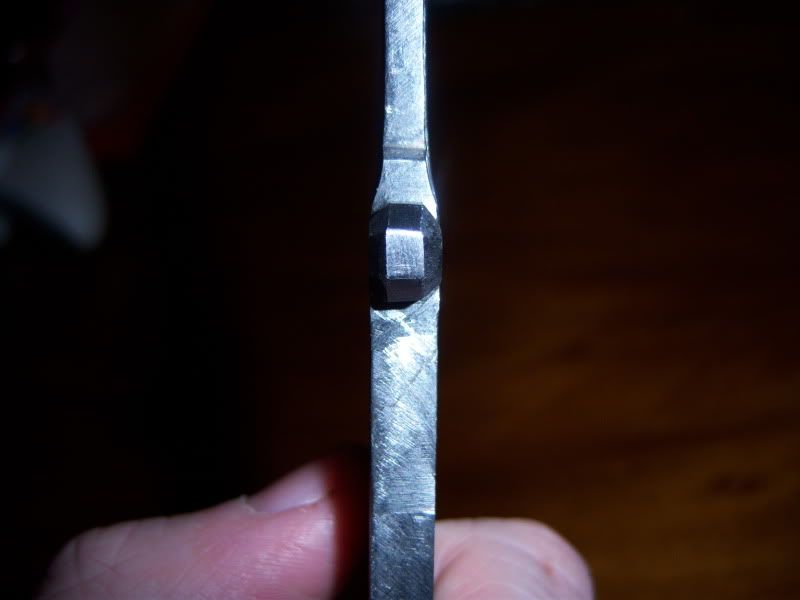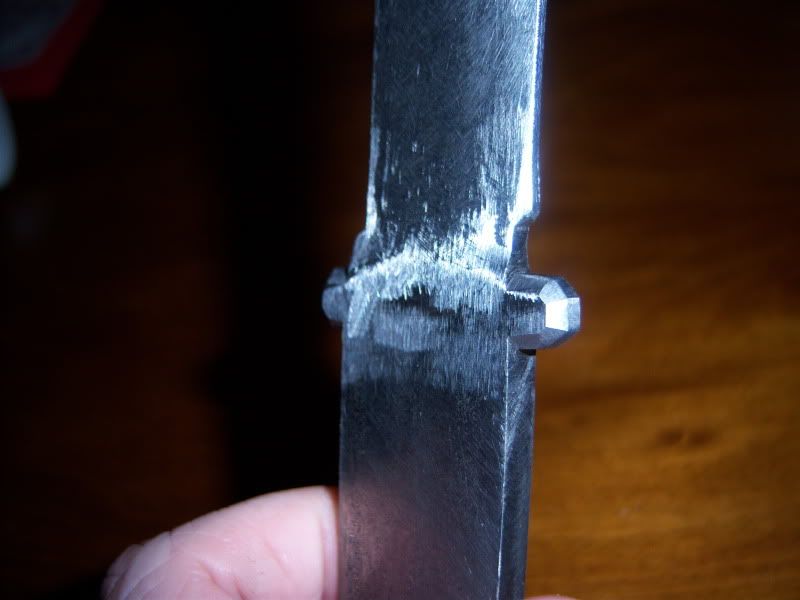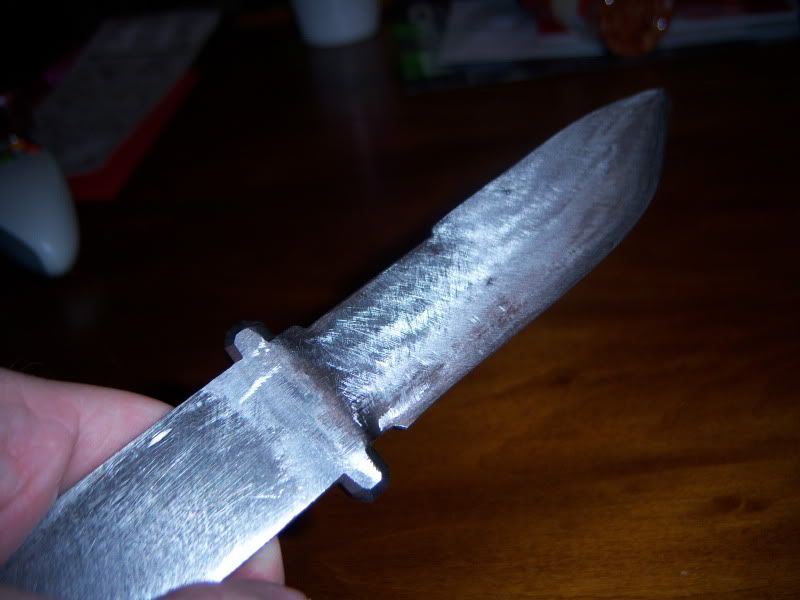 Thats it for now. Be sure to check out Part 2 in the near future.
I've always loved being outdoors, camping, climbing, hiking, canoeing, etc. Almost always, there comes a time when this most useful of tools is called upon to take on a task. While reading reviews of different camp/survival knives, I found out there are MANY different types of steels used but most can be classified in two categories. They are Stainless Steels and Carbon Steels. While looking into these I came across something interesting.
Apparently, almost 90% of production knives made are a type of stainless steel. These are great for kitchen cutlery or diving knives, as they resist corrosion really well, but in comparison to carbon steels they are a lot weaker. Stainless is cheaper, less labor intensive, less energy intensive, and thus more profitable to mass produce.
There are a few newer alloys (ATS-34, CPM S30V) that rank with some carbon steels but they are crazy expensive. Bear Grylls' knife, made by a private knifemaker named Bailey, was made with S30V….its price was $700. Even at that price, the demand was so high that the orders are now backed up over 5 years.
Carbon steels make up about 10% of the market and they are usually always very pricey. The proper heat treatment process takes many cycles, at high temperatures, for long amounts of time. Knives made of these can typically only be bought from private knifemakers.
While carbon steel isn't as corrosion resistant as stainless, the fact is, ALL steel will corrode without proper care. That being said, as long as you take care of your knife like you do your toothbrush (wash/rinse it off and dry it after use) and throw some lubricant on it, it will be just fine to use the much stronger carbon steel.
Coming from a very hands-on and mechanical background, I decided to try my hand at making a knife myself. The heat treatment for 5160 steel can be accomplished with a charcoal grill, a hairdryer, a bucket of oil, and a magnet. So, for my first one, I'm gonna stick with that steel.
During the process of making a knife, the heat treatment makes or breaks the quality of the steel. If you don't get it right, it can completely ruin the blades performance. So with picking 5160 steel, I can pretty much guarantee that I can't screw it up, as its forgiving and simple to heat treat.
If I do well, this could develop into a new hobby that could be profitable as well as fun. Not to mention, I will be able to own one of the best knives available without the multi-hundred dollar price tag.
Here's a link to everything you'd ever want to know about all the individual types of blade steels and what the pros n cons for each are.
http://zknives.com/knives/articles/knifesteelfaq.shtml
Next, in this series, I'll start the stock removal on a steel blank of the 5160.
So after cutting/grinding away on my first steel blank, and trying desperately to hold it with my foot against the porch,…..I decided I was gonna need a workbench. You can bet there will be a vise installed, too. The last thing I need is an ER bill for slipping with the angle grinder and cutting a few toes off.
I figured I would take a few pics along the way and show how to build a workbench on the cheap. I built this for $20 in wood and with only a cordless drill. 3- 2×4's 10ft long and a 2'x4′ 3/4″ thick pine board for the top.
The table is 2ft deep, 40in. wide, and 42 3/4″ tall. The top overhangs about an inch in the front and 2 inches on the sides so I can clamp something to it if the need arises.
Ok, here's what you tell the Lowes guy to cut (After all, they do it free and thats just less work for you!)
3-pieces 36in. long
3-pieces 19in. long
4-pieces 42in. long (these are the legs, and this is probably too tall for most, so scale it down to whatever height you feel comfortable with)
Now have them cut off 8in. from the 2ftx4ft pine board so its 40in. long instead of 48in.
Assembly-
2 of the 36in. pieces make up the front and back of the top. Use the 3 19in. pieces as the left/right sides and put one in the center as an extra brace for the top. They goes in between the front and back pieces like this.
Now you can attach the legs any way you want. I opted to attach the rear legs to the left and right outsides so that the base was a tad bit wider/more stable and so the back is flush to fit snuggly against a wall.
For the front legs I decided to attach them to the outside of the front.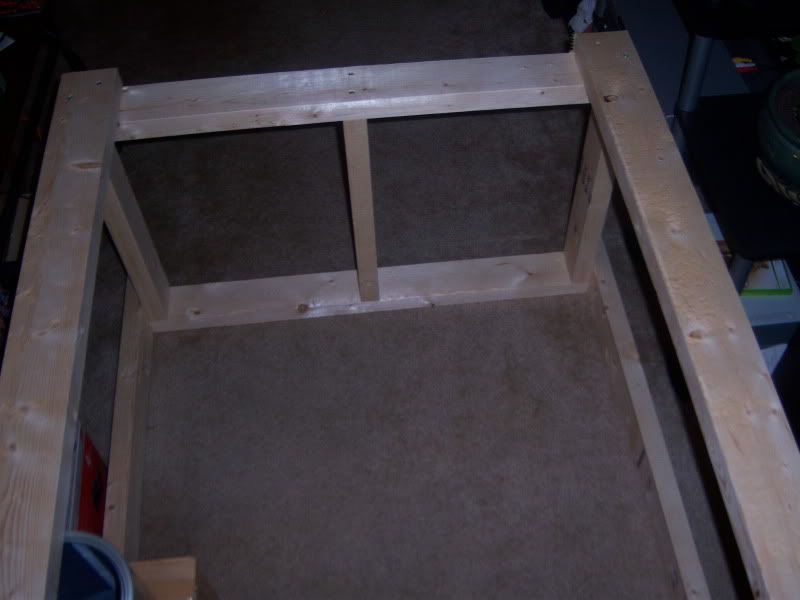 Now install the extra 36in. piece in between the back two legs about 6 inches from the ground for some added stability. Then align the top board flush with the back and centered over the sides. Screw it down around the perimeter every 8in. and then a couple down the center into the brace. The finished product looks like this, although I might add some more braces and a shelf to put stuff on the inside.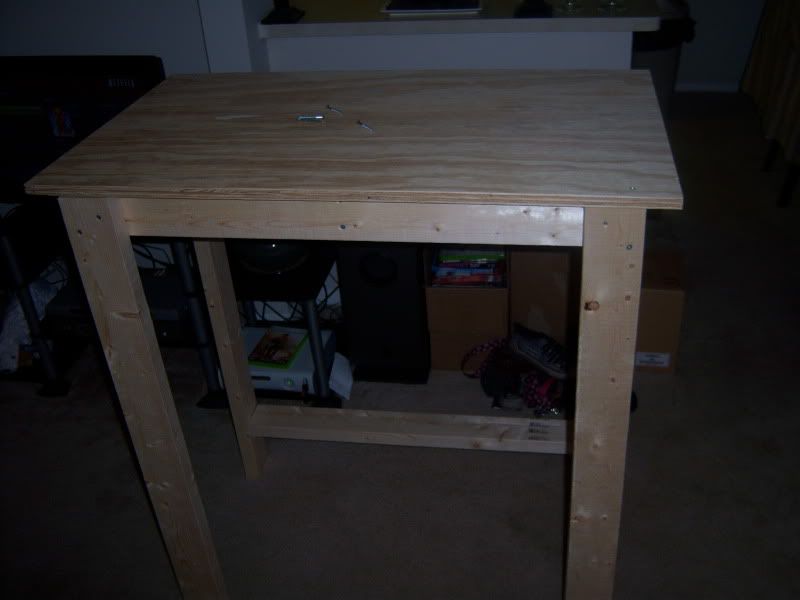 Much thanks to my amazing girlfriend who puts up with things like me building a workbench, in the living room, at midnight. I'd explain why but its really dumb. You're awesome Kel!
I wanted to write a little something up that could maybe explain why and how this became a passion of mine. Also, I've gained some knowledge on some good climbing areas that are within range for a weekend road trip, that I wanted to share. I'll be planning and going on trips as soon as the weather is nice enough so, hit me up if you care to join!
Having a hobby like rock climbing seems a little out of place for someone living in Indiana. Its all fields with lots of dirt and very little rock formations. Of course there are the local gyms, which if you live in or near Indianapolis are plentiful but, those are simply training gyms and used mainly in the off season for the serious climbers.
As a side note, I am very pleased with the volume and locations of gyms here. There is The Krag located in Brownsburg, Towers located around 146th and Michigan, and then my personal gym Climbtime Indy is located off highway 69 at 82nd.
I was introduced to climbing while on a trip with my friend's church group. We came down here from Muncie and climbed all day at Climbtime Indy. The days after, I was simply pulp. I couldn't move a freaking muscle, I was so sore. It was the most fun I've ever had while working out and by far one of the most intense workouts at that. I continued to come back and climb a couple times a year just for fun. After college I had a day job and was a weekend warrior but rarely found time to workout. I hated going to normal gyms so I decided to go back and try a membership at the climb gym. I was hooked. Its so fun tryin over and over to send a route you are close on, you never think about how hard you are pushing yourself physically.
A couple months after getting into it a little more seriously I found out a few long time friends of mine also climbed and frequently went on climb trips. These are guys that I had camped with before, as that has always been a favorite thing to do for a weekend but, I never knew they climbed too. They start telling me about all these places close by and so one day we planned a trip. As if I wasnt already hooked enough on the physical benefits and fun of climbing in the gym, this trip changed my entire outlook on it and made me fully understand the passion behind it.
We took about a 4 hour trip south and went down to Red River Gorge just outside of Lexington, Kentucky. We arrive at a little pizza shop called Miguels. Now this pizza shop is no ordinary pizza shop. Its name is known around the world, partly because Red River Gorge is one of the TOP spots for climbing but for a few other reasons as well. For one, the property lot is fairly large and he lets climbers camp there for $2 a night. Thats right, climbers only and for only $2 night. I'll explain why only climbers later. For two, his pizzas are of outstanding quality with almost any ingredient you can think of available. In the morning he serves up some of the most bomb ass omelet wraps this side of the Mississippi, with the same lengthly ingredient list to add in them. For three, the underground game room is a big room with lots of chairs and board games you can chill in to get out of the elements for a bit. It even has a computer you can use to get online at low cost of $1 an hour. How do you pay? A tip jar located beside it. I found out very quickly that a lot of stuff was really just based on the honor system. Someone could very easily not pay or take the jar entirely….but it never happens. This brings me back to why Miguel only allows climbers to stay.
Climbers overall are all very similiar people. Most everyone is chill, laid back, care about our planet, are pretty 'in tune' with nature and being outdoors, friendly and just overall decent people. Back when I stayed at Miguels, he had no way of checking campers in or out…he just trusted you to pay for however long you stayed before you left. They frequently ran out of change and told me to just remind them what I got the time before, the next time I came through. This concept blew my mind. I mean, I come from a city where the gas station clerks are behind BULLETPROOF GLASS. The level of trust they gave you here, just made you want to be completely honest and pay up for whatever you owed. Climbers are known also for their miniscule environmental footprint as well. Anytime a trip is taken, it is general practice to take out MORE than you brought in. Meaning picking up any litter you find along the way along with disposing of your own stuff properly. Whenever there is a big climb event they always aim to have little to no left over trash. With motos like "Step up or stay home" they drive the no-waste initiative by having campers bring mess kits to eat with and providing wash stations, etc.
So anyways, being new to all this made the feeling of comradery very apparent. To everyone there, you are as much a friend as the friends they came with. Its awesome. We got in as dark was approaching so we set up the tents, grabbed some pizza, and made our way to the group camp fire. Everyone is perched on old logs and chairs, sipping on imports, and telling stories of the day. We shot the shit about where we were from, what level climbers we are, and we got some good info on where some good climbing spots were that were at our skill level. We hung out for a while then went to bed.
The next day we woke up, got ready, slammed a Miguel's breakfast omelet, and headed out.
I wasn't quite prepared for the amount of hiking involved to get to these crags. I had mainly focused on building strength and not stamina so the hiking kicked my ass. We're not talking a leisurely hike through your local woods, we're talking major long hikes through woods and up and down steep mountains the entire time while carrying bags full of gear. This is where I made a big mistake. I decided I was gonna party down all weekend (as thats what I always do while camping) so I packed my bag full of beers. After struggling to make it to the wall we set up at, I was completely exhausted, sweating, and dieing for some water. All I had was beer which is what weighed me down and made it so bad in the first place. I drank the shit out of it anyways just so the next hike wasnt so bad but, I wont be making that mistake again. Leave the partying for when you get back to camp at the end of the day, folks.
While climbing the lack of stamina was even more apparent. Not only was I already exhausted from the hike but, the routes were significantly bigger than what I was used to in the gym. This off season I've already began building endurance so this wouldn't be as much of a problem.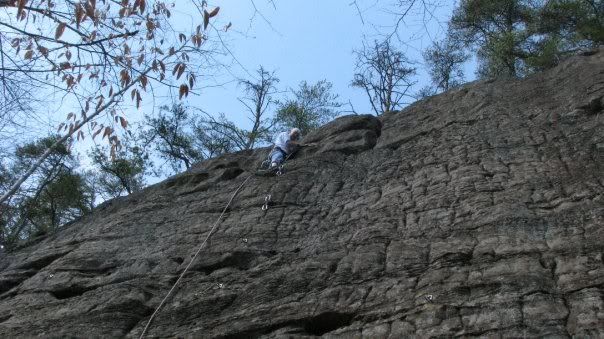 Climbed and hiked all day, got back to camp, ate some more pizza, and partied down with the others. The next day was another amazing omelet and a short day of bouldering before heading home.
Hands down the BEST most mind opening camping experience I've ever had. I loved camping before but this upped the awesomeness exponentially. If you are feeling froggy, hit me up for a trip. You won't regret it.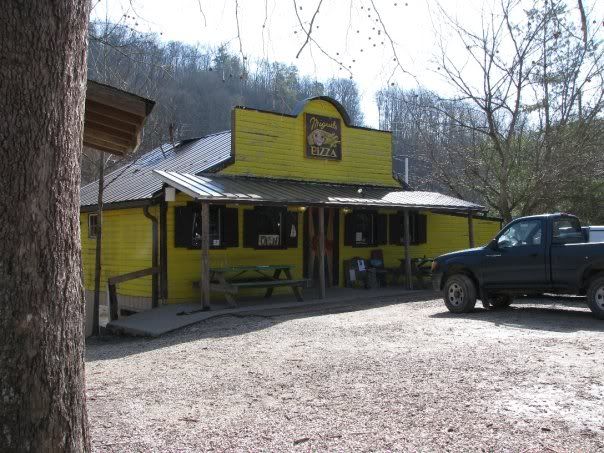 If you aren't looking to go on a 4 hour road trip, the next best thing is Muscatatuck State Park. It's about 1.5 hours south so its much closer and more feasable for just a weekend trip. The onsite campground charges $10 a night and has firewood available for purchase. Its a beautiful place with woods, rivers, and a decent amount of bouldering walls. The best thing about these walls are that they are all relatively low and some have no incline along with a grassy landing area to further cushion falls.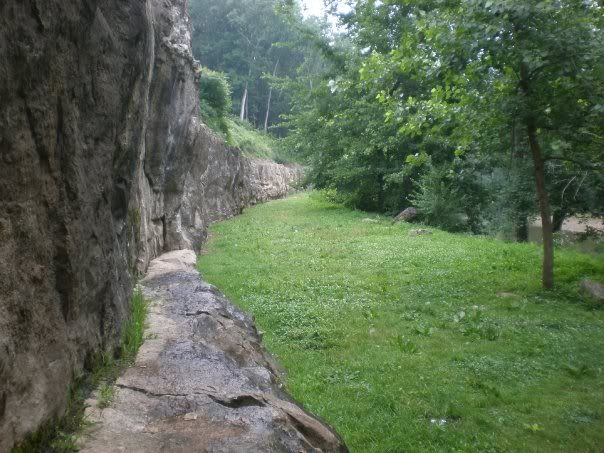 Now when bouldering, you must have a big pad called a 'crash pad' that you use to fall on. Since you aren't roped up you will be falling to the ground when you fall and the crash pad will prevent you from hurting yourself. Bouldering is strictly meant to be low routes only. Once you start getting over 15 feet, that pad wont help you much.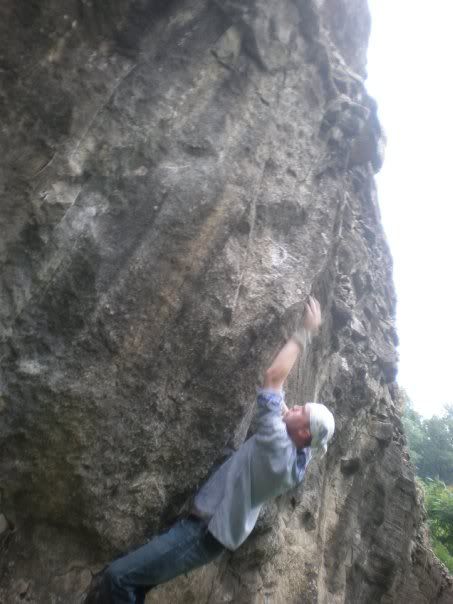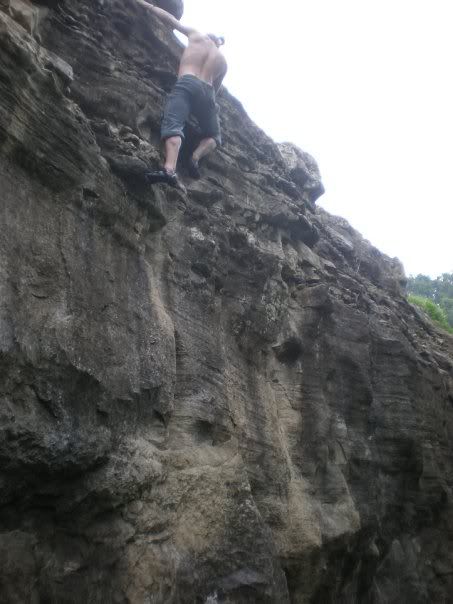 If you get tired of that, the hiking is phenomenal. It isnt near as hard as in Red River Gorge and the length of hikes is nowhere near as long. The landscapes are beautiful and the shallow river provides plenty of fun.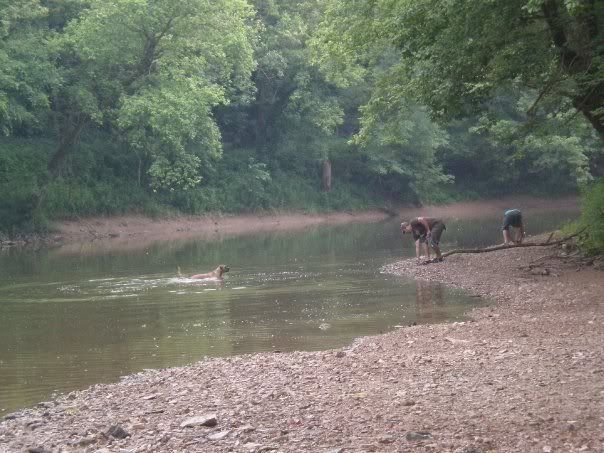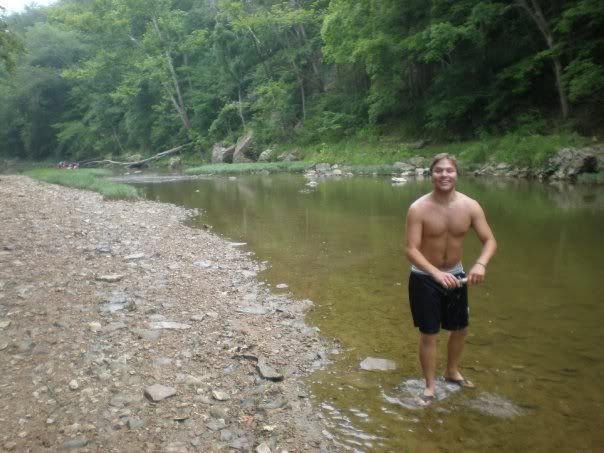 Now normally rockclimbing trips are pretty affected by rain. If its raining, you pretty much can't climb. This is not the case here. The local campground attendant, Greg Martin, happens to rent one of the huge barns next to the campground. Over the years he has transformed the inside of it into THE most large scale and elaborate homemade climb gyms in the entire US. He's won prizes for it….which were actually just more holds that made it even better than it already was. A local hichschool donated their old pads, they used for the track team pole vaulters to land on, and then it was complete. He allows people to climb in it, whenever he's around, free of charge. He even has lots of chalk bags and random climb shoes you can use. He's a SUPER nice guy and really made our stay there absolutely fantastic, even with the down pouring rain. The scale of his homemade gym rivals Climbtime and he thinks nothing of letting people come in and enjoy it for free. This is just another example of how awesome people in the climbing community are.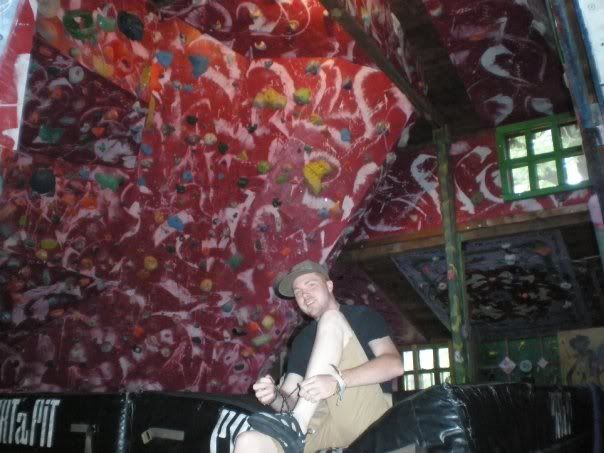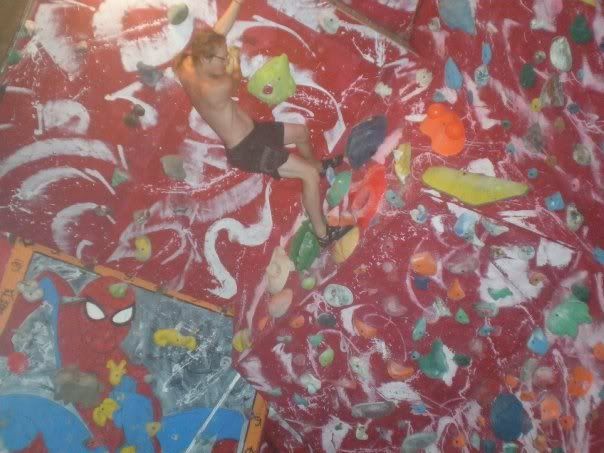 There is a video walk through of the gym, my friend Logan shot, <a href='http://www.facebook.com/video/video.php?v=1187230398209
Ascension was a unqiue music event, that was put on by G-9 Collective aka. our own G9 Matt, on Friday, August 21, 2009. It started at 9pm at a sports bar called Bentley's in Fishers.
I arrived at the bar at about 9:30pm to a good chunk of full parking lot and could seeing the people streaming in. I went inside and was greeted by Matt himself as he waived me cover-free to the bouncers. I saw many familiar faces from the EDM (electronic dance music) scene in the area. Most noteably was the guy at tables, already getting people moving, local Indy DJ Taylor Norris. He was putting together a great combination of mellow sounds that progressively got more intense and tribal esq, as his set went on. He ended up playing till 11pm, which is when Graflin took over, and by the end of it people were all very into it with dancing everwhere.
Right off the bat, I noticed the bar tenders were VERY friendly and got to your order very quickly and efficiently. I tried one of their in house specials, a 'Bentley Bomb', which consisted of Jager, rootbeer, and a splash of Redbull. Pretty tasty stuff! Im not sure if any of you tried the Jager Barrels (rootbeer and Jager)from the Jager tent at Mojostock, but it was very simliar and just the right mixture of all the indgredients.
The bar itself was actually a really decent fit for this kind of event. I didnt know what to expect from a sports bar but Bentley's was roomy, nicely air conditioned, and the sound was good too! Matt and crew set up all their own equipment, which completely filled the room with a great combination of sound and bass.
As Graflin took over, there was no stop in the thumping music. Taylor put on some samples and Graflin merged right into it, never missing a beat. I actually missed the exchange completely while glancing back at a fine little lady for 2 seconds. Turned back to see Graflin in the headphones, headin groovin, sounds intensifying, people's faces melting. Now Taylor Norris is amazing, dont get me wrong….but Graflin was a step above. It was apparent. He looked and acted like he had been doing it his whole life, which he has, and the sounds layering on one another made that completely evident. He was a slightly different style and used the assistance of vocal samples, unlike Norris, but very faintly and it wasnt anything too trance like. This guy knew how to make people move. The glowing wrist bands with attached glowing numchucks were swinging around, people were getting down up front, and the people in back were all swinging the heads around and having a great time.
I had to leave just after the transition to EuroTrash, so he was still mixing with what Graflin left him spinning, but I can only imagine how crazy it got in there. I wish I could have stayed the whole night, but I was driving and the party was starting to really suck me in. I can only sit back and wait for G-9 Collective's next event-'Inertia' in the mean time, in hopes of seeing some more of what I missed out on at the end! I hope to see some of you out there!!!