http://tyrashow.warnerbros.com/2006/09/racism_who_has_it_worse.php
The episode was called Racism: Who Has It Worse?, and aired on 9/11/06. I recorded it when it aired, and can't seemed to find it now. I really want to re-record it. Gotta show my kids later in life, LOL!
Thanks!
The Dorothy aka "The Cupcake Princess" (seen on Food Networks "Cupcake Wars", has teamed up with Loungefly for the super sweet giveaway!
A purple embossed patent Hello Kitty tote!
If you'd like to enter, please inquire here:
http://www.thecupcakeprincess.com/2011/02/february-giveaway-spectacular-hello-kitty-x-loungefly/
Back in July of 2006, I was invited to be a guest on the Tyra show. I was on the show to talk about racism against Asian Americans. I was flown out to Los Angeles, CA. and stayed at the Hyatt off Sunset Blvd. I had free meals all 4 days, got paid, and practically did nothing.
I had to stand in front of a double sided mirror, and was listening in to stupid peoples reasoning of why they stereo type certain races. Then I said a story about how one lady asked me to act Mongolian for a foreign exchange student so that she would feel more comfortable. I also had to go behind the Warner Brother Studios and act like the neighborhood there was the one I grew up in, since they didn't tell me to record a video of my own neighborhood… (I was called the night before my flight at 12:30am about my invite on the show, so there wasn't any time to record a video.)
Long story short. Show aired as the Season 2 premire on Sept 11, 2006. I was promised a DVD copy of the episode… and alas they did not fulfill their promise. I cannot find the VHS I recorded of the episode and was wondering if ANYONE had the second season DVD. Or know where I can find a longer clip than this one: http://tyrashow.warnerbros.com/2006/09/racism_who_has_it_worse.php ? I would greatly appreciate it. Many of my family members did not get the chance to see this episode, nor has my fiance. Thanks so much!

So I am wanting to start on a new hobby. I've already started working with felt a few months back, when I started making felt Hello Kitty bow hair clips.

Angie in her red and black bow.

Alicia in her pink bow.
But I am wanting to start making animals like the ones listed below. (Not made by me, found on google of ideas.)

Little Panda

Monkey
And maybe cute food items (again found on google. These are inspirations of items I hope to master making soon):

Cuppy Cakes

Bacon for my baby. He loves bacon.
and of course Hello Kitty from time to time.

MOO!

Super Hero Hello Kitty FTW!
I am hoping to start this, this week. Will upload pictures as I go
Wish me luck.
So people ask… "How much do you love Hello Kitty?" And I think I can reply with this…

Hello Kitty Pillow with a German Hello Kitty Magazine

My SHRINE!

The top of the shrine.

Hello Kitty on a toilet
She nods her head in the sunlight.

My cell phone. The Hello Kitty C-90

Random kandi friends have made me…

My backpack that has a Hello Kitty hood.
I have TONS of stuff… Yet always searching for more. I always need a Hello Kitty fix. So I can honestly say "I LOVE HELLO KITTY!"
I must say, I suck at ALL OF THEM!
I request Robot Unicorn Attack on Adultswim.com!
So Indymojo.com on the side said that I needed to write a blog… I'm not a huge blogger, but I do like making stuff out of perler beads.
In the past I have made some pretty cool things, but not anything NEARLY as cool as what I have seen done online. But I do hope to be able to get a big enough stock of these tiny, melty beads so that I am able to make a large scaled, poster board sized, picture.
If there is anyone else that is into this stuff. Hit me up.
Things I've made: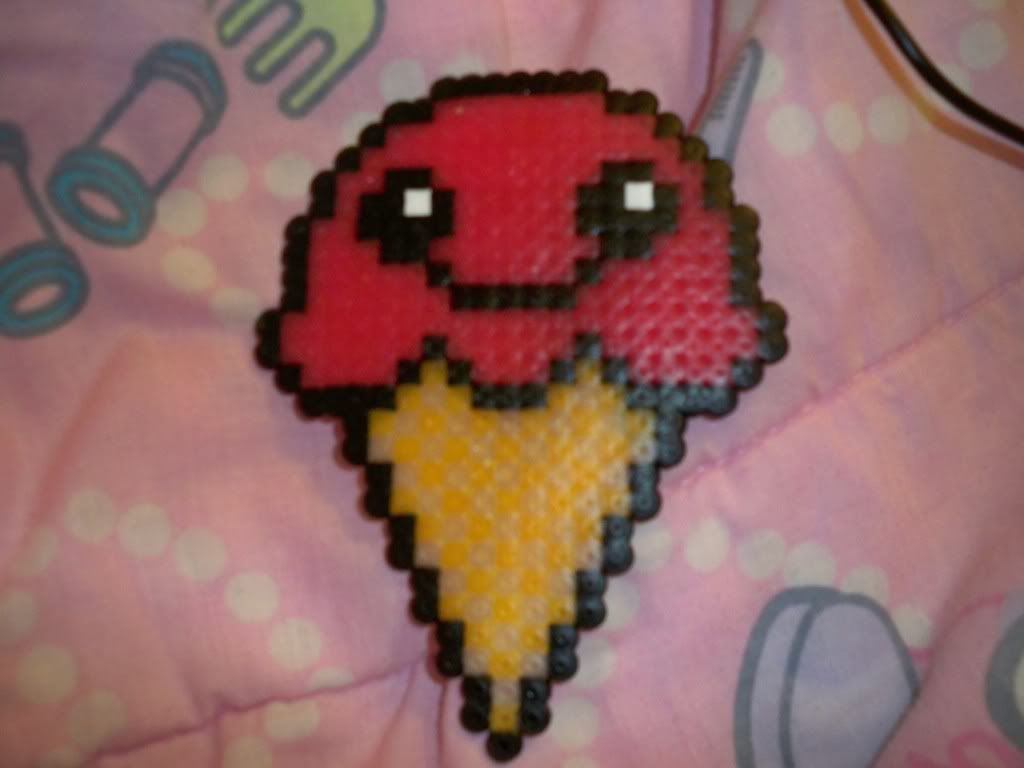 Ice Cream cone for my friend Nikki.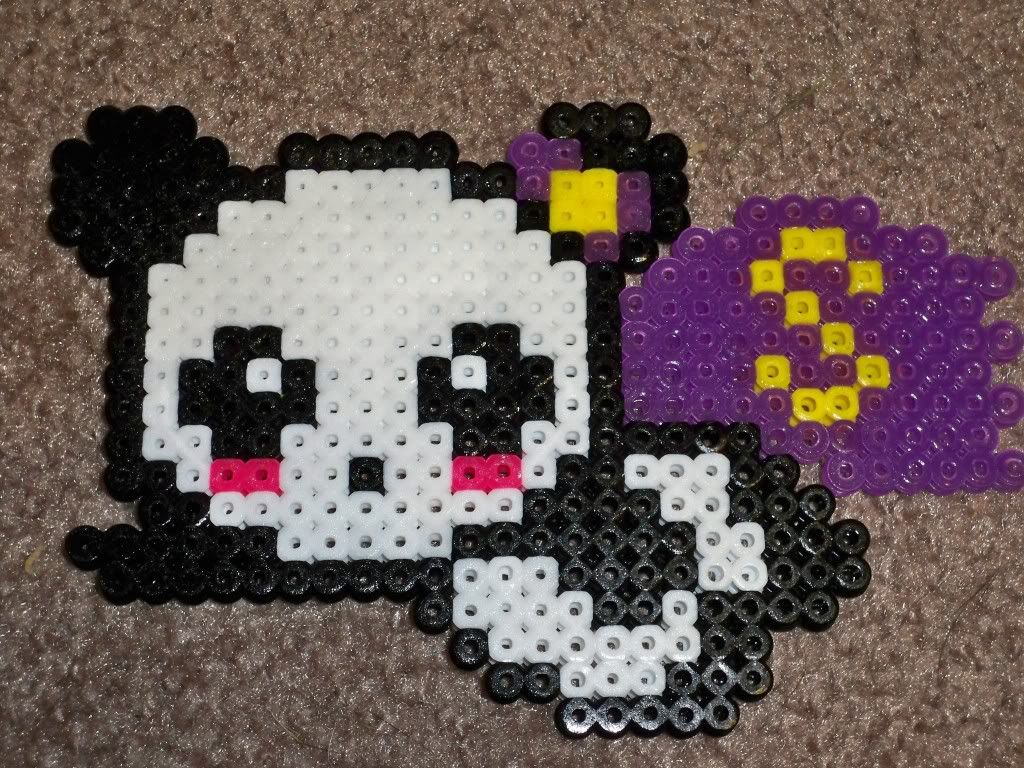 Pandas I have made for Kristin.
Team Kitty bows for Kristin, Alicia, and Myself.
Hello Kitty head for myself.
Those are a few… I don't have many pics of others I have done. But they list of many Super Mario characters, and other Nintendo characters, Sanrio characters, and other random cartoons.
I am currently working on a Super Mario "?" box for our very own DJ L810C, at the moment. Will post when done.