Dull. Boring. Bland. Google.
When it comes to social media, some people would be surprised to learn that I don't really jump on board the 'Latest and Greatest' trends first. I didn't join Facebook until I wanted to use it to get action, which was probably a full year after it was opened to my college. I don't have a del.icio.us account and I don't Reddit and I don't care. I keep considering getting a Twitter account, but I don't feel quite pretentious enough for it (irony?). But now there's Google+.
And for once… I'm an early adopter.
Why? Not sure. The stars and planets of the social media galaxy have all aligned over the fortnight or so that Google+ has been available, and thus I found myself this morning having had the combination of boredom and a random G+ invite. So now I've been on Google+ for about an hour. And I may never leave.
First and foremost, here's the answer to your question. Yes, it is exactly like Facebook. Specifically, it's like a very early version of Facebook where you can't actually do very much, but you find yourself constantly refreshing the page for reasons you can't quite define. Of the limited features currently released, here are my favorites:
Direct Integration with Gmail
G+: HEY. Stop working and touch me.
Me: Yes, master Google.
I use Gmail for my business and all of my email, so traditionally I've always had a tab open for email, a tab for Facebook, and a tab for YouPorn Yahoo! News. The beauty of Google+ is that I don't need to switch tabs to get notifications about someone's new Lolcat picture. Google+ handily notifies me with a big red "HEY LOOK! LISTEN!" button at the top right corner of the screen.
Facebook started with social media first, and now they're launching into email. Google email system is well established, and now they're launching into social networking. Considering how much MORE time I spend on email than I do social networks, I think Google will win this fight. No thanks, I don't need a Facebook email account.
Circles
A close second to its Gmail integration would be the Circles feature. The name implies that this feature would probably be very dull, but don't let that fool you. Because it is pretty dull. All it let's you do is categorize friends into groups in a much simpler way than Facebook. That's it. Nothing more to see here, move along.
But in that simplicity, there is a subtle beauty that you only begin to realize as you add more contacts. You start with basic 'Friends', 'Family', and 'Acquaintances' circles by default, and you can add more as you go along. Very quickly I added circles for my business, circles for my colleagues, a very special ninth circle of hell for my loan sharks, and a circle that I consider very near and dear to my heart for all the 'Assholes' in my life.
I think my next circle will be for 'Anger Management Professionals'.
That circle is currently the biggest.
As I get friend requests, I get a few moments to judge them and their true relationship to me, and then I neatly slot them where they belong. All they know is that they are added to at least one circle, but they don't get to see which circle they are in. So they don't know when I've put them in the circle labeled 'People I Would Like to Run Over with a Forklift'. They just know I was kind enough to add them to my network. They get warm fuzzies, and I get constantly reminded to send them invites to the old abandoned construction site down the street. It's just as fun as it sounds.
Sparks
They're not that cool, actually. Think of them as glorified RSS feeds for people who don't know what 'RSS' stands for. Still, it's kind of nice to have a feed of topics I like so I can randomly find new information. I guess. We'll see if Google really does much with this.
It's Not Facebook. Yet.
Perhaps the best thing about Google+ is that while it is a lot like Facebook, it is not Facebook. Yet. No advertisements, no 'Tag me in this Photo' contests, no threat of my Grandmother seeing me slip the 'F'-word in a random post, and no random chat messages from the guy in the "People I Would Like to Run Over with a Forklift" circle. That's all nice. But for how long?
"Perhaps the best thing about Google+…
it is not Facebook. Yet."
Let's not lose sight of exactly WHY Google launched Google+. They launched it because their shareholders demanded a new revenue stream. Right now, Google+ isn't making much money (I assume)… but eventually it will. The ads will come, the flood gates will be opened for business, and we'll all drown in 'Like' buttons cleverly designed as '+1′ buttons instead.
And then we can all go begin complaining on Twitter about how much we hate Google+ while complaining on Facebook how much we wish we updated our Twitter more while complaining on Google+ about how much it has turned into Facebook.
Until then, however, I give Google+ a B+ for a solid initial start and for the potential it has. We'll see how long it takes before it becomes evil, however.
Special kudos to XKCD because they had it right before I did.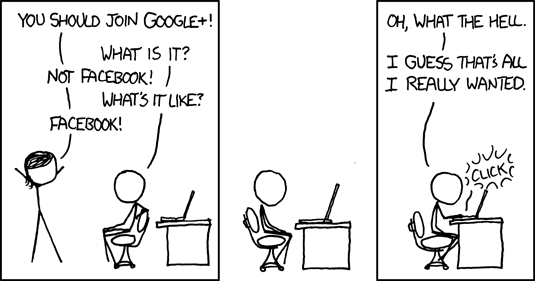 You are not as cool as Nyan Cat
There is a revolution happening right now. Whether you are aware of it or not, there's a pretty good chance that some time in the past 90 days, your personal information was compromised. If you were lucky enough to not have had your credit card stolen, you may have had your personal passwords, your email address, and possibly your personal mailing address stolen. You may ask, "Why would anyone want to do this?" The answer is simpler than you think.
Because it's hilarious.
The group behind many of the hacks against Sony, PBS, and miscellaneous others is a group known as Lulzsec (Twitter) and if you take a moment or two to browse their site, you'll notice they are very well versed on their internet memes. Their knowledge of Nyan cats and ASCII art is eclipsed only by their extensive knowledge of internet security and how to destroy it on a whim.
Right now you can download a file from their website that contains over 62,000 random assorted email and password combinations from who-knows-what databases (one of them confirmed to be pron.com) across the internet. If you're like just about everybody in the world, then you probably use the same password in multiple locations. So it's likely that if your name is on that list, your Facebook, email, Paypal, or (heaven forbid) your IndyMojo.com account may be compromised.
I've been watching these hijinx for a few weeks now and was one of the first 1,000 followers of Lulzsec (they now have over 250,000). I can't pull my eyes away from them. It's like a car crash at a NASCAR race. You watch and find yourself somewhat horrified… but it is fascinating. While I feel bad for the end users who have lost their information, I find myself truly cheering at the fact that fat cats in suits finally have to listen to the IT industry and take the time and the money to secure their systems.
If you're an individual who had their information leaked (seriously… take time and go check), then I feel for you. Here's the question though: Is Lulzsec really the villain? Sitting in your seat, I'm sure my gut reaction would be "Hell yes, it is!" But these companies like Sony have apparently taken every shortcut in the book. They held your information on a silver platter for hackers by failing to implement even the most basic of security features. They were compromised by a form of cracking that is discussed in day one of any SQL class taught the world over. It's the equivalent to leaving a hot apple pie on a window sill and wondering why Yogi bear shows up to ruin your dessert.
If Sony passed me this note, I would burn it
(Photo credit:
Antics of an Undergraduate
)
If that isn't bad enough, Sony apparently does not encrypt any of their passwords. That means when you type your password into their form, they simply take it and store it just like you wrote it. So when someone comes along sniffing for info, it's waiting for them without them having to break a sweat. Remember that SQL class I mentioned? If Day 1 was SQL Injection, then the prerequisite for entering the class would have been a handwritten note with check boxes that said "Should you store password in plain text? Yes or No." Rumor has it that anyone who answers 'Yes' is actually taken into the stock yard and beaten to death with a Lolcat.
Don't get me wrong, Lulzsec is guilty for stealing the information. Just like thousands of other hackers around the world have been guilty for hundreds of thousands of heists since the internet first became a series of tubes. The difference is that Lulzsec is using that information to say that Sony and other corporations are equally guilty for giving you a mirage of security when they cut corners and hired a toddler to put plain text passwords into their database. Don't take my word for it, check out their 1000th Tweet Press Release.
And I can't help but find myself agreeing with them. The plain stupidity of these companies is enough to make me wonder if they're actually aware of what they've done, and somewhere in their 300 pages of Terms of Services, they explicitly state, "Oh and by the way… we don't really feel like worrying about security, so if we get haXXed, we're sorry. Good luck suing us though because you clicked agree, HAHAHA."
"It's the equivalent to leaving
a hot apple pie on a window sill
and wondering why Yogi bear shows
up to ruin your dessert."
Long story short, if you own a Twitter account, you should be aware of Lulzsec and keep an eye on what they're doing. They claim they are now conducting an operation called #AntiSec which is meant to be a joint venture by hackers around the world aiming to take down big corporations and even government agencies to expose just how little they care about our personal security. Whether you cheer them or jeer them, be sure you watch them because you never know if your name will be the next one released.
And if your name IS released next time?
Let's just go ahead and say that when someone logs into your Facebook account and changes your profile picture to that of a graphic depiction of what may or may not be a donkey making love to a lady of the night… well… it's wasn't me.
At approximately 8:30pm in a packed Conseco Fieldhouse full of Pacers fans, cheerleaders, and players, the Indiana Pacers began their 2010-2011 season with the 10th pick of the NBA Draft: Paul George (F), Fresno State. Who is Paul George, you may ask? By the reaction of the crowd, you wouldn't be the only one curious, so here are some fast facts to help you get to know the 2010 Number 10 Draft Pick of the Indiana Pacers.
He's 6'8″, 215lbs and has a near 7 foot wingspan
He's a 90% free throw shooter and is 35% outside the arc
Playing for Fresno State, he averaged 17PPG and seven rebounds per game
He was very impressive in workouts with the Pacers and is widely considered to be one of the most athletic players in the 2010 draft class
So his stats aren't amazing and he's not the point guard that the Pacers so desperately needed, but let's face it: with what was ultimately a pretty underwhelming draft class, George is a high-risk and high-reward pick with tons of upside. George has tremendous potential once he gets his defensive game up to par and gets worked into the system. So while George does not represent a monumental leap forward for the Pacers, he's a definitely step in the right direction as the Pacers work themselves towards becoming a more athletic and overall competitive team around the budding superstar that is Danny Granger.
If nothing else, fans should be excited by the Pacers' willingness to break their habits over the last couple of years. Instead of looking for the safe, experienced college players, they're going after someone who's young and has plenty left to prove on the court. Maybe that motivation for George will provide the extra spark they need to get back on track this year.
And besides, many of you questioned who Granger was when he was drafted in 2005, too! So hold onto your hats, fans, it's going to be a fun season watching how George fits into the offense and gets the Pacers back into the playoffs!
Did you know that this year is the 50th Anniversary for Playboy? In celebration of Playboy's 50th, they're looking for a new Playboy bunny in each of 50 cities around the world, including Indianapolis! Now you, our members, can have a big say in which Indianapolis lady represents Indy as our official Playboy 50th anniversary bunny.
To view the current finalists, visit http://www.indymojo.com/playboyand cast your vote! There's still time to enter the competition as well, so check out the info on the page and submit your photos to see if you can be Indy's 50th Anniversary bunny!
My absolute favorite time of the year is Spring. Mostly because it officially symbolizes us getting away from stupid snow, but also because it signifies the beginning of softball, kickball, volleyball and flag football seasons!
This year we've been fortunate enough to form an exciting partnership with Midwest Sports and Social Complex, located on Indianapolis' west side. This massive outdoor sporting complex features nearly a dozen softball fields plus massive space for flag football and soccer, as well as a 9-hole golf course. They've shared with us some of our plans for future expansion, and let me tell you it's going to be poppin' there!
To kick off our spring, we're starting Sunday Fundays this week at Midwest! The idea is simple: lots of opportunity to play softball and kickball, casual players, tons of drink specials and food. It's a way to get outdoors and meet people while running around the bases and having some fun!
Event Link – Click and Roll Call
The way it works is we'll start getting together around 5pm to hang out and get the teams together. At 6:30, anyone who wants to play softball will head out for game 1. At 7:#0, we head immediately to the kickball fields to stretch our legs and kick some balls, then we have a final softball game at 8:30. Come out and play on one or play in them all, either way you'll be sure to have a good time.
Each week we'll meet on the IndyMojo Bullpen Deck (the deck closest the main entrance) so just come up and say hello!
Send me a message if you have any questions!
It is with much excitement and a little bit of regret that we announce today that IndyMojo.com has officially been sold. It has been a great run for us and we thank all of you for your time, effort, and dedication that you've put into the site. Without you, we could not have possibly drawn interest from investors in Muncie, so we thank you all from the bottom of our hearts.
Muncie, a vibrant community just north of Indianapolis, is looking to expand on it's social scene and night life, which is what brought them to Indianapolis. After much deliberation, they found the IndyMojo.com site and crowd to be the friendliest and most accepting of new ideas, so they saw it as a natural fit for the Muncie community. After months of negotiations, IndyMojo.com owners Smitty and JK agreed to sell the site for the sum of $39.99 and two hoagies.
MuncieMojo will operate in similar fashion to IndyMojo.com and the city of Muncie has asked us to cordially invite all members of IndyMojo.com to move to Muncie to continue enjoying the sites services.
After one solid week of nutritional plans that include beer, protein shakes, and some horse pills labeled as vitamins that smell like earth, I have to say: I feel pretty good. While I can't say for sure that I'm any stronger or leaner yet, I can say for sure that I haven't regressed. In month two of my p90x program, they've actually ramped up the level of difficulty a bit with some new exercise routines and weight lifting programs, but I feel myself more and more able to keep up with the ginormous amount of repetitions the healthy looking folks on the picture screen do. In fact, I actually made it the entire 60 minutes through the Plyometrics routine, completing 95% of the total reps. And then I took a niiiiiiiiice long nap.
(Miss Part 1? Here it is.)
(Full disclosure: The fine folks at Max Muscle have given me the nutrition plan and initial supplements for free (a $250 value). I will, however, be honest in my assessment and the results will speak for themselves!)
Exercise aside, the nutrition plan I received from Max Muscle is a complete guide and diet plan that I must follow from week to week (See Picture Below). I have scheduled breakfasts, lunches, dinners, and even snacks. The majority of the food is your typical grocery store, main aisle kind of grub, which is good for me because I wasn't going to attempt any of those miracle diets that included beets or asparagus or anything like that. Instead, they've given me a plan that moves and grooves the calories and the servings so I can feel free to eat bowls of honey nut cheerios and enjoy some flank steak, so long as I cut out the cheese from some of my other meals.
And then, of course, there's the beer. My current plan includes 7 daily schedules that I can follow from day to day, or mix and match as necessary. In 4 of those 3 days, I am allowed a fairly generous serving of my favorite beverage: Bud Light. Typically I'm allowed 4 servings (6 on the weekends), which for the most part is very good at keeping me going through the night without over (or under) consuming. Although for particularly raunchy parties, I can substitute in some Bud Select 55s and effectively double my limit.
My favorite part of the entire diet has been the Max Muscle Chocolate Protein drink, although it didn't start out that way. When mixed with water, as recommended, the concoction tastes pretty awful. It's tolerable, perhaps, but after a hard work out where you've pushed yourself as hard as you can go, tolerating anything is pretty difficult. However, I remembered that I'd previously been using chocolate milk for my workout, so I decided to try it with 8oz of cold milk. Delicious. I wish I could drink it all the time, although that would get quite expensive. I also now have to get rid of cheese or a serving of milk from one of my other meals, but it's a sacrifice I'm willing to make.
Admittedly, the plan has been a little hard to follow simply because I'm out and about so often. However, that's why I'm having a follow up meeting this week, so we can adjust the plan to work even better over the coming weeks. I'll need to find a way to squeeze Panera bread in there, I think
Life is about sacrifice. You can't have everything you want, so you have to make choices and decisions that ultimately mean giving up something bad in order to receive something good. For a long time, I've chosen a highly active social lifestyle over good nutrition and health. 20 pounds extra and a noticeable lack of strength later, I've decided it's time to get back into shape.
I purchased the P90X workout system and began working on the diet plan provided, which preached the normal "Cut out the fats and empty calories, increase the good foods" and for about a week, I stopped drinking beer and enjoyed the workout system. I didn't like it. The workout was fine, but I missed the finer things in life such as beer pong and drinks while watching the games. Sipping on water while my friends taunted me with their icy beverages wasn't working for me. That's when I came to the conclusion that life isn't any fun if ALL I do is work out and diet. There has to be a compromise. That's why I've decided to do The Beer Diet.
In order to accomplish this, I reached out to the health and wellness experts at Max Muscle, a new health and wellness shop located in Fishers. When I first proposed my idea to them, they acknowledged that my request was unique, but said they had the solution for me. At Max Muscle, they don't just provided dietary supplements and protein powders, they actually provided full nutritional plans that are completely customized to meet the needs of the individual. In other words, they came up with a plan for me to reach my goals while keeping beer and my social life in mind. I'll have to sacrifice some carbs for lettuce wraps and low carb options during the day, but I'll be able to splurge a bit with the carbby (is that a word?) calories in beer during the night. I left Max Muscle with a grocery list, a small book of recipes, and a regimented diet plan that I intend to start this Monday.
(Full disclosure: I told the fine folks at Max Muscle I would be blogging about this experience, and they have given me the nutrition plan and supplements for free (a $250 value). I will, however, be honest in my assessment and the results will speak for themselves!)
So what's the goal? After the initial consultation, I found that I am 170 pounds and about 17% body fat. I'm in good health, but I do want to tone up and build strength even more, so my goal is to get to 12% body fat with the P90X workout system and my new nutritional plan.
Monday is the starting point and I'll detail more of the nutritional plan then. I guess all there is left to say is…
Cheers!
(Also posted here for discussion)
Physiologically, sleep paralysis is closely related to the paralysis that occurs as a natural part of REM (rapid eye movement) sleep, which is known as REM atonia. Sleep paralysis occurs when the brain awakes from a REM state, but the body paralysis persists. This leaves the person fully conscious, but unable to move. The paralysis can last from several seconds to several minutes "after which the individual may experience panic symptoms and the realization that the distorted perceptions were false".[5] As the correlation with REM sleep suggests, the paralysis is not entirely complete; use of EOG traces shows that eye movement can be instigated during such episodes.[6] When there is an absence of narcolepsy, sleep paralysis is referred to as isolated sleep paralysis (ISP).[7]
The other night, I had a really funky nightmare. Like there's was nothing scary, per se. No monsters, no falling, no death… everything was just WEIRD. I can very vividly remember the thing that woke me up, and it was a picture of a piece of cake and it said "It's Waiting For You"
Video game nerds need only the attached picture to explain why cake was in my subconscious
Anyways, it's not weird that I woke up from something stupid I dreamt about. What's weird is that I woke up in a body I could not control
My eyes opened, and I was able to move them around the room, but I tried to life my arm and nothing happened. Every sensation in my body FELT as if I was moving my arm, but it didn't respond. It felt like it was asleep x 50, so I figured it was just really asleep. Then I tried to roll over, and I realized I couldn't move anything.
I even tried opening my mouth to call for Jen (she had left the bathroom light on, so I thought she was home still), nothing. For what I have to believe was a solid 60 seconds, it was probably the most terrifying sensation I've ever had.
So has anyone else had this happen to them?
In this recent ranking of the happiest US states, it seems that Indiana is ranked 47 overall. Only Michigan (no surprise), New Jersey (the armpit of america), Connecticut (where?) and New York (cabbies are surprisingly sad) ranked worse than we did.
Oddly, Louisiana is ranked the happiest state. Maybe it's because of all the new beach front property. Ouch… sorry
Here are the 50 U.S. states (and the District of Columbia) in order of their well-being:
1. Louisiana
2. Hawaii
3. Florida
4. Tennessee
5. Arizona
6. Mississippi
7. Montana
8. South Carolina
9. Alabama
10. Maine
11. Alaska
12. North Carolina
13. Wyoming
14. Idaho
15. South Dakota
16. Texas
17. Arkansas
18. Vermont
19. Georgia
20. Oklahoma
21. Colorado
22. Delaware
23. Utah
24. New Mexico
25. North Dakota
26. Minnesota
27. New Hampshire
28. Virginia
29. Wisconsin
30. Oregon
31. Iowa
32. Kansas
33. Nebraska
34. West Virginia
35. Kentucky
36. Washington
37. District of Columbia
38. Missouri
39. Nevada
40. Maryland
41. Pennsylvania
42. Rhode Island
43. Massachusetts
44. Ohio
45. Illinois
46. California
47. Indiana
48. Michigan
49. New Jersey
50. Connecticut
51. New York