As the harsh winter rages on (okay, the "harsh" part is exaggerated, but stay with me), you may be looking to heat up your Friday night. Look no further than Muncie this weekend. Yes, Muncie!
Wuhnurth Entertainment will be presenting their 2nd Annual Chillage in the Village show at Be Here Now this Friday, January 20th.
For those who haven't been to a Wuhnurth Entertainment show,let alone one at Be Here Now, allow me to tell you a little about what to expect.
Be Here Now is a two-level, all ages venue with a large outdoor space perfect for hooping, fire-spinning and partaking in a smoke or two with your friends. The upstairs is like most bars with the exception of a giant square cut-out right in the middle of the floor that allows you to look down at the dance floor on the lower level. And the lower level, well that's where the magic happens. It's set up like your favorite house-party basement. Complete with a not-so-big, but not-too-small stage set back in one corner, couches lining the opposite walls, and floor to ceiling art on every wall. Oh, and the bathrooms are covered with…actually, I'll let you discover that one for yourself. Basically, it's spacious, dark and perfect for raging.
http://www.youtube.com/watch?v=gVJLhVSmYqc
Check out this video of last year's Chillage in the Village
That is where Wuhnurth Entertainment comes in. They bring the magic in the form of an all-senses-captivating event. Live painters, hoopers, performers, lights; it's all there. And best of all, is the music. Wuhnurth events always set a high standard for quality when it comes to music as well as the overall experience. Whether it be a 3-day outdoor festival or one night, you can always expect a line-up of artists on their way up. This night should be no exception.
This year, The Mantras, Fresh Hops and Glostik Willy will take the stage to melt your face.
photo by Dave Freeman
http://www.youtube.com/watch?v=ZkHDrJcmu2Y&hd=1
Check out The Mantras FB page!
http://www.youtube.com/watch?v=jnEe7Gtyy2s
http://www.youtube.com/watch?v=wpNfOCn7a8E
Check out Glostik Willy's Facebook page!
The basics:
Friday, Jnauary 20th
Cost:
$5 for 21+
$8 for under 21
Get in for FREE if you are still wearing an intact Wuhnurth 2010 wristband.
Line-up & Schedule:
Glostik Willy (Funk, Jam Band): 9-10:30pm
The Mantras (Face Melting Jam Band): 11pm-1am
Fresh Hops (Keep you dancing all night): 1:30-3:30am
Lights by Herm Productions.
For more details on Chillage in the Village, check out the event page!
Until then, stay safe my friends!
music.love.KG.
When it comes to the dubstep world, female producers are pretty rare. Female producers with a beautiful voice and full make-up are even more so. This Saturday at IndyMojo's Jam/Electronica Showcase for the fifth annual Broad Ripple Music Festival at the Mousetrap, the Indy crew will have a chance to check out Vancouver DJ/producer/singer ill-esha and see for themselves how girls get down.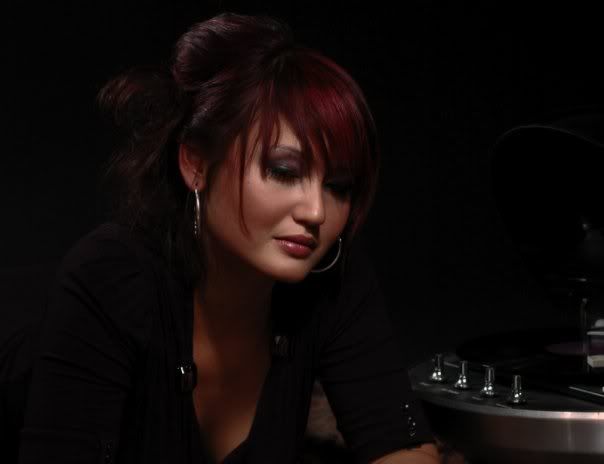 I wanted to get the lowdown on what it's like being a girl in the glitch nasty world of dubstep and how it has influenced ill-esha both musically and personally. "Unfortunately, in 2011, it shouldn't matter, but it does. There is a perception that I'm not as good; I'm expected to be subpar," she explained during a phone interview last week. "I feel I have to try harder, to try new things more often. It makes me extra diligent and I work harder." Another obstacle she had to overcome when starting out was her image. "I was a tomboy for a long time. I wore huge sweaters and baggy pants until I decided to reclaim my girly-ness . I don't care what other people think. I'm a girl and I want to be a girl. Let the music decide who's good."
So other than being a "girly girl," what else makes ill-esha stand out? The answer…her voice. Smooth vocals accentuate down tempo beats for a blend of drum & bass and pop with some added soul. Her unique sound has helped her acquire a welcoming reception in the Midwest jam/electronica scene over the last year. "Midwest kids are excited to party and are open-minded about music, so they really get into it. I have some things in common with jam music, live vocals and improv, and I'm a diverse person, so I can push things in more directions when people are receptive to new types of music."
Be sure to check her out at the Mousetraap this Saturday for IndyMojo's jam/electronica showcase to celebrate the fifth annual Broad Ripple Music Festival!
For more info on ill-esha, check out her Facebook page. To hear more of what she has to offer, click here.
Broad Ripple Music Festival's largest and most diverse lineup for only $5…3 Stages – 24 Performances
For complete event details included the full schedule, check out the event page.
Being a true lover of Sound Tribe Sector 9, imagine my giddy-excitement over their upcoming show in Indy. That's right, the IndyMojo crew has paired with Live Nation to bring STS9 to the Egyptian Room Saturday, October 8th! Having just finished their latest tour with a 3-night sold out run in Colorado (2 of those nights at Red Rocks) and co-headlining festivals all over the country, STS9 is sure to help soothe the bittersweet sting of the final weeks of festival season in the Midwest.
With over a decade of experience in the music industry, not only making music but helping others make music, this Atlanta-based band has helped pave the way for electronic rock. They're blend of hip hop, funk, and house intoxicates those who like their music to have a little added flavor and can keep them in a constant state of musical euphoria that is only further enhanced by the energy flowing on stage. Whether it's Hunter Brown's animated expressions, David "Murph" Murphy's forehead becoming other worldly when he is immersed in a particularly intense build-up, or the constant connection between every member, STS9 always offers a great show for those who appreciate the beauty well-produced electronic music.

I have a huge crush on Hunter Brown.

Murph's amazing forehead!
Oh, and did I mention they have a record label? Their bio says this about that:
"STS9's self-owned record label, 1320 Records was founded on the principles of collaboration, cooperation, and community. The goal is clear: bring the music to the people in the most conscious, unique innovative and savvy ways possible. By doing so, the distance lessens between artists and fans, putting the power back in the hands of those that make music and those that live for it."
That's pretty legit. Plus, the release of their eleventh album, When the Dust Settles, kicked off a fantastic festival season with appearances at Summer Camp, All Good, and North Coast just to name a few. To top it off, they've also paired with programs such as The Make it Right Foundation and LG ecoMobilization as a way to help make a positive change in the world. Music is pretty incredible as-is, but music that stands for something and helps others is how we can truly make a difference.
Okay…more about their show in Indianapolis. Archnemesis is supporting the beginning leg of Sound Tribe's first headlining tour in a year which includes their show at the Murat. The official after party is being held downstairs from the main show featuring Up Until Now with David Murphy of STS9, Little People, Eumatik and Deek.
Tickets are going fast and shows on this tour are already selling out, so be sure to get your tickets early and be ready to have your mind blown by the force that is STS9!
Doors: 8:00
Show: 9:00
$20 in advance / $25 day of show

Get your tickets HERE!
Want FREE tickets? IndyMojo has them…enter to WIN here!
For full details, check out the event page HERE!


Summer is winding down and the days are starting to get a lot colder. Luckily for the Indy crew, Wuhnurth Productions' "End of Summer Stomp" is set to keep your final night of summer hot with Chicago Farmer and Greensky Bluegrass at Birdy's. After that, head over to the Mousetrap for your usual mind-altering Thurzday experience courtesy of IndyMojo.com!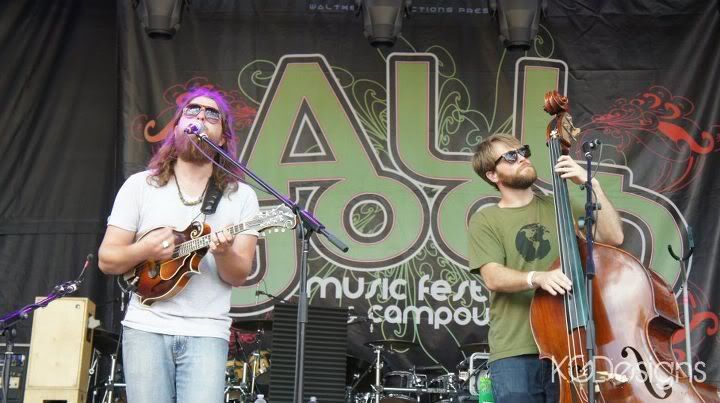 THE RUN-DOWN ON THE STOMP:
Doors Open: 7:30
Chicago Farmer: 8:30-10pm
http://www.chicagofarmer.com/
http://www.youtube.com/watch?v=uh-LazC-l4E
Greensky Bluegrass: 10:15pm-12:45am
http://greenskybluegrass.com/
http://www.youtube.com/watch?v=qOirSwCmk9s
**Special NOTE: Greensky Bluegrass has a FREE download of their EP "Handguns" available on their website and their new full-length comes out October 4th. I had a chance to hear an advance copy and it is good…like "foot-stompin' and hollerin' in the car" good!
Cover: $10
Ages: 21+
*********************************************************
DON'T FORGET TO HIT UP THE INDYMOJO.COM AFTER PARTY AT THE MOUSETRAP!
Indymojo.com and G-9 Collective are proud to bring you our weekly dose of rage….
~ ALTERED THURZDAZE ~
with special guests….
* LACH OF FLUID
The new jam session project comprised of Nick Gerlach (Sax player for The Twin Cats) and Dave Embry (DJ Embryo of Embryonic Fluid). Embry will be laying down the beats, while Gerlach steals your soul with his sax and ginger gaze!
* KALEIDOSCOPE JUKEBOX
Bloomington, IN
http://www.facebook.com/kaleidoscopejukebox
http://soundcloud.com/kaleidoscope-jukebox
* MATT PORTER
INHouse DJ's
http://www.facebook.com/djmattporter1
http://soundcloud.com/djmattporter
* PHSYKO-LOJIK
http://soundcloud.com/phsyko-lojik
NO COVER
21+
The Mousetrap
5565 N. Keystone Ave
Indianapolis, IN
Drink Specials:
$2 Domestic Pints
$3 Import/Craft Pints
$4 Pickleback Shots (Jameson + Pickle juice)
$4 Absoluts
As always, Hoopers, Poi spinners, and other Flow Ninjas are welcome!
** Please help us spread the word by sharing with your friends **
Keep up with all our comings and goings at www.Indymojo.com
Or on Facebook at
www.facebook.com/indymojo
www.facebook.com/g9collective
Get it Indy…this is going to be a good one!
If you've been anywhere near the festy scene this summer, chances are you've had a chance to see Eliot Lipp at any number of larger festivals; Wakarusa, Electric Forest, and/or DEMF just to name a few. However, Lipp will be changing pace and laying his beats down on Indianapolis with Ben Samples Thursday, September 15th for IndyMojo.com's Altered Thurzday at the Mousetrap. I recently had the chance to talk with Eliot about summer festivals, the melding jam/electronic scene and what he has been working on recently.
For those who aren't aware, Eliot Lipp has been taking the electronic scene by storm since the mid-2000s using funk fusion, house and hip hop to mix his own brand of contemporary electronic music. He has worked with some of the best producers, DJs, MCs and musicians in the world and continues to push the envelope of electronic music.
With that in mind, I asked Lipp how he feels about the merging of jam and electronic music in recent years and how that correlates to some of the festivals he has played. "I think there was more melding a few years ago. There's more of a gap between live bands and DJs now, but with festivals like Pitchfork and Coachella, you have a more diverse group of fans. Jam festivals are more of a niche. I like them all for different reasons, but indie fests have the coolest, most diverse line-ups. They offer a way to open DJs up to other scenes."
From there, I asked his thoughts on switching it up and hitting up a smaller venue/bar such as the Mousetrap. "I started in that scene doing late night shows and after parties. That's where you found most DJs back then, so it is very familiar to me. It's a more intimate setting, so you are able to respond more to the people in the room. I don't normally have a set list, so I just go into it and vibe off of the room. It's the same with Samples (Ben Samples of Fresh2Death). He isn't as well-known in the Midwest, but he has a great following in Colorado. He started in a smaller room and built a crowd."
As for what he has planned for his Altered appearance? "I'll have a live drummer, so I'll be remixing some of my music with live drums on top. It will be more like my Electric Forest set with some brand new songs." Speaking of brand new songs, I inquired about new music he's been working on and if there would be a new album in the near future. "I will be releasing a new single this month which people will be able to download for free. The full-length will come out in October and possibly be free, too. I don't know yet, but we will see."
If you don't want to (or can't) wait for the new album, check out his website for links to his latest set of mixes "Summer Nights" which is accompanied by Old Tacoma label mate Leo123's "Summer Days." You can also check the Old Tacoma Records page to download Lipp's "Brolabs Remix" album.
For more info on Eliott Lipp, check out his website and/or Facebook page.
For full details on Altered Thurzday with Eliot Lipp & Ben Samples, check out the event page.

Please note: This blog was originally posted in preparation of Mojostock 2011…before encountering a glitch in the interweb. Full Mojostock coverage coming soon. Oh, and you should still check out sixdollarsuit!
Ask any band who has been gigging, recording, and rocking festivals regularly for more than a couple of years and there is a good chance they will tell you that a band is a business. I repeat, a band is a BUSINESS. It can start as a couple musicians who just play together at their friends' parties, but if they ever want to make it and get paid, the gears have to shift at some point and they have to start thinking about longevity and what they can do to "stay in the game." Fabian Rodriguez of sixdollarsuit would certainly agree.
After hitting a stalemate about 2 years ago, Fabian realized things with his hip hop group Sell Out weren't going anywhere and the music he was making with Nick Golder and John Kirby, the musicians backing up that group, was the new direction. Add a new drummer, Adam Eikenberry , and sixdollarsuit was formed…and they've been rocking the Midwest scene with their special livetronicajazzfunk mix ever since. In just over a year's time, they've managed to work their way into 8 states with more than just their own music in mind. "We travel as much as we can to promote Indiana," declared Fabian in a recent phone interview. "In the music scene, we are not a state that is taken seriously. People don't think we have good music here. It gives us motivation to prove them wrong." That motivation has also helped keep this Lafayette-based band in the minds of promoters as well.
When Indiana's own Waldemere Revival decided to call it quits earlier this summer, the IndyMojo crew had a tough choice to make in filling their slot for this year's Mojostock. When it came down to it, sixdollarsuit had the talent and the appeal to fit in with the already-stacked lineup. Having also been the go-to fill-in for a late night spot at last year's Wuhnurth Festival, I asked Fabian what he thinks makes sixdollarsuit stand out when there is an open spot. "I think it's about us building personal relationships with mangers, owners, and bands. You want them to have a positive outlook about you." He went on to add, "We also do something different; there aren't a lot of electronica bands with jazz undertones. We offer a musical juxtaposition where we have dance-y songs to get people moving paired with more emotional, mellow songs. That is intentional. It gives people a feel for what we do; it shows them who we are."
In reference to their spot on the Mojostock lineup, Fabian confessed, "We want to show people we are out there who don't know who we are and that we are still here making new music to those who do."
Learn more about sixdollarsuit on their Facebook page. Hear some of their latest music here…and/or check out their podcast here!
Please note: This blog was originally posted in preparation of Mojostock 2011…before encountering a glitch in the interweb. Full Mojostock coverage coming soon. Oh, and you should still check out Hot Mess!
Mojostock is only a few days away, so you might want to start thinking about how you're going to release some of the build-up tension from the everyday grind. Luckily, Hot Mess from Columbus, OH will be bringing their straight-nasty form of dubstep to the Tent Stage right around the time things are ready to get dirty.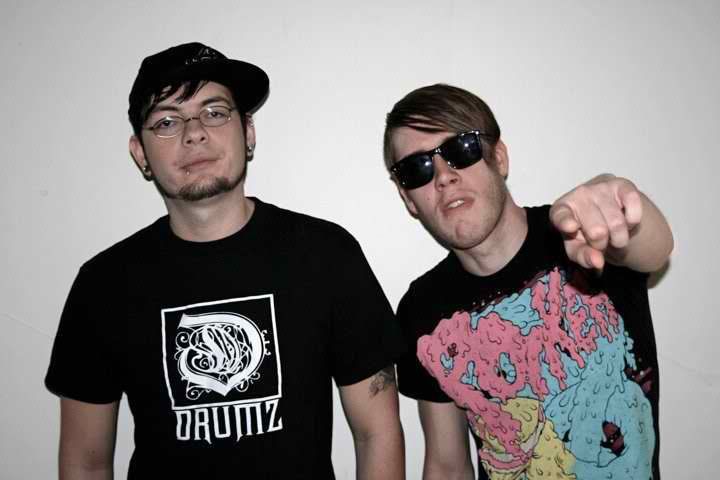 Hot Mess is made up of producers Keith West (K-Way) and Corey Faulkner (Vacate) who met years ago at electronic music parties. Both have been into electronic music and dj-ing for about 10 years and have been producing together for the last 4…and when it comes to their music, their name says it all. "We draw from everyday life and channel it into loud music," notes Corey. Keith went on to explain, "It's a different process. We mess around and see where an idea goes. When we play, we live up to the name. We go crazy and get everyone else to go crazy. We rage out!"
Party Mouth [Preview Clip]by Hot Mess on SoundCloud
With so much dubstep showing up in the Midwest music scene at shows and festivals alike, it's hard to differentiate one set of womps from another. Hot Mess helps set themselves apart with gritty beats and fidget-y madness. It's almost sexy in nature…and then the grunge comes out and slaps you in the face.
Since forming Hot Mess, the Ohio DJ duo has put out some hardcore tracks, but what they are working on next will show a different side. "We're writing a lot of new material and recording a new promo mix. Our new project as Solace + Vacate is more aggressive."
SOLACE+VACATE- It's You by Hot Mess on SoundCloud
As for Mojostock and how they feel playing a festival made up of jamsters and EDM fanatics rather than the usual all-dub line-up? "Both kinds of festivals are cool," replied Keith, "we like getting to play to a different crowd." And what does the future hold for Hot Mess? Keith answered without resolve, "We want to play all over. Our goal is world domination."
Check out some of their latest beats here!
Oh, and don't forget to "Like" them on Facebook!
With IndyMojo's own Mojostock rapidly approaching, now would be the time to start really checking out some of the artists you may not have seen or even heard of before. One of the groups I've recently spent some time "getting to know" is the Disco Aliens. Having not heard much from, or even about them, I was intrigued by their name and the fact that they're actually from the Midwest. Hailing from Louisville, KY, Tyrhon Brooks (Obitykenobi), Chris Mendel (Elektrolyte), Daniel Batson (Archon) and Sean Collins (Plexxx) are four DJs from separate fronts who have combined forces to expand musical perceptions and blow the minds of audiences with their unique mix of electro-tech dub.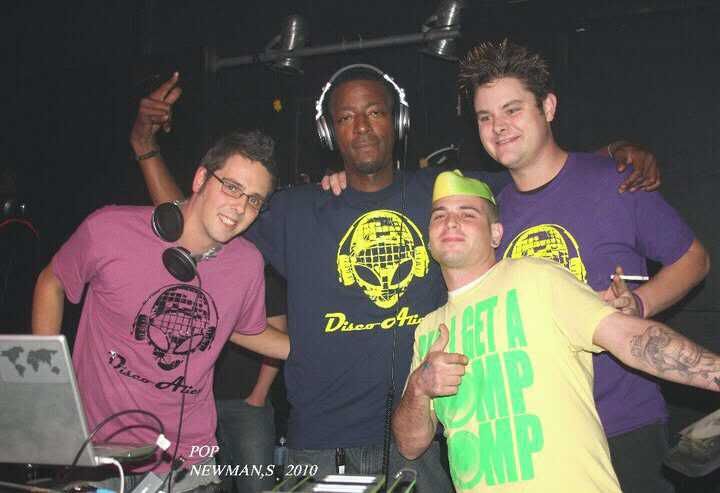 I recently had the opportunity to talk with Ty and Chris of the Aliens crew to get the full scoop on them, the music, and their take on Mojostock. With a solid following in Louisville and St. Louis as well as appearances at Halfway to Forecastle, Forecastle, and The Land of Nod Experiment, I was surprised to learn that Mojostock will be only the Disco Alien's second time playing in Indiana. And after learning they'd shared stages with Kraddy, EOTO, and Excision, I decided to ask the guys why they hadn't penetrated Indy's rising EDM scene before now. Chris explained, "Disco Aliens started as a side project. We all had our own things going. We don't want to travel too much. We're just catching shows in stride." Ty added, "We've had friends in St. Louis from the get-go who got us set up with a New Year's Eve show and it just grew from there."
So, how do they feel about their spot on the Mojostock line-up? "We love working with IndyMojo, so it just fell in place," supplied Chris. Then Ty confessed, "We're really looking forward to it. We love festivals," before Chris finished, "A lot of us love playing on an outside stage, but we're gonna turn heads no matter what!"
From there, the guys went on to discuss why this intergalactic foursome works and the affect it has on them as producers. Chris broke it down for me, "We are all different in our own ways and have separate sounds and elements that are put together to make something new; we mesh our styles and lay it out." Ty followed-up, "It's always evolving; nothing is ever the same. <Our shows> tell a story that is also being told to us. We experience it at the same time as the audience. We can play for 5-6 hours and not even realize. It's like a time warp. There is a lot of passion in what we do."
To finish it up, I wanted to know if there was anything else the guys would want Mojostock goers to know leading up to the event. They both kind of laughed before Chris warned, "Be prepared. The aliens are coming."
To learn more about the Disco Aliens and to hear some of what they have to offer, check out their website or find them on Facebook.
For more Mojostock info, be sure to visit the event page and RSVP. Oh, and don't forget to buy your presale tickets before it's too late. With a stellar line-up and top-notch production, the 3rd annual Mojostock might be sold out BEFORE you get there!
Stable Studios in Spencer, Indiana, which played host to last year's Wuhnurth Music Festival, is trying their hand at a festival of their own this summer…and it's shaping up to be a pretty stellar event! The lineup is stacked with a slew of your favorite Midwest names as well as bigger acts from varying genres and regions all over the country. You'll be able to see the Twin Cats, Shaggy Wonda, UV Hippo, Macpodz, and Fresh Hops on the same stages as 7 Walkers, Dumpstaphunk, Rubblebucket, Sophistaphunk, and Melvin Seals & Terrapin Flyer! Add live painting, a kids area on Saturday, morning yoga, and lights by the Herm Productions crew and you're looking at a weekend full of great music and amazing people!
Peruse the schedule below and check out the Stable Studios Music Festival event page for complete details and further info!
______________________________________________________
Friday
STUDIO STAGE
3:30-4:30 Ladymoon
5:30-6:30 Bumpus
7:30 – 8:30 Old Union
10:00-11:30 7 Walkers
1:00 – 3:00 Headtronics
STABLE STAGE
4:30-5:30 The Steepwater Band
6:30-7:30 Chicago Afrobeat Project
8:30-9:45 Rubblebucket
11:30-1:00 Macpodz
**********************************************************
Saturday
Acoustic Stage
8-9 Yoga with Shaski
9-9:45 Neal Meyers
10-10:45 Sean Mullady
11-11:45 Mikial Robertson
STUDIO STAGE
12-1 Glowstick Willy
2-3 Namaste
4-5 Shaggy Wonda
6-7 Gravel Mouth
8-9:30 Twin Cats
10:45- 12:30 Dumpstaphunk
1:15-2:45 UV Hippo
STABLE STAGE
1-2 Jaik Willis
3-4 Tonal Caravan
5-6 Better Bidness Bureau
7-8 Snake Oil Syndicate
9:30-10:45 Sophistaphunk
12:30-1:15 Kalediscope Jukebox
**********************************************************
Sunday
Acoustic Stage
9-10 Yoga with Shaski
10-10:45 Brad Harris
11-11:45 Left Hand String Band
12-12:45 Carson Deirsing
STUDIO STAGE
1-2 Howard Lewis and Lovins
3-4 Gene Deer
5-6 The Main Squeeze
7:30-9:30 Melvin Seals & Terrapin Flyer
STABLE STAGE
2-3 The Giving Tree Band
4-5 Shelby County Sinners
6-7:30 Fresh Hops
*********************************************************
TICKETS ON SALE NOW AT
WWW.STABLESTUDIOS.NET &
via Eventbrite:
http://stablestudios2034-efbevent.eventbrite.com/
* check out the Stable Studios website for directions. 2034 Dubois Road Spencer, Indiana 47460
Okay festie kids, it's that time of year again…the InTents Promo Tour is back! For those not familiar with my gig, here's the rundown: I hit up some of the hottest festivals the summer has to offer, camp out of course (hence the in-tents bit), and spread the word on the music I love. This is my third year at it, so it's time to step it up. Be prepared for interviews with some of the best bands, organizers, and artists the jam scene has to offer as well as more pictures and videos of the things I see!
This year, I'm starting with one of my all-time favorite festivals, the Summer Camp Music Festival taking place May 26-30. Located at Three Sister's Park in Chillicothe, IL, Summer Camp is set to kick off my tour with one of the best line-ups the summer has to offer. Not only are there going to be the same fan favorites as years past i.e. moe., Umphrey's McGee, Pretty Lights, Cornmeal, Yonder, Bela Fleck & the Flecktones and STS9, but you can also find more than a few big additions. The top two in my opinion are the addition of Widespread Panic and Huey Lewis and the rUMors which consists of members of Umphrey's McGee!

Cornmeal on the Moonshine Stage-Summer Camp 2010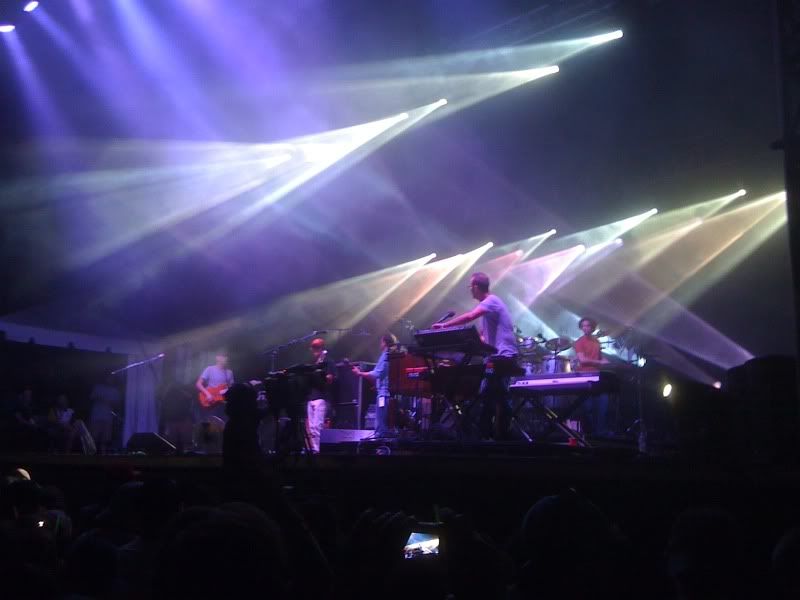 Umphrey's McGee- Summer Camp 2010
Not only will the 5+ stages be stacked, but there will also be plenty to do and see outside of live music. One of my favorite parts of Summer Camp is their dedication to greening initiatives and non-profit organizations. The Soulshine Tent is a hub for artists and philanthropists alike with sustainable living workshops, sociopolitical seminars, artwork by regional artists, and even morning yoga classes. Plus, this year it will run on solar power! As for music, there will be plenty of that as well. With quite a few bands jumping on board to represent the non-profit organizations they support, the Soulshine tent is a great spot to soak up a ton of good vibes. And once the sun goes down, it appropriately turns into the Late Night 312 Vibe Tent and will feature sets by Mimosa, Boombox, Polish Ambassador and a slew of other raging badns and DJs.

Cornmeal in the Soulshine Tent at Summer Camp 2010
To learn more about the beginnings of Summer Camp as well as its continuous growth over the last 10 years, I set up an interview with lead organizer Mike Armintrout. With an ever-expanding role in making big things happen at Scamp, Mike oversees everything from marketing and advertising to vending and volunteers. He is even responsible for about 25-30% of talent buying and booking. Although it is a big job, Mike admitted it is a labor of love. "We're a small company and we are all here for the love of live music. As it grows, we can afford to give other people an opportunity to work and help." He went on to explain, "The [jam} scene is built around such a great community of people. When we started, it's where all our tastes were and still are. Even though those tastes have expanded, every one of us does it because we are passionate about doing it."
As for the group that makes it happen year after year, Mike confessed, "It's like a family reunion! Over the last 7-8 years, people have moved, but they maintain those same areas. Those 25-30 of us still hold our positions and we hope the camaraderie that we feel translates from us to the fans." Addressing the egos that can be associated with working with bands, promoters and other organizers, Mike assured me, "They just don't exist with Summer Camp. There is a lot of satisfaction and self-fulfillment that comes from working on this festival."
After reaching roughly 13,000 festival goers last year, Mike is confident the numbers will only continue to rise. "As we look towards this year, I definitely think we've outdone last year with the addition of Widespread alone and all of us are excited to see Huey Lewis play with Umphrey's McGee!" When I asked him to expand on the addition of the iconic musician/actor, Mike declared, "If Umphrey's McGee wants to do something with Huey Lewis at a fest, we want to make that happen."

UM-Summer Camp 2010
Regarding whether he and his crew will even have time to catch any music between coordinating stages, collecting and sorting trash, and keeping things running smoothly, Mike proclaimed, "We all have different ideas of what to see and we hope that the work we've done will allow us to see things we want to see." Having had a chance to talk with Mike at least year's festival, I wasn't surprised when he added, "However, from 5-6:15p on Sunday, I'll be at the Moonshine stage watching the Avett Brothers with my radio off!" While on the subject of Sunday, Mike proclaimed, "It is definitely the cheapest single-day ticket for what you get; the line-up is ridiculous!"
As of now, the VIP tickets with Late Night upgrades have sold out and individual Late Night tickets are off sale. So if you're still on the fence about whether or not to go, you might want to decide to go for it and get your passes now!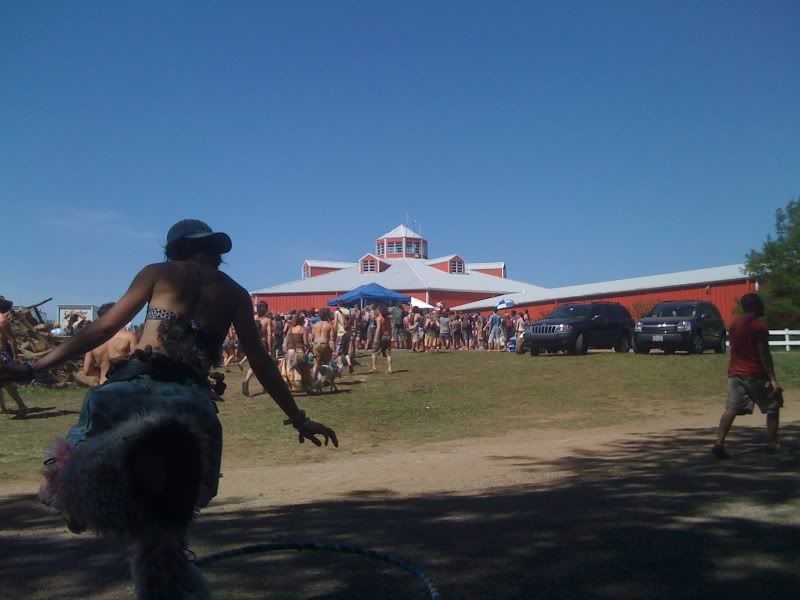 Campfire Stage & Late Night Barn- Summer Camp 2010

This might help you make up your mind…holy lasers!
With so many things going on at the same time, be sure to hit up the Summer Camp website and Facebook page for full details on making your Summer Camp experience the best it can be. Also, don't forget to check out their "Activism" page to see how you can help make a difference while you are there!
Stay tuned for my full review after the fest!
Until then, stay safe my friends!
music.love.KG.