Ladies, so the weather's not so gorgeous outside but you can be. Too bad the cash flow isn't what it used to be, huh?
I can help!
Now introducing, for all my female MOFO's
:::: 30dollarTHURSDAY ::::
Save 25% off your haircut when you schedule your next haircut on a Thursday with me at STYLE Salon. Be sure to mention this promo (just say MOJO Thursday) when you make your appointment so you can take advantage of a premium precision haircut for only $30!
And get in while you fit in, because this won't last long. Starts February 18th and ends April 1st
Just a little thank you to my IndyMojo ladies.
See you in my chair!!!
STYLE Salon
820 E. 64th Street.
Indpls, IN 46220
317.202.9120
www.style820.com
a.new.imaj@gmail.com
(photo: www.StephenHobley.com, hair and makeup by yours truly)
Got dryness? Got breakage? Sounds to me like you need a trim first of all. Sometimes those ends are just beyond repair. With exposure to chemical treatments, sun, products, heat damage & every day wear and tear, the hair just begins to weaken and lose it's integrity. Unfortunately, there's really no way to completely undo what's been done either. Conditioning treatments can help protect from further damage and add some strength, but some hair doesn't have enough fabric or resilience to remain healthy.
I personally endorse and recommend a multi-step conditioning treatment from Alterna Caviar that 1) detoxifies 2) replenishes moisture, then 3) restores proteins. Lots of conditioning treatments only address one of these, and it's usually the protein step. What's misleading is that when the hair has been subjected to excessive protein treatments it actually does the exact OPPOSITE & causes unwanted breakage and dryness. This is because the hair hasn't enough moisture to support the large amount of nutrients.
As we leave the dry winter months our hair often feels lifeless and unresponsive to normal styling techniques. If you're experiencing dryness or breakage I'd say you should start with a good, healthy trim and a consultation with your stylist.
Contact me for your next salon visit @ 317.202.9120 or by hotbox.
Like what I'm saying? I value your input! And if you'd like to suggest topics for future articles, I love getting feedback from you. So please feel free to suggest ideas and topics and send me some feedback on what you'd like to learn about and what you'll find most valuable. You'll be helping me help you!
Keep it classy, Mojo.
j*ME
Thanks for tuning in to another : STYLEcenter : article. Today I'm going to be talking about how to pick your hair color.
Hair color is one of the most exciting and easy forms of self expression, but with all the choices out there it's hard to decide what is a good fit for you.
There are a few things one should consider when choosing a hair color. Skin tone and eye color are two of the most important factors when choosing a flattering color. You can often look to nature to help you in your decision. For instance, if you were blonde as a child you will likely look good as a blonde adult. As to the shade of blonde, it takes a little more thought.
If you have fair skin with cool or pink undertones, and blue or green eyes, you'll look great with blonde hair, but you should try to avoid shades with too much red. Blonde that is ash in tone, such as white blonde, platinum, taupe, wheat or light brown will be a very flattering choice.
If you have fair skin with yellow or red undertones, you should look to wear a hair color that is light and warm for the most flattering effect. This can include beige blonde, light golden blonde,
strawberry blonde, light auburn, light brown with golden or red highlights, or golden blonde with red highlights.
When going all-over blonde (instead of just highlighting) you should keep the color within two shades of your natural shade, unless you are going for more of a flashy or ostentatious look.
Brown hued locks can be flattering on many people and there's a wide variety of tones you can find to suit you and your skin tone.
Shades such as medium or dark golden brown, honey brown, chestnut, copper or mahogany are a good choice with those having medium to deep warm skin tones. Your skin tone may be described as tawny, deep golden brown or coppery. And those with medium to deep cool skin tones, often described as light olive, dark olive, gray-brown, dark brown or ebony, will be flattered best by wearing shades such as plum, burgandy brown, dark brown, black. slate or any of these with plum or burgandy highlights.
People with fair skin and natural dark brown hair can go a little lighter to avoid looking harsh.
Warm browns, with gold or red undertones, are flattering for almost anyone, but should be a little more subtle as you get older.
How do you know whether to highlight or color all over (or both!) ?
When making this decision you can again look at nature. If you have a great base color but want to enhance it, then highlights are best for you. If you're not overly excited by your natural shade then it's a great idea to go all over color. You always have the option to do both as well. Lowlights might be another option for you. Lowlights can add depth and dimension while breaking up your natural hair color.
When highlighting, I prefer to use at least two shades to acheive the most natural look. However, when myself and the client decide that we're going for more of an edgy look, a lot of my "rules" go out the window.
When it comes to maintenance, the closer you stay to your natural color, the less often you'll have to sit in my chair.
Obviously, a lot of these things are going to be addressed in your consultation with your hairdresser prior to the service. A professional will be able to steer you in the right direction and help you make the best and most flattering choice.
Like what I'm saying? I value your input! And if you'd like to suggest topics for future articles, I love getting feedback from you. So please feel free to suggest ideas and topics and send me some feedback on what you'd like to learn about and what you'll find most valuable. You'll be helping me help you!
Keep it classy, Mojo.
j*ME
: STYLEcenter :
Welcome to your hair and beauty resource. STYLEcenter is a place where you can get up to date information and advice on topics that we all want to know about. Use this channel to ask questions or make conversation – we're here for you!
For our first article we're going to talk about hair color, more precisely box color vs. salon quality color. I'm going to take it down to the basic chemical level as that is essentially where color products differ. Remember pH? Let's refresh our memories with how the pH scale works.
The pH scale is a measure of value for potential hydrogen, for which there are two chemical extremes: acid or alkaline. The scale runs numerically from 0-14, with 7 serving as neutral. A measure of pH 0-6.9 is considered acid, while a measure of 7.1-14 is considered alkaline. As you move toward either extreme (acid toward 0, alkaline toward 14), the more caustic and stronger a substance will become. Substances which are acid have a positive electrical charge, while alkaline substances have a negative electrical charge.
In a normal, healthy state hair is positively charged and will be found in a pH range between 4.5-5.5. Therefore, we can state that hair, in its optimum state, is acidic. Hair which has a pH above 7 will become alkaline and hold a negative electrical charge. When this occurs, the hair will exhibit damage to varying degrees.
When hair is in its proper pH range (4.5-5.5), the cuticle is compact and constricted. This serves to protect the inner cortex layer, impart sheen, align the bonding (optimum configuration for strength and elasticity) and positively charge the hair in preparation for chemical services. In the event the hair is in an alkaline state (above pH 7), the cuticle is raised (tangles, dullness), the cortex is exposed (dryness, damage), and the hair will not readily or evenly accept chemical services. (nexxus.com)
Hair color must be alkaline however to create change in the hair. HOW alkaline is the difference between one color formulation and another. We just learned that the more alkaline the hair becomes the more damage it sustains. Salon quality color lines are created to fall closer to 7 on the pH scale making them less damaging. The closer you can maintain the hair at it's natural pH 4.5-5.5, the better the results. Of course the use of an acidic maintenance product (eg: shampoos and conditioners) can help to restore a lower pH.
The type of pigment also plays a role in how products differ. Generally speaking, most professional color lines have developed pigment molecules that are easily deposited into the hair and employ a coagulating feature that helps to prevent color from escaping and causing color fading. But it goes back to the pH of the product and in what state the hair is left that determines whether the cuticle has been raised so much that color has no choice but to escape.
Additionally, most generic color lines (eg: products found in Sally's or on your supermarket shelves) aren't formulated to be rich in healthy moisturizers and nutrients. These ingredients are costly to include and are subsequently sacrificed to keep costs down.
What we've learned from pH alone is that salon quality color products are formulated to get maximum results without compromising the hair's strength and overall health (assuming the Stylist is educated in his/her technique – save for another article). This formulation technology is essentially what you're paying for when you spring for quality color. It's far less expensive to create damaging alkaline products that you can find in a box on the shelves at Wal-Mart. The higher the quality of product, the less damage the hair typically has to endure. And less damage is generally more desirable.
Tune in next week as we continue hair color basics but on a less intense chemical level (What colors suit you, how color application and color theory play into formulation and more!). And remember you're always welcome to ask specific questions whether it's about hair color, cutting, styling or other beauty related topics.
Keep it classy Mojo.
j*ME
Alcohol Induced Sleep Deprivation sums it up…
After Friday night Dodgeball I headed out to a Midnight Pumpkin Carving Party at Brandon's house,a former Melting Pot coworker-friend. As some of you may know I'm limiting alcohol consumption to minimal these day. I like to phrase it that way b/c when I say 'I quit drinking' ppl give me 'the look' and question me to eternity (usually followed by an attempt to talk me out of such an insane notion). It's not that I'm an alcoholic by any stretch of the word, I just wanna control mindless drinking (a few drinks here and there) in an attempt to cut some mindless calories. So anyway, I'm @ the party and I did partake in the drinking festivites, but limited as mentioned above. I may have been the only one there attempting to NOT get schmammered. Success. So 4:30 AM!!! rolls around before I know it. @ the moment of realization of the insane late hour I have a moment of freak-out b/c I'm to be at work (and responsible for making people look good) in a few short hours. "Fuck!" pretty much sums it up. I haul ass home in an attempt to catch as many minutes of sleep possible.
Fast forward to 9:43AM, 2 minutes before I'm supposed to be at work. I'm still sleeping, actually I'm just waking up. "Fuck!" Again. Needless to say there was no shower, only a quick teeth-brushing, half assed attempt at some makeup application and a random fucking outfit selection. Speed to work…thankfully only 3.5 blocks from home. Enter Jamie (9:54, literally). So of course I'm booked SOLID from 10-5:30 and thoroughly ridiculously, slap-happy tired. End day. Whew.
Nap time? No. Party time…again. Dear God. Early Halloween costume party out in Shelbyville @ Clint's, a good friend. Due to my lack of preparation I repeat a costume from 2 years ago, a Shania Twain attempt. Did you ever see the video for 'That Don't Impress Me Much' (nevermind the blatant disregard @ a grammatically correct song choice) where she's walking thru the desert dressed head-to-toe in a leopard print hooded robe, bra, tight pants & boots (my first choice for man-hunting in the 115 degree Arizona sun)? You probably don't if you're not a county music fan but nevertheless I was that.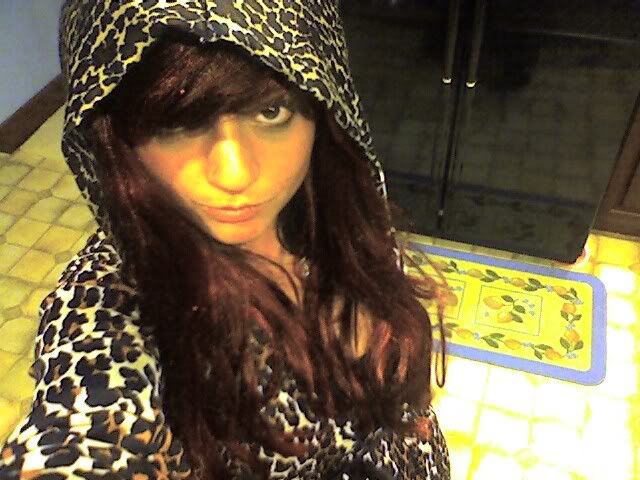 Kind of. Whatever.
So for some reason the party started at 8PM. Hello early drunk! It was in a shabby-chic, rustic old barn decked out with the seasonal theme, of course. Tons of free food (hollerrrr) and a keg or two. Beer=yuck so I don't really care. BUT there was some cheap vodka (I'm not picky when it's free) and sugar-free Lemondrop mix (b/c we're all obviously concerned with our sugar intake when we're getting plowed…whatever). Slow start to the party of course but as more ppl come and I press for a stereo (helllooo?) the mojo gets flowing. Can you say Flippy Cup? Yes, that old college game of chugging and cup tossing. I'm a damn good cup-flipper it turns out (hollerrr again). There's a draw back to this as I'm drinking Vodka and everyone else is drinking beer (pansies). One minute I'm a cup flippin son of a gun and the next I'm giving the hostess, Clint's mom, decorating advice and rummaging thru her bathroom in search of perfume cuz 'I wanna smell pretty'.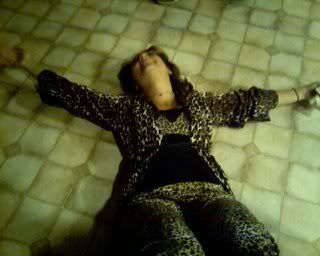 Yeah, IDK either. Turns out she's allergic so there's no fragrances in the house. Shit. Oh well, I guess I just won't smell pretty.
I believe we're trashed and in bed by, oh, 1 AM. Good work gang ( my friends were Michael Vick, Napolean Dynamite, Sean Paul, an odd hooker, a Snow Princess and a Flapper…what a mix!)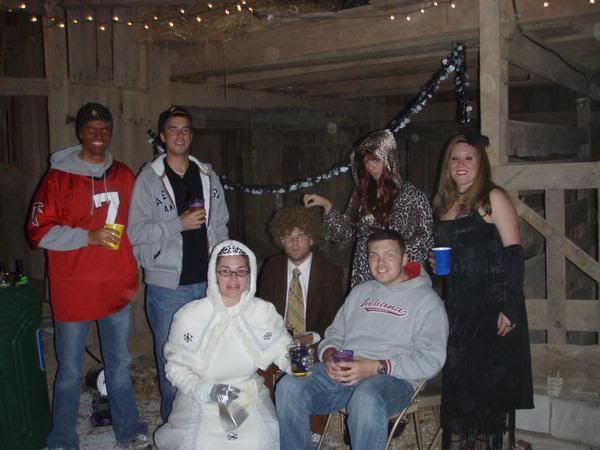 I do believe I topped all this off with a good hurl and a nice hot shower immediately followed by a hard fall onto a much needed couch. All in all I'm not mad. So much for that alcohol regulation. I guess I gotta let loose every now and then. Next time just keep me away from the devil's game, aka Flippy Cup.