So, what'd you think of Baby Anne @ TRU last Friday? Apparently she was super-impressed with the way things went down, though she did question why there weren't more people dancing and if the breakers were going to show up
Well, Winter Music Conference 2010 is kicking off in Miami, and while I can't attend personally, I do have a crew on the ground doing coverage. Follow the Twitter feed and our blog to get some near-real-time updates as the madness ensues.
Here's this week's list…
Calvertron vs. Wonk – "Breakdown (Original Mix)" (Freek Digital)
Rudenko vs. Missy Elliot – "Everybody Cop That S**T" (white label)
Bit Thief – "Tidal Rave" (CatalyticSouls)
DJ Icey – "Winter Fresh" (Zone Records)
Jurassik – "How To Pick Up Chicks (Joebot Remix)" (Supatronix Records)
Essex – "Disco 2010″ (Urban Impulz)
Clara Moto – "Silently (Radio Edit)" (promo)
Silicone Project – "Supernova" (promo)
Tiga – "What You Need (Chromeo Remix)" (RCRDLBL)
Heads We Dance – "After Dark (Original Mix)" (Gash Digital)
Viva City – "Have You Ever Felt So Messed Up?" (Vert Recordings)
Joker – "TRON (Original Mix) (Caravan)
Guest DJ Cosmo Part I
Guest DJ Cosmo Part II
Jon B. – "Numbers (Camo & Krooked Remix)" (Beta Recordings)
Netsky – "Memory Lane" (Hospital)
Heist – "Death Star"(Sumo Beatz)
Sharon Jones & The Dap Kings – "I Learned The Hard Way" (Dap Tone)
In case you missed it, catch it streaming at PURERADIO.FM next Monday, or on the podcast.
Hang on tight, because this Sunday we have Jaytech and James Grant guesting in support of their Anjunadeep 02 mix CD release.
OI! What's crackin', Indymojo! So glad to have you guys on board with the show and some of the things we're doing. Since this is the inaugural blog entry on this fine site, lemme give you the rundown of what we plan to do here…
The show is broadcast on Sundays starting at 10pm, and streams on x103.com. If you miss it, or love it so much you want to hear it again, you can catch a replay at 5pm on PURERADIO.FM.
We know a lot of you have trouble getting in front of your radio or computer on Sundays, and we love time-shifting as much as you do (we heart our DVRs). So, we've created a podcast that's generally available on Tuesday evenings. It's the full two-hour broadcast broken up into easily-digestible one-hour portions. We serve that up here.
We noticed a flurry of activity out here this past Sunday, particularly curiosity about tracks and artists played during the show. To satisfy your eager curiosity, we publish our play list for each show when the podcast goes live on all of our social networking sites(Facebook/MySpace/Twitter), our main web site, and finally here on Indymojo.com.
So without further adieu, here's this week's play list…
Urban_Impulz – "Tricky Acid (Original Mix)" (Urban_Impulz)
DJ Odissi – "Empty Vodka Bottles (Pyramid Remix)" (Lot49)
Ben Venom – "Head Shot (Original Mix)" (Definition)
Cut & Run vs. NIN – "Perfect Drug" (Cut & Run)
Editors – "You Don't Know Love (Boys Noize Classic Mix)" (PIAS)
The Bulgarian ft. Spoek – "Jack It Like A Zombie (Adam Bozetta Remix)" (Pottymouth)
Afrojack – "Pacha On Acid" (Size)
Deep Sea Arcade – "Lonely In Your Arms (Aeons Remix)" (Speak n Spell)
Phenomenal Handclap Band – "Baby (Clock Opera Remix)" (promo)
Morgan Page – "Strange Condition (Inpetto Radio Edit)" (Nettwerk)
Basement Jaxx ft. Lightspeed Champion – "My Turn (Stonebridge Radio Edit)" (Ultra Records)
Tegan & Sara – "Alligator (Troublemaker Remix)" (Hollyrock)
Guest DJ Menno De Jong Part II
Serum – "Push It" (Co-Lab)
M.A.N.D.Y. vs. Booka Shade – "Donut (Logistics Remix)" (Living The Dream)
Taxman – "If Only" (Ganja)
Cloud Nothings – "Hey Cool Kid (Memoryhouse Remix)" (promo)
Once again, thanks to all our new friends and fans, and we'll see you next week at 10 when DJ Cosmo gets all trance-ey on your ass in support of his Winter Music Conference shenanigans. And speaking of Shenanigans, we'll see you out this Friday at TRU with Baby Anne kicking your ass seven ways from Sunday.
Questions, comments, critiques and requests are always welcome, so go ahead and give us a shout.
OK— So I started reading the assigned chapter for my class (Anat & Physio), and realize the discussion on the aging process begins at 30's!
This begins to have my thoughts drift far away from the text on the pages to questions pondering my age and my personal expectations of my life. I guess I always figured by the age of 25 I would have been married with children, employed, graduated from college, living in a house, and fulfilling all of the standard goals of a family and having the house with the white picket fence.
As I write this, I am a 30 year single parent, not married(no bf or anything), who is currently going back to school to completely change careers while working a job I am learning to despise more with each passing day. I was looking forward to purchasing a house in the Spring, but would like to hold off until I am done with school because once I get into Nursing School I will have to cut down to part-time employment. So probably not the best idea to buy a house that I wont be able to pay for when I am in my clinicals. Not to mention I currently have two Bachelor's degrees(with student loans over $30K) and working on my third in becoming a RN. I am very excited and nervous about starting classes again. I mean being scared because I have been out of school for almost 5 years! YIKES! I definitely think I am more focused on school and working for the best grade possible.
Ok I am starting to ramble… back on the subject
My point is I read about how the process of aging begins with 30's and that Women begin the decrease in fertility and move in to the group of being high-risk or increase the possibilites of having mutations with their pregnancy?!?! I mean seriously is it hard enough to be a single-parent going back to school but now I have to worry about all of this to??!
TO BE CONTINUED>>>>>
its amazing at how in the matter a of few seconds someone can completely change how they treat you or who they are.
at this point I am not even sure if i am able to understand why it is that people are so afraid to show who they truly are. is it about personal gain, drama, being nosey, or just being selfish? I wonder how many people are able to see through the lies or able to see other parts of your personality that are always shown?
Why is it people only try to show their good sides in the beginning of a relationship (whether it is a frienship or dating) and pretend to be someone else? It can be confusing to meet a person who comes across as beign independent, honest, trust-worthy, and having all of these wonderful qualities. Only to find out later, when this person shows a completely different side containing things such as insecurities(personal or with other people), immaturity, dishonest, and so on. Then this person usually feels its necessary to play games, eiher to test that person or to make themselves feel better. I have never claimed to be perfect and I can admit I have my own flaws, but I wont hide from them and try to stay true to myself.
I led myself to believe false assumptions, thinking that you were someone that you werent even close to being. Now I am left wondering who you really are? And the person I see today, is that really you or is it fake?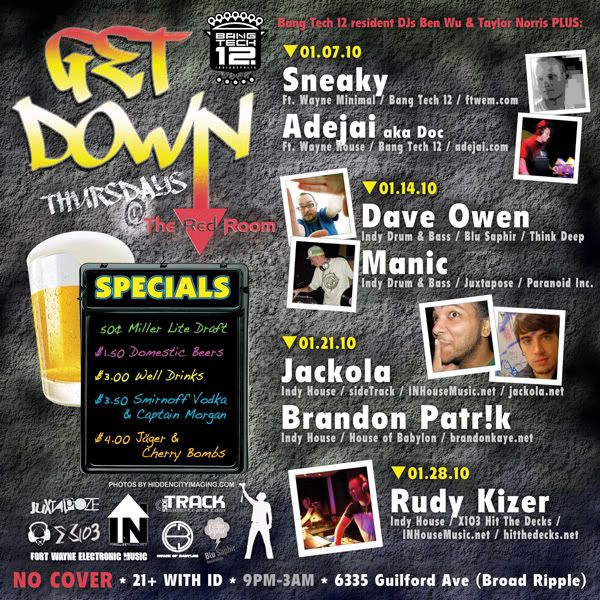 2009 has been an amazing year for EDM in Indianapolis and coming in 2010, Bang Tech 12 will bring you Get Down @ The Red Room, a fresh new weekly electronic music event located on the northside of the city in the Broad Ripple village.
The Red Room provides a great atmosphere with 2 rooms, a patio, good sound and lights, an awesome staff, huge windows overlooking Broad Ripple and a great dance floor area surrounded by comfortable seating.
Bang Tech 12 is committed to providing great music in a sophisticated venue and in order to ensure the continued growth of the underground electronic music scene in Indianapolis, Get Down @ The Red Room will have no cover at the door and amazing drink specials. So come out, enjoy the music and Get Down with us, every Thursday at The Red Room!
The Red Room
6335 Guilford Ave
Indianapolis, IN 46220
No Cover
9p-3a
21+ w/ ID
Drink Specials:
$0.50 Miller Lite Draft
$1.50 Domestic Beers
$3.00 Well Drinks
$3.50 Smirnoff and Captain Morgan
$4.00 Jager and Cherry Bombs
It feels like my life is an constant cycle of change or a roller coaster, cant decide which fits better.
Its funny to go back on how I thought my life would have turned out, and it is nothing close to what I had imagined.
I am very grateful for the things and people I do have in my life, just feel like I need to make some improvements.
test