Wouldn't YOU want to go back here, too?
My addiction to music festivals began in the summer of 2008 when some friends and I thought it'd be fun to check out this thing called Bonnaroo in Tennessee. Upon my return to reality mid-June of that same summer, I experienced music festival withdraws that included inexplicable sadness, hatred for my place of employment, constant replay of live sets from that magical weekend, and an overwhelming desire to return to the simplistic way of festival living.
The next year, in my rookie sense of logic, I decided going back to Bonnaroo would be a great way to relive the cherished memories from the year before (as well as create new ones in the process). In the end, bad planning and execution on mine and my group's part left a sour taste in my mouth after our second run at the 'roo. But even had those detrimental events not happened, I'm positive my euphoric recollections of the time I lost my festival virginity could never be recreated. The perfect lineup of bands, a flawless group of camping partners, nor a safe and efficient trip to the festival could never match up to the overwhelming sense of curiosity and unknowing I felt arriving to Bonnaroo for the first time.
Ready to experience something as fresh and exciting as my first Bonnaroo in 2008, I started venturing out of my comfort zone and going to new festivals. Festivals my friends had never been to in states I'd never driven through. Festivals featuring bands I'd never heard of playing in locations I'd never dreamed of. I soon realized my addiction was not to a single event, venue, or band… but rather to the exploration of music festivals as a whole. My interest is in being there for the experience and discovering what makes each festival unique and special, not in claiming to have been to a particular event for a certain number of consecutive years.
In the last two summers, I have been to four different major music festivals. So why, then, am I returning to All Good? Why am I defying the great things I just said about the exploration of new festivals and going back to All Good for the second time in two years? Here's a few reasons.
1. No overlapping sets. This means I finally get to take it easy. Two stages, side by side. A mere 90 degree rotation of the body and I'm at the next show. No more hiking between sets, expending precious energy, to catch the last 15 minutes of a band. IT'S ALL IN ONE SPOT.
2. No overlapping sets. Doubly pleasing, this simple fact also means I don't have to make any heartbreaking decisions. I want to see Pretty Lights AND Primus. But you know what? All Good knows this, and they love me, so they'll make sure that everybody get to see everybody.
3. All Good's beautiful West Virginia mountains offer a view unlike any other music festival. Yes, I know. Wakarusa is on a mountain, too. But you wouldn't know it by looking around when you're there except for a few distant peaks in the background. The scenery and the view from atop Marvin's Mountaintop in West Virginia surpasses Wakarusa's Mulberry Mountain (or any other festival site, for that matter) by a landslide. It's simply breathtaking.
All Good's beautiful scenery.
Photo credit: Nate
4. Nighttime on Marvin's Mountaintop. I still remember opening the door of my tent the first night at All Good last year and being greeted by a wall of fog. Visibility was literally no more than a foot. As nighttime temperatures fall upon the mountain, clouds lower and settle across festival grounds, leaving an awesomely eerie fog to wander through on the walk home from the night's last show.
5. John Butler Trio. All Good will conclude my third of three major music festivals for 2011 (still plenty of smaller, local event to attend, though) and I'm happy to say that the band I've been most excited to see all summer will be a part of said conclusion. Some bands saturate the festival scene and attempt to play every date they can snag, while others choose strategically and make the presence at one or two much more special. Thankfully, John Butler Trio and All Good both fall into the latter.
6. Laid back vibes. Yes, you get those at nearly every festival. But at All Good, the music and atmosphere are traditional to the jam band scene in the truest sense. There are always a few wild electronic sets, but the festival, by in large, is rooted in the music of festival forefathers such as The Grateful Dead. As such, there are few kandi kids and ravers; All Good attracts old hippies, young free spirits, and honest people who come for the music.
7. Roaming Performers. Despite my best efforts, I can't confirm whether Big Nazo will be at All Good or not. The "international performance group of visual artists, puppet performers, and masked musicians" have become a staple of the event in years past, but with no mention of them on the schedule nor an All Good listing on their website, I'm fearful the little boogers won't be there this weekend. Even so, All Good has an interesting list of roaming performers listed in their newsfeed (Cosmic Karma Fire, Rock Camp Productions, and Creative Flame) that I expect will be (almost) as entertaining as the Big Nazo crew.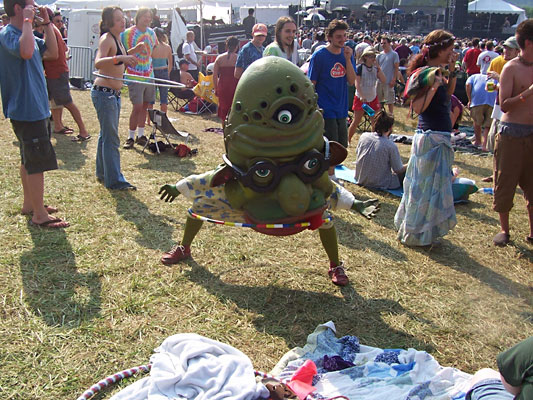 A Big Nazo performer.
Photo credit: BigNazo.com
8. The Party Bus. A lot of busses and vans show up to music festivals, but one in particular stood out last year. Somehow managing to park directly on the main foot path, I frequently used the large black party bus as a landmark to gauge remaining distance between me and my campsite. They had a legit DJ station set up outside the bus, always bumping something different each time I walked by. Walking home from Saturday night shows around 3 or 4 in the morning last year, there were close to 20 people shuffling around on the roof of the bus. On the ground, an additional 50+ raged in a blob of people that spilled out into the main pathway.
9. Press and artist hospitality. All Good has one of the most effective check-in processes I've ever encountered. A secret off-site location serves as the hub of activity for bands, press, and other guests of the festival to get their credentials and ask necessary questions before driving up the mountain. I don't recall hearing a single "I don't know" from any of their staff last year. That can't be said for most.
I'll be blogging every day at All Good this weekend on NUVO.net. Starting Friday afternoon, check daily for a recap of the previous day's festivities and highlights. Follow me on Twitter (@butterfly_89000) for live tweets and photos.