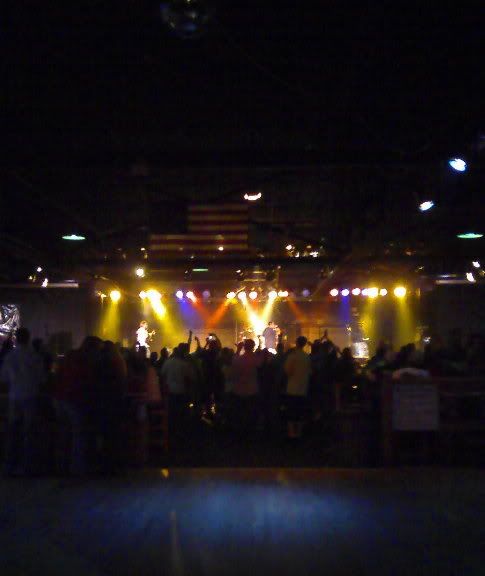 I'll be honest, this was my first trip to 8 SECONDS SALOON, because frankly I don't have the money to drink out every weekend, pay cover charge, and go home pissed off any way. My first impression (after getting lost on the freeway because of bullshit construction) was "holy fuck, this place if huge". There were at least 300 people in attendance this evening, a very decent crowd for any band. In order to keep my composure I just had to keep telling myself that 5 nights out of the week the club is a country music venue with line-dancing and Billy Ray Cyrus cover-bands, so it helped me to put things in perspective. Also, the group 'MARCY PLAYGROUND' is playing there on Sept. 11th, and I personally know their manager, so it further put me at ease.
It helped too that INDY IN-TUNE set me up with VIP status in the 'Green Room' so I could help out with assorted band interviews and back-stage coordination. INDY IN-TUNE recorded new podcasts with CIVILIAN, OUTER SANCTUM, and SMOKE RING (two bands of which went on to the 2nd round of the 'Battle of the Bands').
Now, despite having a good time and meeting some cool people tonight, I'll come out and say it. The Battle seemed rigged (with a lot of cover songs), but maybe that's because one of the better bands of the night, CIVILIAN, didn't get pushed to the next round of the competition. That's cool though because CIVILIAN will be playing the BIRDY's battle on SEPT. 4th, and ZANIES TOO on Sept. 12th so you can check out their live show then.
Another band to watch out for is SMOKE RING, who did a rockin' ass job for the midnight slot, and moved on to the next round. Likewise, you can check these dudes out live on AUGUST 22nd at ZANIES TOO with THE WILL WOODROW PROJECT, STATE SECRET, and THE DWELLERS. I'm a sponsor of this event, and the Sept. 12th concert, so you'll definitely want to fucking get out to see this shit!
Yes, I know that last sentence was very unprofessional of me but it's going on 6am in the morning, I've been partying for 12 hours, and have had enough booze to make a large moose take a nap. It's lucky that I can even see straight let alone write up a review of this night's festivities. What the fuck to you want from me any way?!?
At the end of the day, 8 SECONDS SALOON is a really bad-ass venue, despite the country music, but maybe a little too bad-ass. Ya know what I'm sayin'? I like my venues struggling and fighting for their position, not selling 1000 tickets for Garth Brooks JR. or 'Hootie and The Blow Fish'. I dunno, I'm just rambling now, I'd go back to 8 SECOND SALOON for nice people and atmosphere, but I feel like I'm at a giant skating rink and someone needs to fit me for shoes. I feel a little out of place there, but that's pretty much everywhere I go…
Anyway, congratulations to DEAD MAN'S GRILL, OUTER SANCTUM, and SMOKE RING who moved on to the 2nd round of the 8 SECONDS battle……….
SMOKE RING, August 22nd at ZANIES TOO!